Across most of Australia network charges are approved by the independent Australian Energy Regulator (AER) through public network price review processes which examine, test and adjust expenditure and prices proposed by networks. The national regulator is tasked with only approving pricing proposals that ensure energy market outcomes that promote the 'long term interest of consumers.'
Information on trends in energy retail markets is published annually by the AER in its report on the State of the Energy Market.
Electricity
Components of Retail Electricity Bills
Retail electricity bills are made up of a number of components:
wholesale costs reflecting electricity generation costs and purchased by retailers in competitive markets;
network costs reflecting the cost of the transmission and distribution networks that are regulated by the independent economic regulator;
retail costs including operating costs such as billing and marketing and a profit margin for risk in providing retail services; and
environmental policy costs mandated by Commonwealth, State and Territory governments, such as the Renewable Energy Target.
Changes in any one of these components can flow through into customers' bills.
The network component of the retail electricity bill varies from state to state but typically is the largest single component (as shown in next Chart).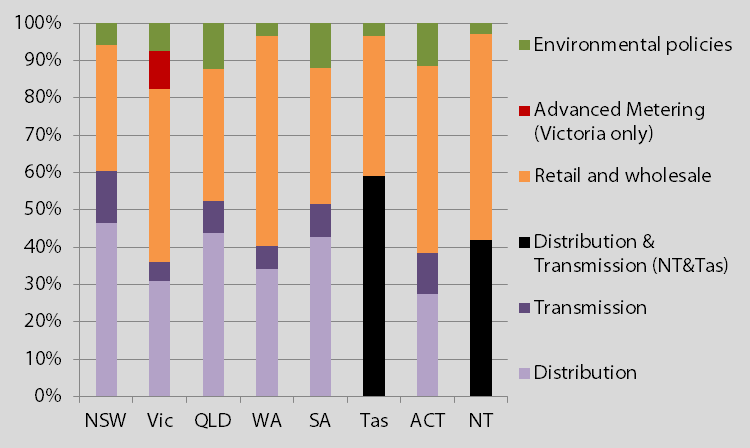 Source : AEMC, 2014 Residential Electricity Price Trends
Note: The costs of the smart meter roll out which has been unique to Victoria have been separately identified by Energy Networks in the chart, estimated from the analysis by Oakley Greenwood published in 2014.
The outlook for residential retail electricity prices
Australian energy users have seen significant increases in residential retail electricity prices in recent years, but are now flat or falling around the country. According to the AEMC's latest report 2014 Residential Electricity Price Trends, prices are expected to remain flat or continue to fall due to a combination of falling demand, increased competition and tighter rules on network costs.
Overall, residential retail electricity prices are expected to decrease at an average rate of 1.7 per cent on a national basis out to 2016-17, due to:
flat or falling network costs;
an average increase in retail and wholesale costs of 2.1 per cent; and
the effects of the repeal of the carbon tax, which results in an average decrease of 8 per cent in the residential supply costs between 2013/14 and 2014/15.
Network costs are influenced by the demands of the market and government policies including:
expected changes in peak demand and annual energy consumption;
the need to replace ageing network infrastructure assets;
the regulated rate of return; and
the need to meet government mandated reliability standards, and recover state and federal "environmental" policy costs.
The outlook for flat or falling network costs compared with the previous regulatory period is impacted by
the reductions in the regulated rate of return, compared with the higher costs that prevailed after the global financial crisis;
more moderate expectations of peak and average demand; and
changes to jurisdictional reliability standards that potentially could reduce network capital expenditure by more than $2 billion.
Retail Competition Lowers Electricity Bills
One of the other significant factors impacting a consumer's bill is whether they shop around for a better deal. This can mean a saving of hundreds of dollars per year.
The AEMC has identified the following potential savings available to a representative customer from switching from a standing offer to a market offer, where market offers are available to customers:
a saving of 8 per cent in NSW, equal to a  saving of $165 off the annual total bill;
a saving of 16 per cent in Victoria, equal to a saving of $246 off the total annual bill;
a saving of 7 per cent in Queensland, equal to a saving of $93 on the annual total bill;
a saving of 10 per cent in South Australia, equal to a saving of $189 off the total annual bill.
Publications
Gas
Final retail gas bills to business and residential customers are made up of four components:
wholesale costs,
transmission pipeline costs
distribution pipeline costs; and
retail costs.
Network costs are primarily attributable to the costs of supporting the 88,000 km of pipelines across Australia. Most of the access arrangements that govern gas network tariffs are due to expire in 2015 and many are currently being negotiated with the AER or Western Australia's ERA.
Network costs are primarily attributable to the costs of supporting the 85,000 km of pipelines across Australia. The network component of the residential gas bill in the current regulatory period varies, from 3 – 8 per cent for gas transmission charges and between 40 – 60 per cent for gas distribution charges.
As a result of its recent regulatory decisions the AER expects transmission and distribution network charges to remain the same or fall next regulatory period. A key reason for these falls is the lower overall cost of capital for gas networks.[1]
Gas networks are working with these regulators to adjust network tariffs and reduce bills for customers. In some cases networks have proposed to network charges of up to 40%. These cuts take into account the likely effect of increased wholesale prices, the potential for reduced demand and the flow on effect to capital expenditure. Greater cuts could affect spending on  reliability and maintenance.
The impact of incentives and subsidies
Network gas demand from both the residential and commercial sector is significantly affected by incentives and subsidies directed to specific technologies that are neither fuel or technology neutral.
Existing subsidies to solar technology not only reduce demand on gas networks but increase gas prices as a result, as fixed costs must be recovered over a smaller sales volume.
If governments remove distorting solar policy measures like the SRES, there is the potential for an additional 170,000 gas connections over and above the business as usual scenario by 2034.[2]
However policies that provide further incentives for solar would see solar promoted at the expense of other equally efficient and effective greenhouse gas abatement technologies, leading to a predicted loss of 130,000 potential gas connections, and subsequent higher retail gas charges for the remaining gas customers.