MicroGrids, Distributed Energy Precincts and Grid Edge Innovation
May 2017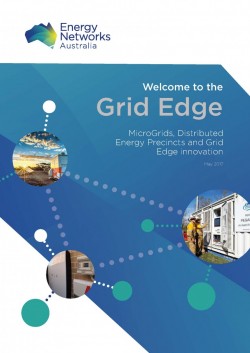 Download: Welcome to the Grid Edge - MicroGrids, Distributed Energy Precincts and Grid Edge Innovation
Australia's energy system is undergoing a transformation with customers at the centre.
Solar, battery storage and other distributed energy resources are becoming more efficient and affordable. These technologies are being installed by both customers and energy businesses across the country while other edge of grid technologies are also developing rapidly. These technologies allow customers to participate in the energy system like never before, making the most of their solar and batteries, selling services back to the grid and being reward for their energy use choices.
Communities are increasingly seeking to form MicroGrids or mini grids. These systems may at times be self-sufficient or exchange services with the grid for mutual benefit with the wider community.
In remote communities isolated MicroGrids, remote area power supplies and stand alone power systems often prove to be more reliable and cost effective than traditional service delivery. They provide the opportunity not only for some customers to enjoy more reliable electricity, but to reduce costs, by alleviating the need for costly investment in network augmentation while also reducing bushfire risks.
These edge of grid technologies can also support resilience and allow power to be restored to communities more efficiently after natural disasters.
Used effectively, edge of grid applications can ensure reliability of the grid, maintain power quality and help avoid costly network augmentations.
Energy network business are committed to working with customers to develop and build the energy system of the future. They are installing and trialling these new technologies and each project allows the network business to better understand potential applications and the needs of the community.
This publication highlights just a few examples of how network businesses from around Australia are working with customers and communities. A more innovative, agile approach can help provide Australian customers with affordable, secure and cleaner energy inan increasingly decentralised and dynamic energy system.
To find out more about the projects that Australian Energy Networks are rolling out across Australia, click here.