Batteries for communal benefit
In a trial of three community batteries in the Sydney local councils of Northern Beaches, Canterbury-Bankstown and Lake Macquarie, Ausgrid is actioning the findings of a recently completed feasibility study by KPMG, which indicated that shared community batteries could be commercially viable by 2023. 
The trial's purpose is to answer a range of questions about the technical, social and economic feasibility of community batteries. A long–term goal is to provide equitable access to energy storage for customers who might otherwise not be able to install distributed energy resources (DER). This would help address the energy storage constraints of about half of Ausgrid's 1.8 million customers who live in apartments or similar. Importantly, Ausgrid's proposed community battery model aims to maintain retail contestability in the market. 
Overview 
Developed in close collaboration with customers through its Network Innovation Advisory Committee, Ausgrid's community battery trial will soon begin in the three local government areas. 
The batteries are sized between 150kW / 267kWh and 223kW / 446kWh, each serving between 100 and 200 customers. The aim of the batteries isn't to supply all the energy needs of the homes, rather to store excess solar PV energy produced during the day for use later in the evening when the sun goes down, solar stops generating and the network is under the most strain. 
Given existing regulatory arrangements, Ausgrid will simulate what the provision of a customer battery storage scheme could look like under different arrangements. A key component of the trial is to work with regulators and other stakeholders to understand how the regulatory framework might change to allow networks to provide a customer storage service and deliver maximum benefits to all power users. 
In future phases of the trial, Ausgrid intends to increase the viability of community battery projects by contracting out battery capacity to a third party for use in frequency control ancillary services (FCAS) and other market services. Some of the factors Ausgrid considered when deciding the locations of the batteries included: 
the existing solar penetration in part

s

 of the network

 

the local network topology

 

type of customers in that part of the network

 
forecast growth of solar PV

 

future network investment to might be deferred by the battery

 

available physical space for the equipment

.

 
What's the purpose of a community battery? 
During the day, parts of the network with high levels of rooftop solar experience 'peak export events'. Generally speaking, this is when there are high levels of solar energy being produced during the day and not enough demand to soak it up. When this happens in areas where customers do not have their own residential storage, this excess energy may be curtailed, representing a lost opportunity to use low cost renewable energy. Batteries enable this energy to instead be stored and then used later in the day.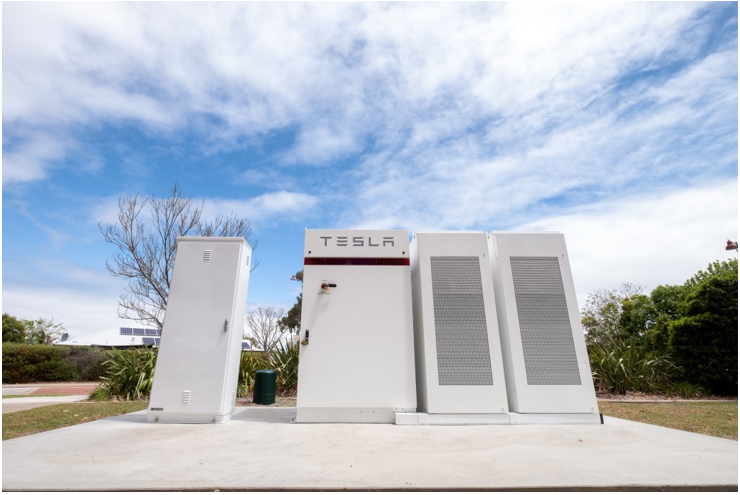 Figure 1: Tesla community battery in Western Australia, Credit: Western Power, WA 
A simple analogy to consider is a suburban water tower. The local water utility uses it to store water, near where it's needed to help meet peak demand. Overnight, while demand is low, water is pumped into the tower and when demand peaks the next day the tower drains, helping meet demand and maintain water pressure. Without local storage, the size of the infrastructure required to reliably supply Australians with water would be far more expensive than the infrastructure we have today.  
It is these shared 'water batteries' that allows an efficient supply chain in the water industry, and the intent is to achieve the same thing with shared energy batteries. 
The advantage of a community battery is single households do not need to invest large sums of money into systems that are not yet economically viable without large subsidies or rebates. There is also a substantial advantage from the diversity benefits that come with sharing a community battery. 
At a higher level, it promotes a way for all customers (with and without DER) to work together towards goals that are often seen as contrary to one another i.e. climate change and lower costs for customers. 
Working with the regulator on a framework for community batteries 
There are numerous regulatory issues that still need to be worked out. 
A key design consideration for Ausgrid has been to devise a way that enables all customers near the battery to participate, regardless of their retailer. For this reason, Ausgrid is working on a model that means customers don't need to change retailers to participate in the trial, thereby maintaining retail contestability. This is one of the key challenges in implementing community batteries.  
While there is clear potential for the use of community batteries, there is plenty of work for networks, the regulator and market bodies to make community batteries a reality. The first phase of the trial is aimed at getting the community engagement aspects underway, with the batteries scheduled for installation by this summer.  
United Energy, another distribution business in Victoria, has also recently announced plans to trial 40, smaller, pole-mounted grid batteries in the low voltage network to address peak demand. United Energy also proposes to retain retail competition and has submitted a ring-fencing waiver application to the AER to ensure that 20th century regulations do not inhibit 21st century innovation. 
In WA, where the regulatory framework has less inhibitions on innovation, both Western Power and Horizon Power are trialing a range of battery solutions to give customers alternative energy storage options to expensive in-home batteries.  
In short, the Ausgrid trial is another exciting step forward in how networks around the country are listening to customers and communities to deliver the services that they want and transition to a decentralised, low carbon energy system at an affordable cost to consumers. 
For information on the program or to register for updates see Ausgrid.