Stormy weather – Feeling the low
We've been singing the blues this winter with stormy weather. There's been no sun up in the sky and it's been raining all the time. The residents of Victoria and of Gippsland and the Dandenong Ranges in particular, are seeing gloom and misery everywhere.
And whether you prefer the Etta James version or the Morecambe and Wise version, the stormy weather of 2021 has been no laughing matter.
East coast lows
East coast lows bring severe weather, strong winds and heavy rain. Typically, they form along the east coast of Australia and the February 2020 storms were an example of this, developing rapidly just offshore within a pre-existing trough of low pressure, due to favourable conditions in the upper atmosphere.
East coast lows can also develop in the wake of a cold front moving across from Victoria into the Tasman Sea. Gales and heavy rain occur on and near the coast, south of the low centre, while to the north of the low there can be clear skies.
East lows are often slow moving or near stationary, which means the heavy rain and strong winds have a prolonged impact.
The surface pressure chart from the Bureau of Meteorology shows a classic east coast low weather situation, with a low pressure jammed up against a cradling high to the south, west and north. Tightly packed isobars mean strong winds.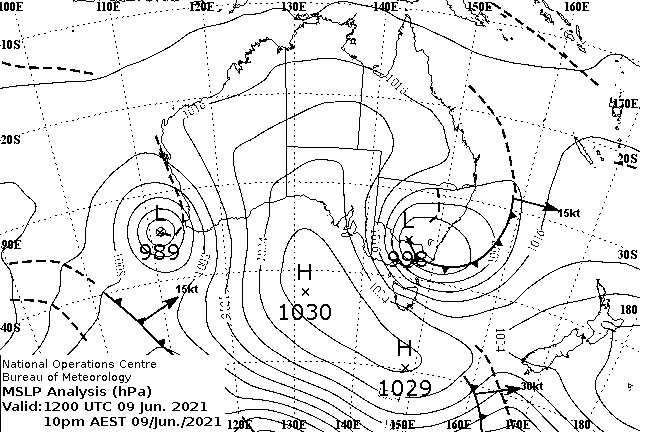 Surface pressure chart for 10pm on 9 June, Bureau of Meteorology, June 2021[1]
Why was it so bad?
Significant falls of rain were received over most of Victoria, leading to the floods in the eastern part of the state, mainly in the Gippsland region. In the Dandenong's, about an hour north of Melbourne, a similar story was unfolding. The June average for Ferny Creek, a township located in the hills of the Dandenong Ranges, is 80 mm, but it had received 44 mm before the night of the storm, with 27 mm falling in the previous two days. Record rainfall of 79 mm fell on the night of the storm – a month of rain in a single night.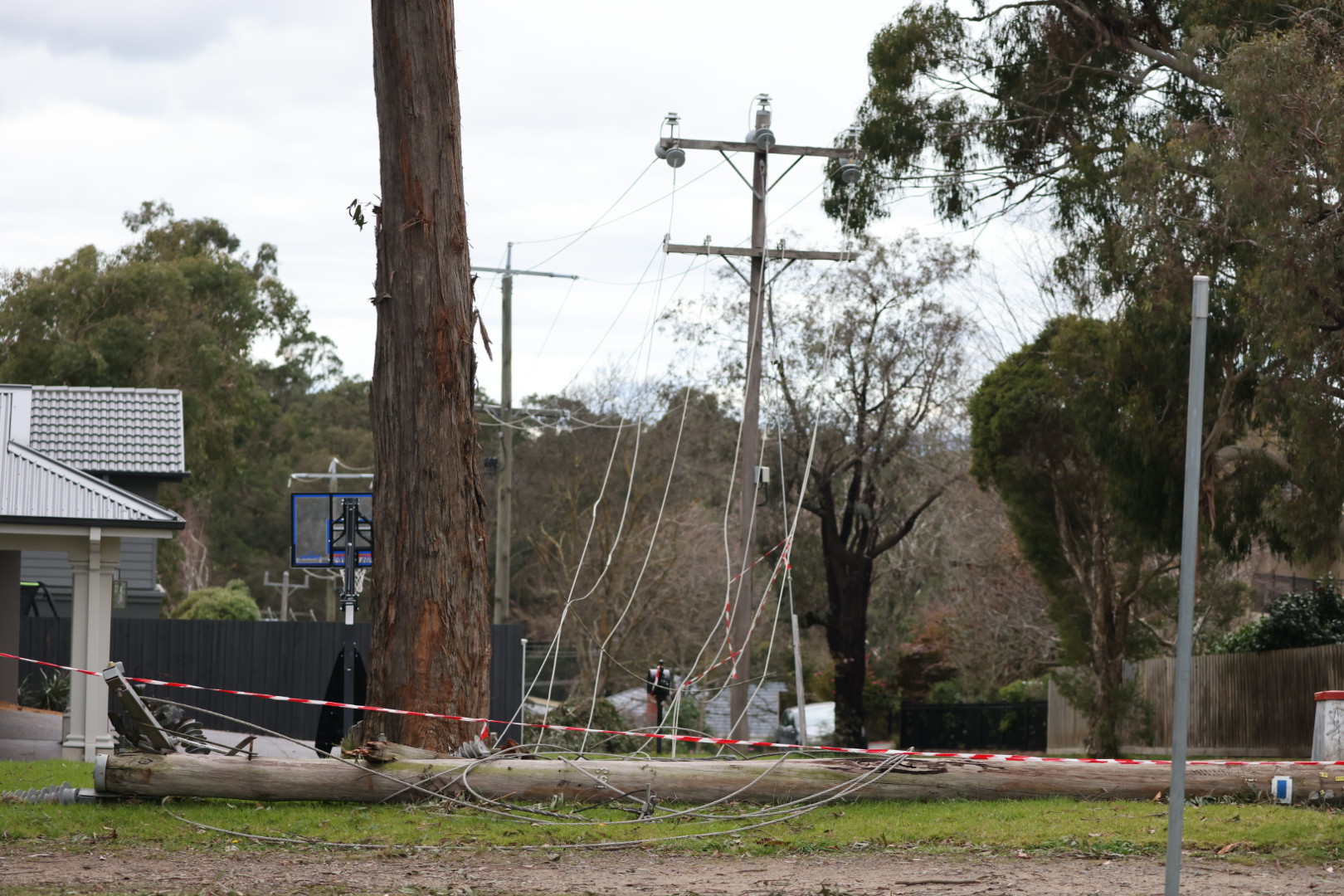 AusNet Services: Photo Supplied
Trees grow an anchoring root system in response to prevailing winds and in Melbourne those prevailing winds come mainly from the north, and then the west and south-west. Strong winds from south-east are comparatively rare. Ferny creek recorded a gust of more than 65 kph, compared with the average historic wind speed of just over 20 kph, with the maximum recorded at 10:26pm on the night of Wednesday 9 June.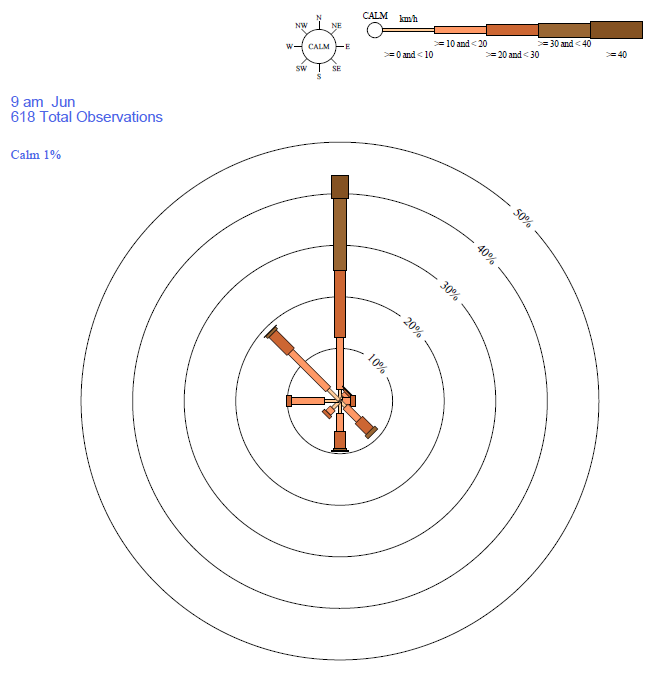 Historic wind rose for Ferny Creek (1990-2011) showing prevailing Northerly winds, Bureau of Meteorology[2]
The combination of soggy ground and honking winds from the south-east created the perfect storm for felling large trees.
Impact
Fallen trees all over the state meant that more than 245,000 customers[3] lost electricity. Networks responded, working hard to repair and reconnect customers as speedily as possible. All Victorian networks were impacted in some way, with CitiPower & Powercor, United Energy, Jemena and AusNet mobilising many crews to restore power while working in difficult and dangerous conditions. AusNet was also responding to the floods in Gippsland in the previous days.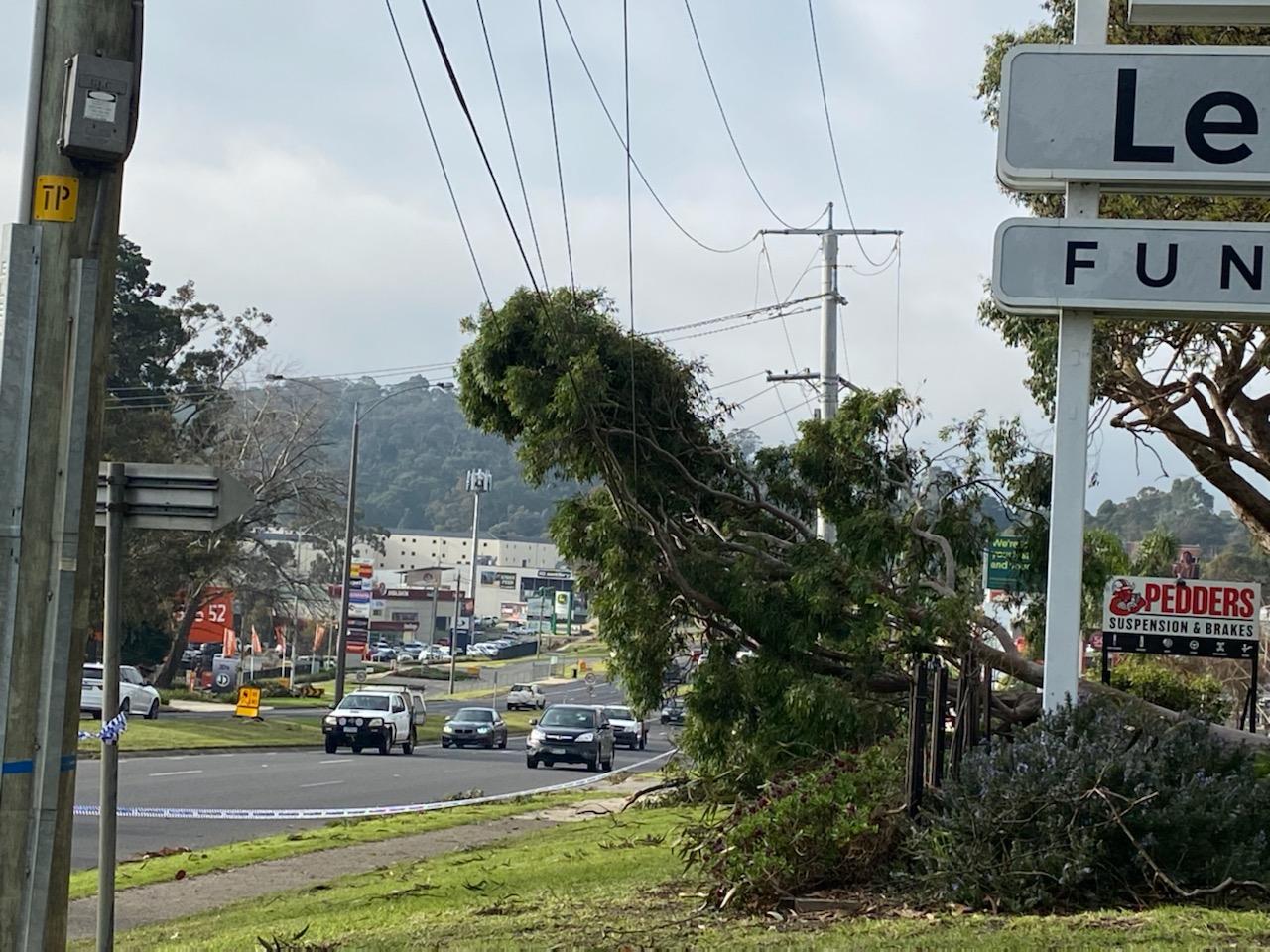 AusNet Services: Photo Supplied
In the Dandenong Ranges, the fallen trees had damaged an unprecedented number of poles and wires and blocked access prohibiting crews from completing works. AusNet was unable to access the Dandenongs until the roads had been cleared on the following Monday, with specialist crews starting to remove vegetation on and around power lines on Wednesday.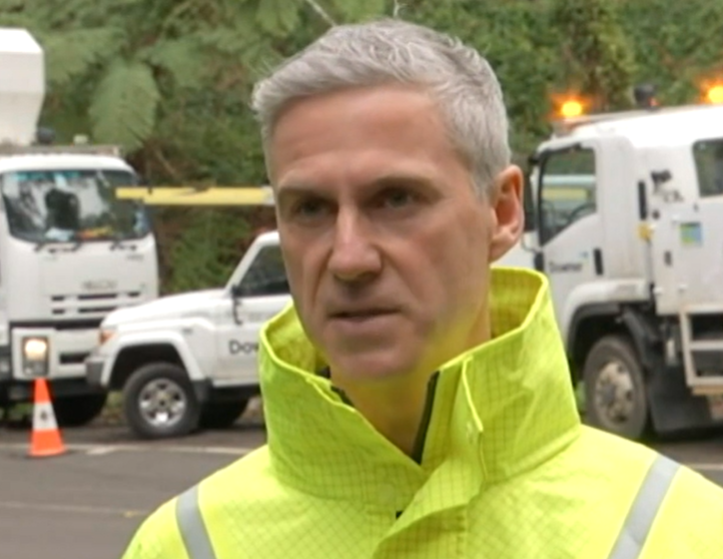 Steve Neave, Executive General Manager Network Management at AusNet Services
In the words of Steve Neave, Executive General Manger Network Management at AusNet Services, "there's basically no network left" and with more than 15 per cent of AusNet's customers without power, it has been a challenge to reconnect customers at a time when many will be relying on electricity to keep warm.
However, by the end of this week it is expected that there will be just over 1000 households waiting to be reconnected, but unfortunately it will take until early July to fully rebuild the network.
Working together
AusNet Services has been supported by crews from NSW from Essential Energy and Ausgrid as part of the cooperative approach network service providers take when dealing with major incidents. The NSW crews are part of a 600-person team, with a specialist crew dealing with outages impacting life support customers.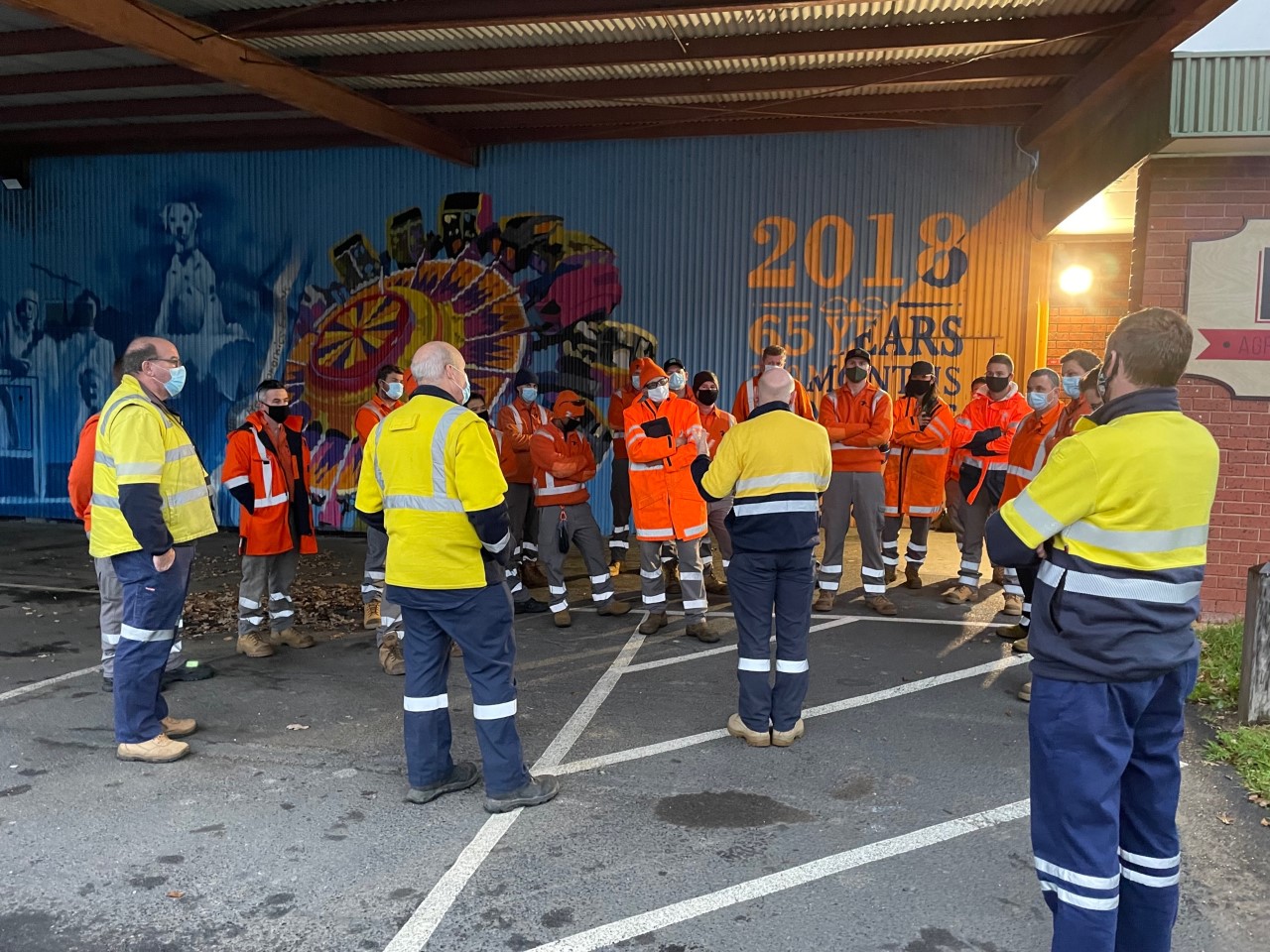 AusNet Services: Photo Supplied
Bad weather
This one storm in Victoria so far has estimated insured losses of $144M (18 June, ICA[4]) and this is only one of nearly 20 major natural disasters in the past 6 months[5].  Significant events include the floods in NSW and Queensland, including the Port Macquarie floods, and the Wooroloo bushfire in Perth, which was followed by Cyclone Seroja.
The storms related to the February 2020 east coast low resulted in losses of $971 M[6].
Many insurers are indicating that payout forecasts for 2021 have already been exceeded, with insurance claims amounting to more than $700 M to the end of March (excluding Cyclone Seroja and subsequent events)[7]. The insurance costs of severe weather, including bushfires, are increasing significantly – as are the repair bills.
Electricity networks are rolling out a number of innovative approaches to improve resilience, such as stand-alone power systems and community batteries, and the AusNet Services battery at Mallacoota[8]. Undergrounding is not always a solution for heavily treed and hilly areas, as tree roots will lift wires and pipes when they fall, which was an issue for some gas supplies in the Dandenong Ranges.
When rebuilding after a natural disaster, factoring in resilience will become increasingly critical to ensure that the risks from the impacts of climate change are addressed, while also reducing both the long-term costs to customers and the time taken to reconnect after an event.
[1] http://www.bom.gov.au/cgi-bin/charts/charts.view.pl?idcode=IDX0102&file=IDX0102.202106091200.gif
[2]http://www.bom.gov.au/clim_data/cdio/tables/pdf/windrose/IDCJCM0021.086372.9amJun.pdf
[3] https://www.news.com.au/technology/environment/almost-130000-victorian-homes-still-without-power-after-storm-damage/news-story/427dda6401d40a568af7d726ebb1411e
[4] https://www.insurancenews.com.au/local/victorian-storm-claim-losses-reach-144-million
[5] https://www.disasterassist.gov.au/find-a-disaster/australian-disasters
[6] https://insurancecouncil.com.au/wp-content/uploads/2021/05/ICA-Historical-Catastrophe-List-Apr2021.xlsx
[7] ibid
[8] https://utilitymagazine.com.au/gippslands-first-community-battery-installed/