The benefits of using Australia's gas networks to build our hydrogen industry
Australia's gas distribution businesses have been leading the development of hydrogen in Australia and have been extensively involved in the development of the industry-led Gas Vision 2050 reports, the 2018 CSIRO-led National Hydrogen Roadmap and the 2019 Australia's National Hydrogen Roadmap, led by the then Chief Scientist Dr Alan Finkel AO.
The deployment of hydrogen is a long-term decarbonisation strategy for replacing natural gas, both as a fuel and a feedstock, and also potentially replacing liquid fuels.
The actions arising from the National Hydrogen Strategy should focus on building Australia's capability to successfully position ourselves for this long-term, economy-wide decarbonisation opportunity. The consultation paper proposes to focus on the near-term decarbonisation of a single sector (i.e. ammonia) that may not provide cross sectoral benefits to unlock the decarbonisation of other industries.
Decarbonising the natural gas supply chain, centred on the infrastructure, can create greater benefits compared to focussing on a single industrial end use sector.
Gas distribution networks are early adopters of hydrogen, as well as among the first to initiate renewable hydrogen production in Australia and can continue to expand Australia's hydrogen industry[1]. There are hydrogen blending projects underway in Perth, Adelaide and Sydney with more planned in Victoria and Queensland in the next two years. These projects will deliver renewable gas blends to around 50,000 homes.
Renewable gas progress
The 2019 National Hydrogen Strategy described some of the network-led projects, which were still at an early stage. Since then, these projects have progressed.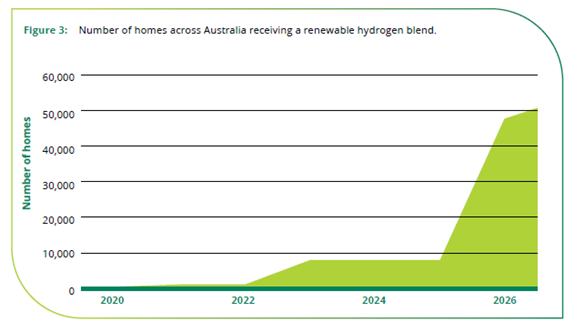 As with many emerging technologies, progress is slow but significant. Since 2019, three of these projects have commenced providing hydrogen blends to customers:
Around 4,000 homes in Mitchell Park and surrounding suburbs in Adelaide are receiving up to a 5 per cent blend of hydrogen from the Australian Gas Networks network.
In WA at the City of Cockburn, ATCO is delivering blends of between 2 and 5 per cent hydrogen to 2,700 homes.
Jemena is delivering up to 2 per cent hydrogen in its Western Sydney part of its gas network.
Additionally, new projects by Australian Gas Infrastructure Group for Gladstone, Queensland and Wodonga, Victoria will deliver renewable gas blends to a further 40,000 customers including households, businesses and industry.
The Jemena Malabar biomethane injection plant in Sydney also provides renewable gas equivalent to that of 6,300 NSW homes.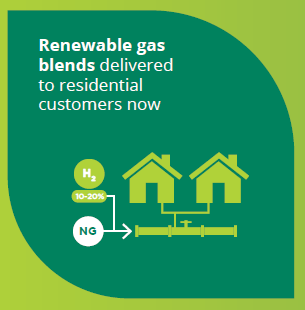 Progress can be accelerated but this requires supportive policy settings. The effectiveness of policy support is demonstrated by the roll out of renewable electricity over the last 2 decades, and similar effectiveness could arise in the hydrogen sector with the right supportive policy framework. New renewable electricity generation grew to over 20 per cent of Australia's generation over that period with more work required to achieve nearly 100 per cent renewables in the mid 2030's. . Similarly, the transition to renewable gas can be achieved to meet Australia's net-zero emission ambitions by 2050 and has started with renewable gas blends in the network, but this can be scaled up if governments adopt a similar approach as they did with renewable electricity.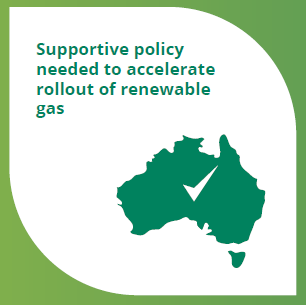 More information on these projects can be found here
Benefits of using gas networks
There are advantages of blending hydrogen in gas networks:
The networks have been replaced[2] by new modern network materials that are capable to safely transport hydrogen to customers.
Testing of appliances by Future Fuels Cooperative Research Centre (FF-CRC) has shown the addition of hydrogen up to 20 per cent by volume appears to have little effect on appliance safety and performance[3].
Replacing 10 per cent hydrogen for Australia's residential and commercial customers will require 5.5 PJ of hydrogen, which can be provided by around 250 MW of electrolysers distributed around the country.
Creating hydrogen opportunities in different gas networks enables the regulators and communities to become engaged in the supply of hydrogen and to inform themselves of the opportunities for longer term decarbonisation.

hydrogen produced on site for an ammonia plant would have limited opportunity to engage broadly as the facility would be considered a hazardous good facility with its own safety regulation and technical standards.

The distributed nature enables additional sectors to access hydrogen, for example as hydrogen refuelling stations to support hydrogen buses and trucks, or as industry connected to the gas distribution network.
Smaller electrolysers connected to electricity networks could help manage the demand on those networks by switching on to absorb the solar midday peak and reducing capacity during morning and evening electricity peak demand times, acting as short to medium-duration storage.
Reducing the cost of hydrogen will both be driven by the global demand for electrolysers, which will bring those costs down through learning, as well as localisation experience. This local experience will increase when deploying hydrogen production capacity across a broader part of the community allowing broader access to more technical trades people, regulators, customers and investors. Deploying via gas networks creates a greater potential to bring down localisation costs compared to a focussed deployment for a specific sector.
Future Actions
As noted in Gas Vision 2050 – Delivering the pathway to net zero[4], there are cross-cutting actions required to deploy the renewable gas market. Many of these actions are underway including the development of technical standards and updates to economic regulation.  Further action is required to implement supportive policies that can drive renewable gas market development.
[1] Gas Vision 2050 (2023), Renewable Gas Innovation: Delivering Renewable Gas to Customers
[2] Most networks have completed the replacement of iron mains or will complete it by around 2030. Energy Networks Australia, "Hydrogen in the home is closer than you think," Energy Networks Australia, Apr. 28, 2022.
[3] Future Fuels CRC RP 1.4, Compatibility of end-user equipment, available from: https://www.futurefuelscrc.com/program_area/compatibility-of-end-user-equipment-with-future-fuels-rp1-4/ – Specifically RP1.4-05 (2023), Performance of Type A appliances with blends of hydrogen and natural gas
[4] Gas Vision 2050 (2022), Delivering the pathway to net zero for Australia – 2022 outlook