The Emmys of Energy
Ahhh awards season at ENA… it's like the Emmys, but we trade the gowns for high vis, the stilettos for steel caps and when an award for best animation is announced we mean digital mapping… of the energy grid. Energy Networks Australia's industry awards are always highly anticipated by the energy sector and it's always a fun day at work trawling through the applications to see what innovations and consumer engagement programs our members have been working on through out the year.
We take a look at the short listed applicants and submissions ahead of the final announcement in September
Industry Consumer Engagement Award
Run jointly by ENA and Energy Consumers Australia, Consumer Engagement award recognises an Australian energy network that demonstrates best practice consumer engagement.
The 2023 Consumer Engagement Award shortlisted businesses are:
Ausgrid: Strong Governance Delivering Community Benefits
In 2019, in response to customer, stakeholder and regulator feedback at the previous regulatory reset, Ausgrid initiated a transformation of its approach to engaging customers and customer advocates. By 2021, and now benefitting from the establishment of strong consumer governance, there was a significant opportunity for Ausgrid to further extend its renewed approach in our 2024-29 reset preparations and take an industry-leadership position.
A central part of Ausgrid's strategy was the early establishment of an independent Reset Customer Panel (RCP), with an independent Chair, enabling it to:
Engage deeply across all elements of the regulatory proposal – no element was "off the table";
Co-design a reset customer engagement framework, leading to an ambitious inclusive, broad and deep engagement program; and
Build trust and mutual respect, enabling difficult but respectful conversations on the reset and ongoing engagement governance.
A strong governance led approach pushed Ausgrid to ensure that what staff heard from customers was both valid and reliable. It also meant Ausgrid tried new techniques to address missing voices.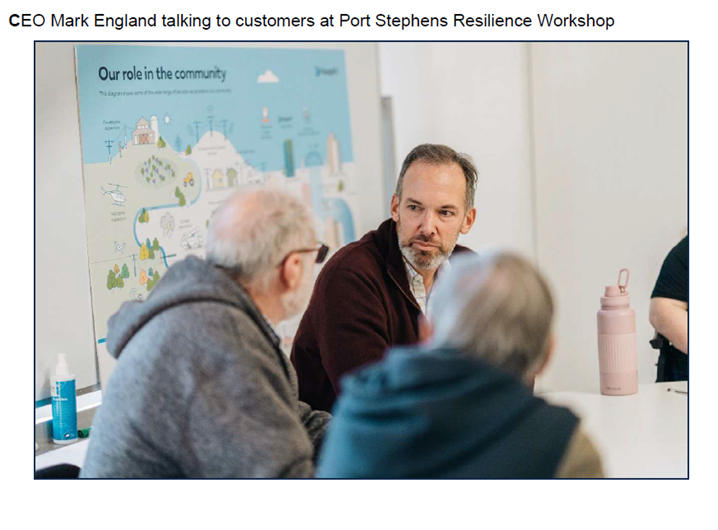 Endeavour Energy:  Power together – Collaborating on Our Energy Future
Endeavour Energy co-designed regulatory engagement, fulfilling a goal to deliver a Revenue Proposal for 2024-2029 that 'balances the priorities, preferences, diversity and current and future needs of our customers with sustainable returns to shareholders; is supported by key stakeholders and can be considered prudent and efficient by the Australian Energy Regulator'.
Endeavour's ambitious engagement program was designed to embed an enterprise wide, customer-centric culture, led from the top. It spanned five co-designed engagement phases and involved more than 1,800 customers and stakeholders representing 124 organisations. Over 150 employees played an active role in engagement, committing 2,770 hours of face-to-face engagement.
'Authenticity' was the founding principle of Endeavour's customer-centric, Executive-led, 'no surprises' engagement program.
A Regulatory Reference Group (RRG) including independent customer advocates co-designed the engagement program and Proposal. They placed continued emphasis on meeting customer preferences within the overarching imperative of affordability.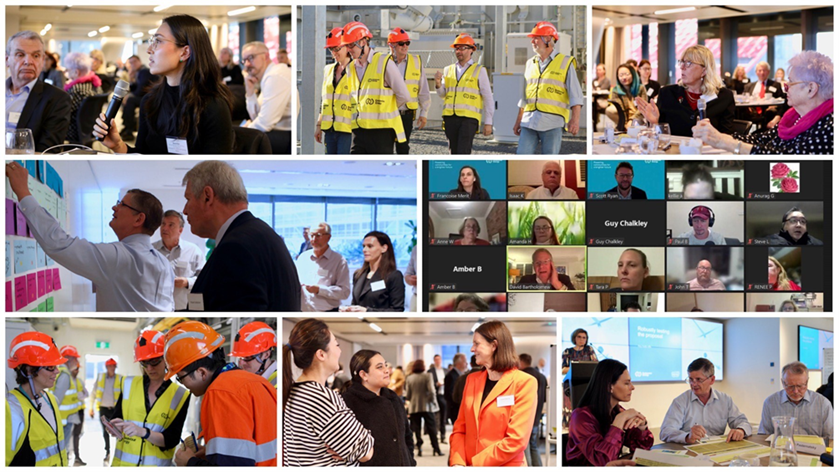 Horizon Power: Esperance Energy Transition
Horizon Power's Esperance Energy Transition Program (EETP) supported approximately 400 residential, business, and government customers in Esperance, Western Australia to transition from reticulated gas to alternative energy sources. The Program successfully transitioned customers within the 12-month gas cessation deadline, achieving a customer satisfaction rate of 94 per cent in the process. With zero safety incidents and 75 per cent of residential customers choosing to fully transition to energy efficient electric alternatives, the Program design and outcomes serve as a case study for cessation of reticulated gas networks, establish valuable learnings for future customer uptake of electrification and contribute to the global climate action agenda.
When the Esperance Gas Distribution Company (EGDC) announced it would cease supplying reticulated gas to Esperance effective March 2022, the WA State Government turned to Horizon Power to ensure a continued safe and reliable energy supply for the community.
Leveraging our deep understanding of the Esperance community due to our local presence and employees, the Esperance Energy Transition Program was founded on the key principles of customer choice, like-for-like support and 'no impacted customer left behind'. The project undertook extensive customer engagement, safeguarding firm governance structures while providing flexibility in assessment outcomes, respecting the bespoke nature of some households to ensure fairness and equity for all impacted customers.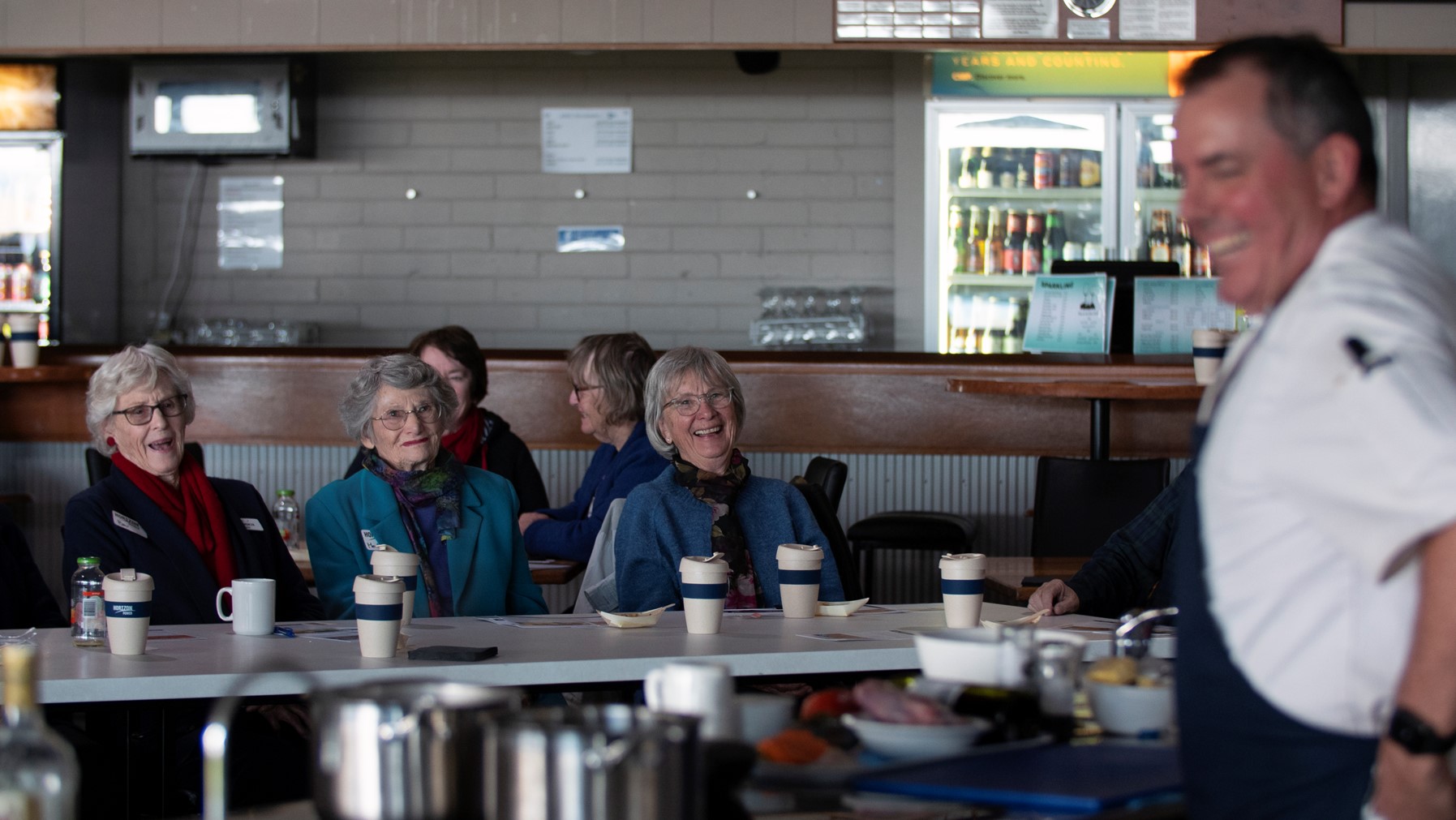 Cooking demonstration: Learning to cook with electricity
SA Power Networks: People's Panel
SA Power Networks independently facilitated a 'People's Panel' in a radical approach to delivering a consumer-centric network Regulatory Proposal for 2025-2030.
The Panel, involving 44 hours of deliberation across 6.5 days with 51 electricity customers, was the culmination of a 2-year engagement program across South Australia, involving 2,300+ participants and 12 distinct communities, shaping the services and investments required to meet the future energy needs of the State.
Our Draft Proposal, being released on 26 July, incorporates all 22 recommendations where the Panel reached consensus, delivering a Regulatory Proposal that balances the various interests of South Australian consumers.
Using the deliberative democracy approach of a 'Citizen's Jury', the Panel was tasked with distilling the results of SAPN's two-year engagement strategy to develop recommendations for our 2025-2030 Regulatory Proposal, providing guidance on the best overall balance of service and price.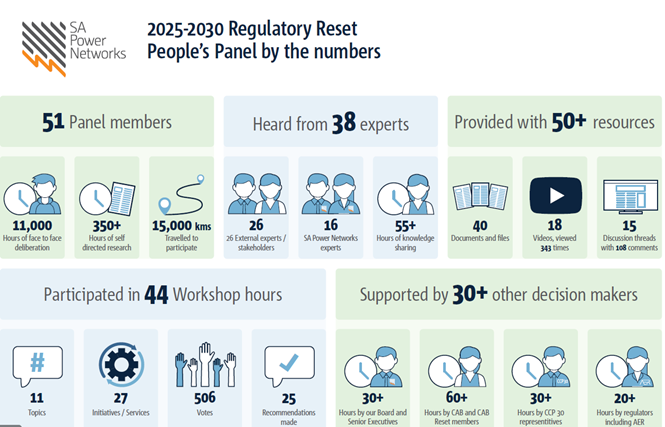 2023 Industry Innovation Award
This Innovation Award is in recognition of leadership in the design, development and application of a ground-breaking Australian energy network initiative, technology, service, or solution.
Energy Networks Australia has announced the shortlist of finalists for the 2023 Innovation Awards.
SA Power Networks, Flexible Exports
South Australia is leading the world in the uptake of rooftop solar. Integrating this abundant, clean energy resource into the network comes with significant challenges including exceeding the capacity of the distribution network as well as risks to broader power system security. SA Power Networks has pioneered a solution to these challenges with the introduction of 'Flexible Exports'; a world-first connection offer which allows customers who install smart inverters to double their solar exports up to 10kW per phase most of the time, while only limiting solar exports in rare times and locations of genuine network constraint.
Flexible Exports was originally proposed as part of SA Power Networks' 2020 – 2025 regulatory proposal in a pioneering approach to model the impact of solar on the Low Voltage (LV) network and demonstrate the benefits of dynamic solar exports. Endorsement from ARENA's Advancing Renewables Program saw the offer implemented under the 'Flexible Exports for Solar PV Trial' [1.1] in September 2021 and has since been scaled-up and launched as a standard service offering in July 2023.
A customer-centric approach was at the core of the service design and SA Power Networks engaged closely with a wide range of stakeholders including standards working groups, dedicated solar industry reference groups, technology providers, Department for Energy & Mining (DEM) and Office of the Technical Regulator (OTR) to build new capabilities and shape enabling regulations.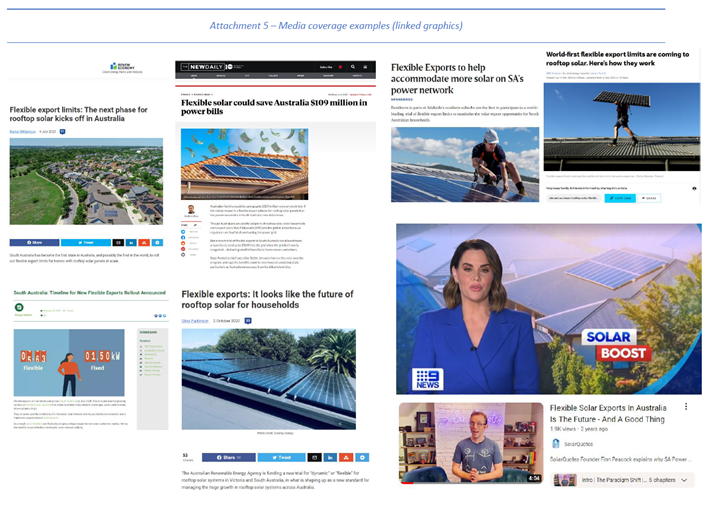 Ausgrid, Project Edith
The rapid demonstration phase of Project Edith was a collaboration with Reposit Power, an aggregator that orchestrates customer resources into VPPs that participate in the NEM. The objective was to showcase how, through dynamic network prices, distribution networks can unlock more value for and from customer energy resources in these VPP arrangements. The project took a collaborative approach, co-designing the solution with project partners and engaging with stakeholders from across the industry.
Project Edith is named after Edith Clarke, a pioneer of electrical power system analysis, considered the 'Mother of Invention' at GE alongside Thomas Edison and Nikola Tesla.
The project showcases how the services distribution networks offer could evolve to support CER participating in markets through customer agents in constructs like VPPs. The project partnered with ANU and Zeppelin Bend to leverage their dynamic operating envelope solution developed in Project Evolve, augmenting it with a dynamic pricing engine.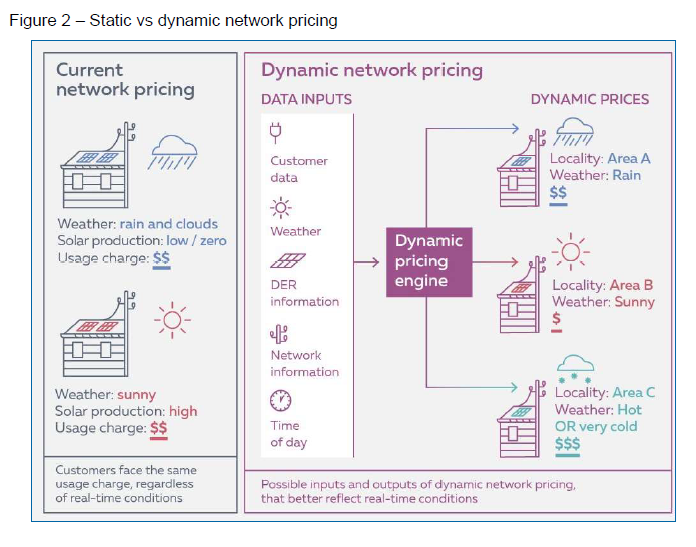 Essential Energy, Cutlers Cottage Hydrogen Stand Alone Power System
The Hydrogen supported Stand Alone Power System (SAPS) for Cutlers Cottage in the Myall Lakes National Park is an Australian first. It is a totally standalone system, using a solar array, Lithium-ion batteries, hydrogen fuel cells, electrolysers and water storage to power the cottage year-round. Unlike traditional SAPS, it does not rely on fossil fuels, such as diesel generators, for backup. It is a real-world trial, running from August 2022 (commissioning) to February 2024. The project is a partnership between Essential Energy, the NSW National Parks and Wildlife Service (NPWS) and GreenHy2 (formerly Tempo Australia).
Off-grid solutions that meet performance and reliability requirements for electricity distribution networks typically rely on diesel generators to offset the high $/kWh of electro-chemical storage such as Lithium-ion batteries. By removing fossil fuel backups, this trial sought to:
deliver a solution that is totally standalone, with zero ongoing emissions, less maintenance and lower operating costs
expand solution offerings for fringe of grid, address high cost to serve customers
In conjunction with NSW NPWS the project also aimed to demonstrate a system with significantly lower environmental impacts, including lower greenhouse gas emissions and noise pollution. Noise and local emissions were primary objectives.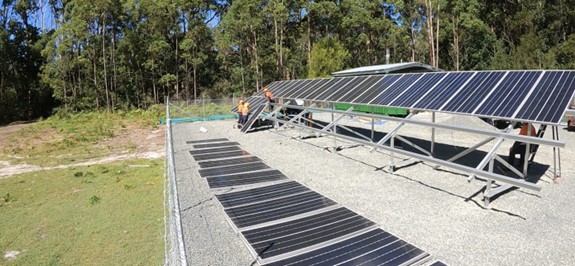 The winner of both the Innovation and Consumer Engagement Awards will be announced at Energy Networks Australia's annual dinner in September.