The Sprint to a SuperGrid
Queensland has previously committed to a 50 per cent renewable target by 2030 and now the State Government has announced an accelerated plan, the Queensland SuperGrid Infrastructure Blueprint. The aim is to reach 70 per cent renewables by 2032 and 80 per cent by 2035, in time to showcase to the world Queensland's clean energy credentials for the 2032 Olympics and Paralympic Games.
The plan is not just aimed at cleaner energy but creation of jobs and a renewable hydrogen export industry.  Queensland's energy system will stay in public hands, with 100 per cent ownership of transmission and deep storage and the majority ownership of generation.
Key features of the plan are to beat the 50 per cent renewable energy target by two years and lower emissions by 90 per cent by 2035-36, Fig 1.  By 2030 Queensland plans to have five times more renewable energy, expects to have delivered the Borumba pumped hydro and have greater connection with southern and central Queensland with 36b$ of investment.  By 2035 the plan delivers eight times more renewable energy than 2022, taking the investment to a staggering spend of 62b$ over the next 15-17 years. Household electricity retail bills are expected to be $150pa lower in 2032 than they would be without the plan. This last phase also develops the world's largest pumped hydro energy storage at Pioneer Burdekin, west of Mackay.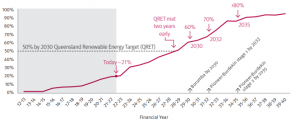 Fig 1 Queensland Renewable Energy Targets[1]
Blueprint checkpoints
The Blueprint provides the vision for the investment in network and generation to provide certainty of energy affordability for industry and new export industries like green hydrogen.  It will need ongoing review and updates to coordinate the delivery of the new infrastructure with the closure or repurposing of the old coal fired power stations to ensure that Queensland always meets its peak energy demand.
The Queensland Government will establish a Queensland Energy System Advisory Board to provide the necessary technical expertise and review of the Blueprint every two years.  This Board will progress the Blueprint and ensure reliability through the transition.
Major transmission backbone
The new renewable generation will be decentralised so the transmission network will need to evolve over time with some 1,500km of new transmission lines.  Four new high voltage, 500kV transmission projects will be constructed by the mid-2030s in the four stages proposed, Fig 2:
Two transmission connections of 80km and 60km to connect Borumba to the grid in Southern Queensland, to be operational by 2030 aligned with the Borumba pumped hydro project.
A 290km line to connect southern and central Queensland allowing more energy to move around.
A 750km line to connect central Queensland to the northern Pioneer – Burdekin pumped hydro project and northern energy load, expected to commence operations in 2032; and
A 370km line to connect Hughenden to the west of Townsville with completion expected by 2035 and an opportunity for further extension to the Northwest Minerals province.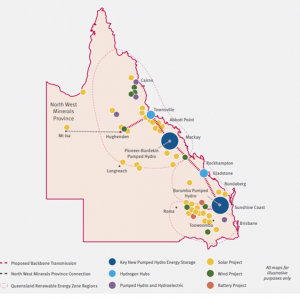 Fig 2 – Queensland future grid with new transmission backbone network, pumped hydro energy storage and more renewables[2]
Growing the Renewable Energy Zones
Greater quantities of renewable energy generation capacity are required to replace each MW of retiring coal generation.  The preliminary views in the blueprint are that the renewable energy zones (REZs) will grow to connect 25,000 MW of large-scale renewables by 2035:
Northern QREZ – 6,120 MW
Central QREZ – 8,090 MW
Sothern QREZ – 10,795 MW.
A QREZ Roadmap will be developed to consult with communities directly impacted on the near term and longer-term proposal in their region.  Individual REZs will be announced by the Queensland Government, following a ministerial declaration, and will be informed by the designated planning body (proposed to be Powerlink).  The planning body will develop the more detailed REZ Management Plans which are a key part of the governance framework, Fig 3.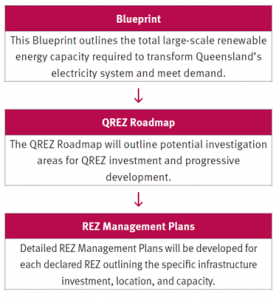 Fig 3 Creating the SuperGrid of the future[3]
Role of storage and renewable gas
Queensland expects to need at least 6GW of long duration storage complemented by 3GW of grid scale storage and up to 3GW of new low to zero emission gas fuelled generation, plus the existing interconnection with NSW based on current demand forecasts.  Importantly Queensland recognises the need for gas/renewable gas to provide dispatchable firm energy to meet demand, Fig 4.
Victoria has similarly announced a new VEST or Victorian Energy Storage Target policy with an expectation to reach at least 2.6GW of storage by 2030 and 6.3GW by 2035[4] which could be met by a range of technologies including short and long duration storage, household batteries and hydrogen-based generation.  The Victorian storage targets are about half where Queensland plans to be in terms of dispatchable energy by 2035.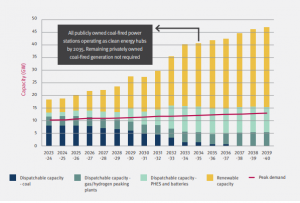 Fig 4 Queensland modelled dispatchable capacity of the future energy system out to 2040[5]
Keeping the power system secure
The Blueprint recognises the need to maintain system strength and security as the generation mix changes:
Coal fired units will be re-purposed to become synchronous condensers and provide system strength and inertia where possible (with the flexibility to be reversible and utilised in renewable droughts or contingencies).
At least two new stand-alone synchronous condensers will be needed; and
Further synchronous condensers and batteries will be included as part of the Queensland REZ developments.
The 62b$ of industry wide capital investment in the energy system will occur over 10-15 years with the investments like pumped hydro and transmission being recovered over longer timeframes e.g. 50 years.  Notably the estimated additional transmission costs make up around 11 per cent of the investment and are an important enabler of a low emissions economy.
Queensland will consult further on the details of the plan in 2023/2024 and lay the foundations for investment. 2024-28 will be about continuing to build renewable energy capacity and re-purpose Queensland publicly owned coal fired power stations into clean energy hubs.  2028-2035 will be the more ambitious era – building more renewable capacity and more repurposing of retiring coal. Big, hairy and audacious goals – Where else but Queensland?
[1] Queensland Energy and Jobs Plan Overview, September 2022, p5
[2] Queensland SuperGrid Infrastructure Blueprint, September 2022, p26
[3] Queensland SuperGrid Infrastructure Blueprint, September 2022, p33
[4] https://www.energy.vic.gov.au/renewable-energy/a-clean-energy-future/victorian-renewable-energy-and-storage-targets#:~:text=Victoria's%20energy%20storage%20targets%20will,least%206.3%20GW%20by%202035.
[5] Queensland SuperGrid Infrastructure Blueprint, September 2022, p47