AER says distribution productivity up, bills down
The Australian Energy Regulator's (AER) latest benchmarking report released on 30 November shows strong improvements in productivity by many electricity distribution network businesses throughout 2016.
This is the highest productivity increase electricity distributors have experienced in 11 years, significantly due to implementation of business improvement and transformation programs across networks.
Australia's incentive-based regulatory model is based on the principle that networks are set efficient revenue allowances by the regulator. Where networks are able to meet and beat these targets, efficiencies are passed through to consumers over time. Higher productivity performance this past year results in reduced costs for customers in the future.
Good news for consumers
Economic benchmarking is one of a number of tools increasingly applied by energy regulators to inform decisions about efficient allowed revenues for regulated Australian energy networks. Benchmarking provides transparency for consumers, policy-makers and investors on the performance of regulated network businesses. Clear information that identifies the drivers of electricity costs is important for important for Last week's report demonstrates higher bills are not due to networks; rather, networks charges make up less of total customer bill costs than in previous years
The report clearly proves that the network revenue component of household electricity bills has been decreasing (Figure 1). This is the case for all six National Electricity Market (NEM) States and Territory covered by the AER report, which shows total network revenue are falling.
Figure 1: Index of network revenues from 2006-2016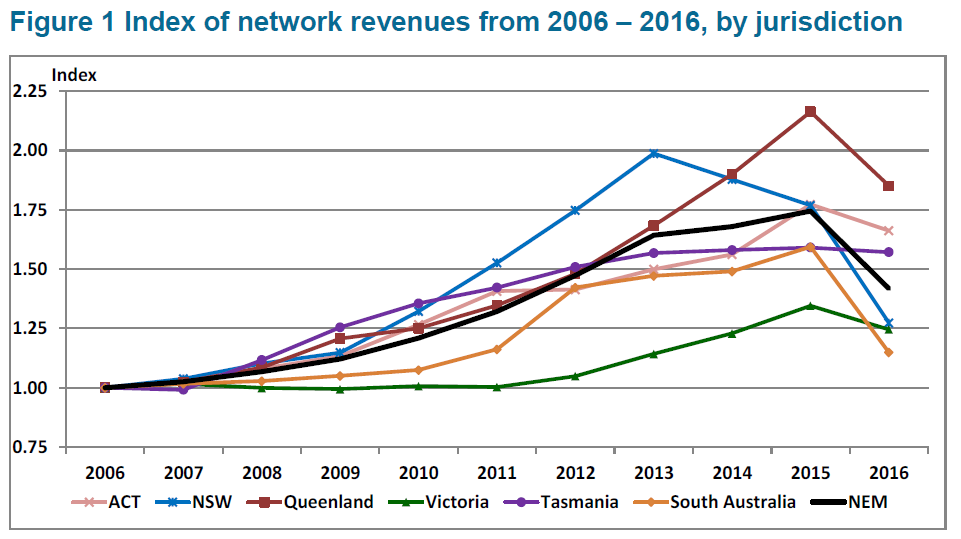 Source: AER, Annual Benchmarking Report, Electricity distribution network service providers, November 2017, p.6.
The AER's recent decisions forecast revenues to fall by 13.5 per cent compared with the previous round of decisions, falls which reflect past efficiency gains, and changes in regulator-approved costs allowances (See Figure 2).
Figure 2: Forecast impact of AER decisions on residential electricity charges (average annual % decline), by DNSP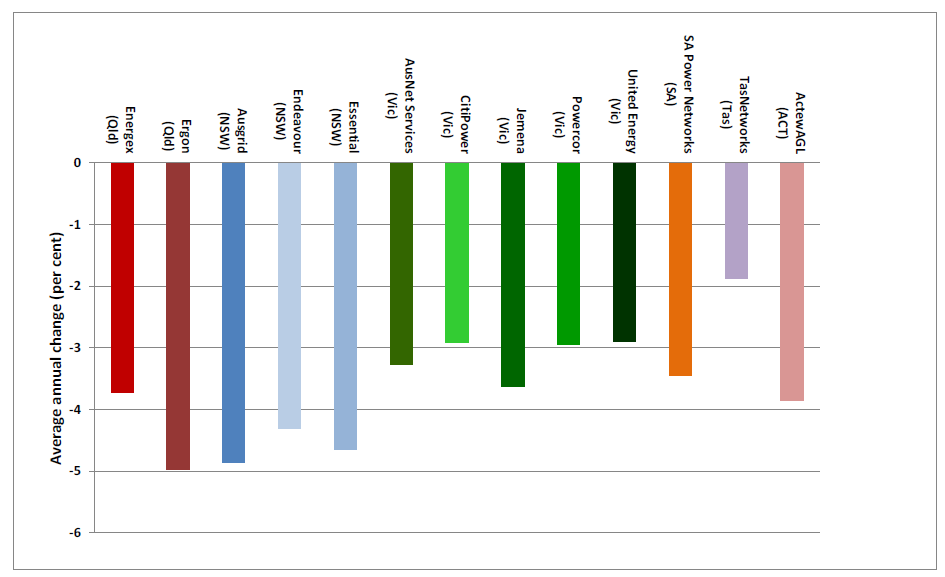 Source: AER, Annual Benchmarking Report, Electricity distribution network service providers, November 2017, p.25.
Network sector productivity is growing
The report confirms improved productivity in distribution networks across the ACT, New South Wales, South Australia, Queensland and Victoria.
Electricity networks have significant efficiency programs underway and are driving better performance through smarter use of existing assets, technology and the expertise of staff. The primary factor that drove productivity in 2016 was decreasing operational expenditure.
The value of the economic benchmarking
Economic benchmarking is applied by many Australian and international electricity and gas regulators.
Benchmarking is a valuable tool for corporate management and continuous improvement at a firm and industry level. Many networks have undertaken internal benchmarking processes over the past decade to identify cost saving and efficiency opportunities. Networks strongly supports the use and further development of robust benchmarking technique as a tool to assist economic regulation. Networks remain committed to working with the AER to ensure the best quality and most consistent data possible.
Benchmarking of the kind undertaken involves comparing the performance of different network firms across a range of cost and service performance measures. This comparison is carried out in part to inform judgements on whether a network firms' forecast costs to build, operate and maintain electricity networks are efficient.
Inevitably, benchmarking involves measurement approaches that require choice and careful judgement. While network businesses may not agree with the precise methodology used for each and every benchmarking measure, the report does highlight the continued focus of electricity distribution networks on improving performance across the sector without compromising service.