All aboard the hydrogen train
Battery electric vehicles are growing in popularity, particularly in Europe and the US, but their range and recharging time are still perceived by many as a drawback. But what if all the benefits of an electric vehicle could be coupled with the range and similar refuelling times of a petrol vehicle, without the emissions? Enter hydrogen fuel cell technology.
A hydrogen future is not as far-fetched as some may think, with hydrogen trains, ships, trucks and passenger vehicles now in use.
The hydrogen train
Using hydrogen as a fuel for trains has become a commercial reality with the launch of the first commercial hydrogen train in Germany – Alstom's Coradia iLint[1].
Many modern trains are either electrified or powered through a diesel-electric locomotive. In both cases, an electric motor is used to move the wheels of the train, but diesel-electric locomotives can travel in areas where electric power lines cannot be provided (e.g. on long distance trips).
The new hydrogen train replaces the diesel engine with fuel cells that are powered by hydrogen stored in cylinders on board. The train has a set of lithium ion batteries to provide intermediate energy storage to provide boosts during acceleration and allows the train to recover kinetic energy during braking.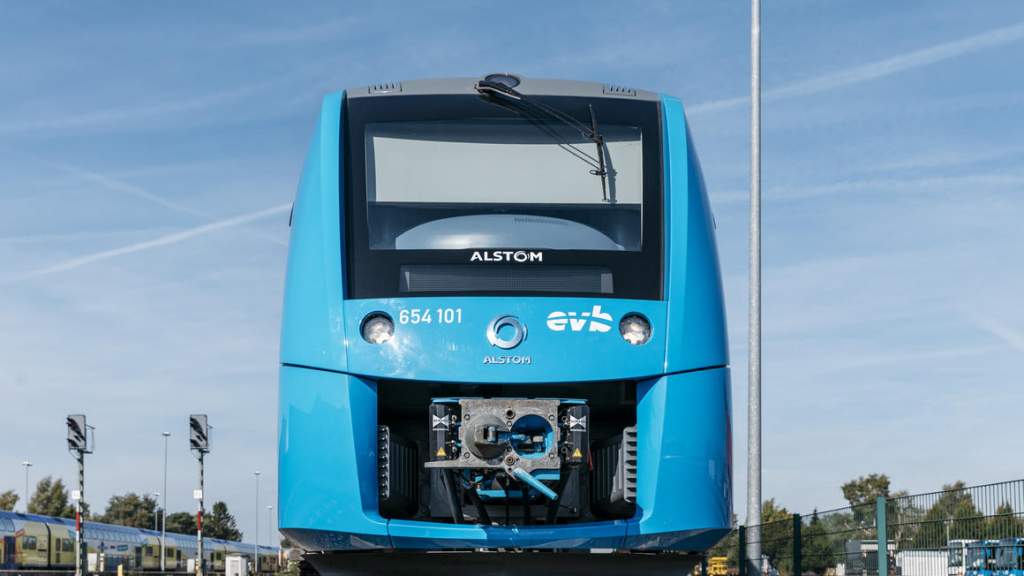 Typical emissions from a diesel powered train can be reduced by half when the hydrogen is produced from natural gas or reduced to zero when electrolysis is used from renewable energy.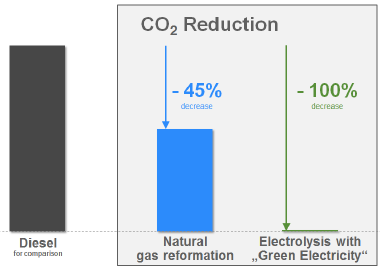 The Coradia iLint is now in service in Lower Saxony, Germany, running between the cities of Cuxhaven, Bremerhaven, Bremervörde and Buxtehude.
Alstom recently featured immediately before Energy Networks Australia as a plenary presenter at the UK's Low Carbon Networks & Innovation conference. The Alstom slides can be viewed here.
Hydrogen passenger vehicles
The automotive industry appears to be leading the global take-up of hydrogen with a range of new hydrogen vehicles announced in the last year and some almost ready for release in Australia. It is expected that both the Hyundai Nexo[2] and a version of the Toyota Mirai[3] will be available in Australia by the end of 2018 or early 2019. The technology is ready and Toyota is giving three of its Mirai hydrogen fuel cell electric cars to Melbourne's Hobson's Bay City Council to test over a 12-week period – the first vehicles of their kind to be driven under real-world conditions in Australia[4].
Globally, the hydrogen car stock reached 8,000 units in April 2018[5]. The United States represents the largest fleet with 4,500 vehicles, mainly registered in California where the Zero Emission Vehicle Programme has driven sales. Japan has the second-largest stock with 2,400 units, followed by Germany and France. In addition, 150 hydrogen buses have been introduced in China and 60 hydrogen buses in Germany. While the current stock is low globally, the International Energy Agency indicates strong growth in hydrogen fuel cell vehicles, to levels of 2.5 million by 2030. This is based on national targets of countries leading hydrogen fuel celled vehicle development. Accompanying this growth in vehicles is also a strong growth in refuelling facilities.

Hydrogen as a fuel has broad applications. As a feedstock, it can be used in many industrial processes and as an energy source it can be used as an accompaniment to natural gas or for electricity generation and energy storage. As a transport fuel, it can be used in shipping, trucks or rail – with demonstrations in all sectors.
World's first hydrogen ship[6]
The Energy Observer is powered by a combination of renewable energies and a system that produces carbon-free hydrogen from seawater. The ship is on a six-year round the world journey, having already sailed around France and with plans for it to be in Tokyo for the 2020 Olympics.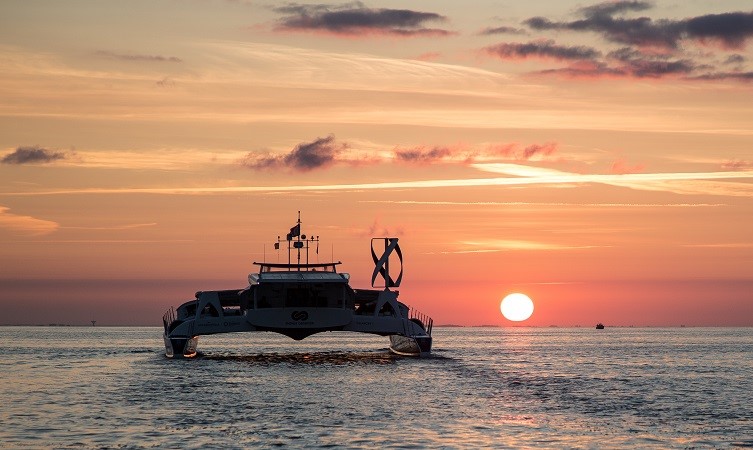 During the journey, the on-board technology in extreme conditions will be tested. The journey will visit 50 countries with 101 ports of call. During 2021 it is expected to be in Cairns, Queensland. You can follow the journey at: http://energyobserver.geovoile.com/tourdumonde/2018/tracker/?lg=en
Hydrogen trucking
Using hydrogen as a fuel for trucking is another major opportunity under development. This is driven by the push away from diesel trucks to address greenhouse gas emissions (as well as sulphur and particulate emissions). Options for lower emissions include trucks powered by natural gas, battery electric, propane, and hydrogen fuel cell technologies[7]. Major progress is being made, but commercial products (so far) are quite limited. In particular, no zero-emissions platform (battery-electric or fuel cell) is yet proven in the most-challenging Class 8[8] heavy-duty trucking applications.
Some experts believe a hydrogen technology platform may offer the long-term zero-emission solution for high fuel use in heavy-duty trucking applications, because of advantages it offers on driving range and refuelling time.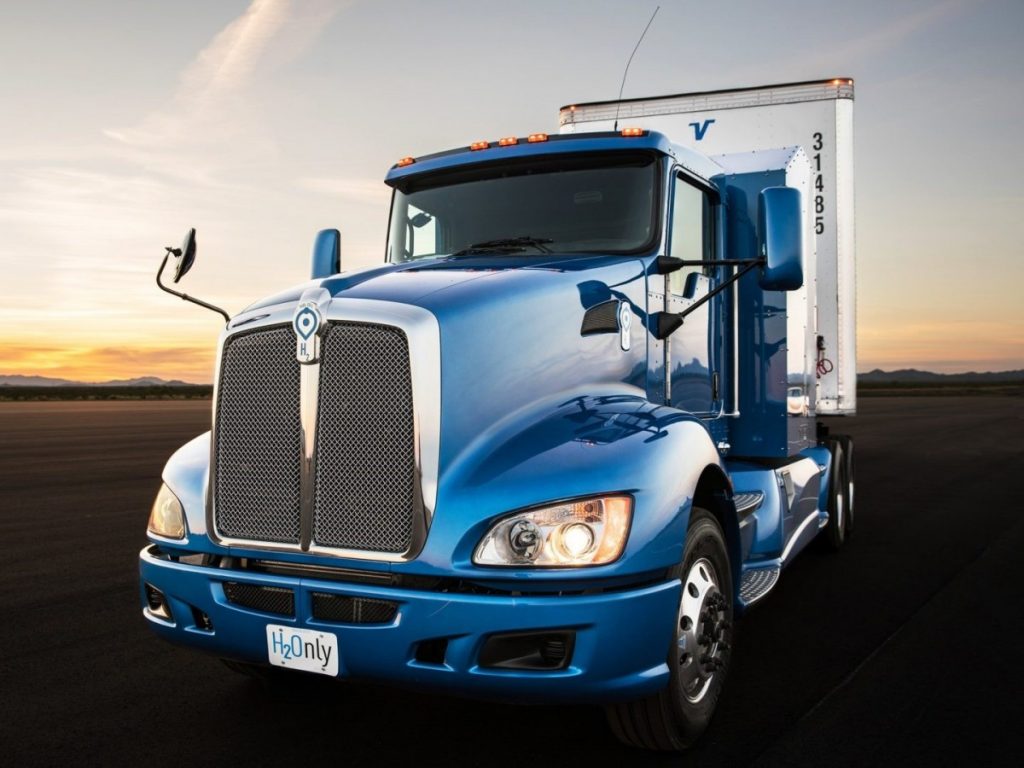 In September 2018, Hyundai said in a statement it will partner with Swiss hydrogen company H2 Energy and fuel cell operators to provide 1,000 hydrogen trucks to Switzerland. These will be the world's first commercial hydrogen trucks.
The opportunity for Australia
Australia lags behind northern hemisphere countries in supporting the roll out of hydrogen as a low emission transport fuel. As demonstrated internationally, hydrogen has a role to play in passenger vehicles, trucking, trains and shipping.
Many of these demonstrations have been driven by businesses that see a long term commercial opportunity and have been supported by governments. Investment in supporting infrastructure and supportive policy settings are required.
Major businesses and corporations see hydrogen as a commercial opportunity to reduce global emissions. It has opportunities across a broad range of sectors.
In Australia, some projects are underway to demonstrate hydrogen passenger vehicles, buses and rubbish trucks[9] as well as the commercial rollout of some hydrogen vehicles in early 2019. Furthermore, major funding announcements have been made in pilot projects and industry led research and development that will demonstrate the role hydrogen can play in reducing our emissions.
The NSW Deputy Premier John Barilaro has announced that the $4.2 billion of proceeds from the purchase of NSW's share of the Snowy Hydro Scheme would be distributed in five key areas. One of these priority areas is improving road and rail transport, to make regional travel faster, safer and easier between regional and metropolitan centres. The potential role of hydrogen could be considered for its role in providing safe and secure transport with reduced greenhouse gas emissions.
What next?
Hydrogen can play a key role in Australia's decarbonisation journey. However, a major risk to the development of the domestic hydrogen industry is  policy proposals targeted at electrifying household heating, hot water and cooking.
The real long term role of hydrogen in Australia will partly be driven by the research and development and pilot projects already underway. Supportive policy settings that create opportunities for a range of clean energy options to be deployed are needed if a commercial hydrogen industry is to develop here in Australia.