Rocking down Electric Avenue
Earlier this week United Energy announced the rollout of small pole-top batteries across some of its network. Called 'Project Electric Avenue', this is the largest project of its kind to date in Australia and will see 40 unique 30kW batteries installed on power poles over the next 18 months. Each battery will have the capacity to provide electricity to up to 75 homes.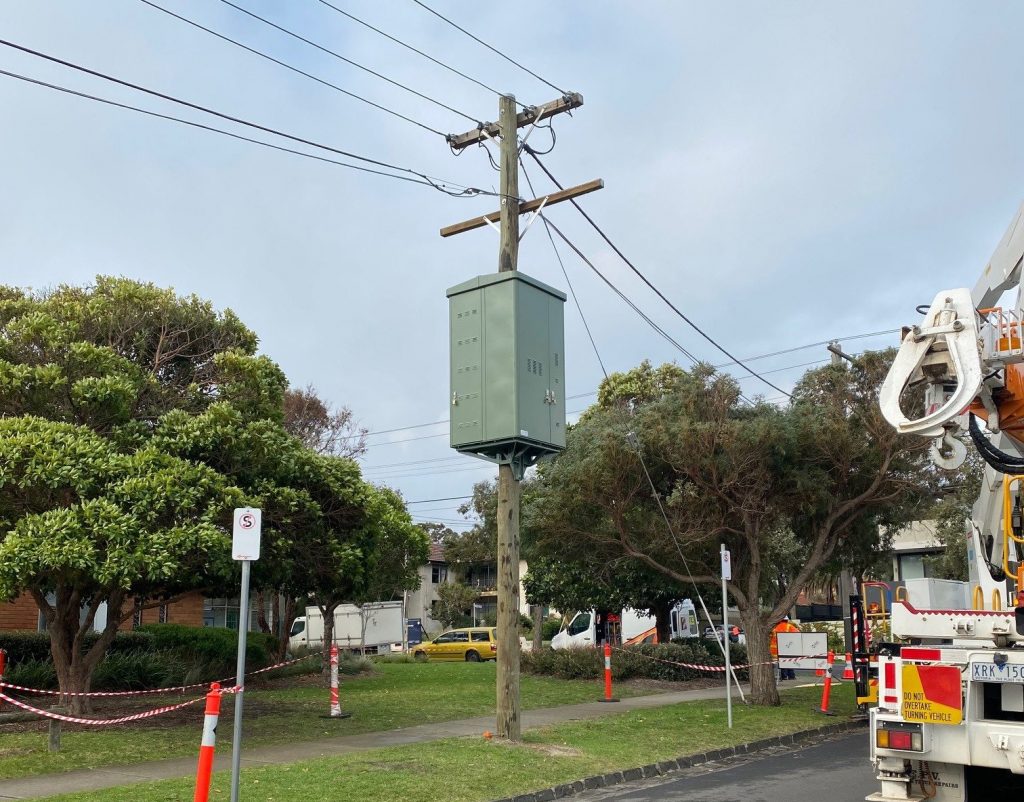 Is there enough energy to share?
As it turns out Australians really like solar…a lot. Our nation has the highest uptake of rooftop PV globally with about 29 per cent of homes with solar panels. That's getting close to about 1 in 3 homes across Australia. Already 12 per cent of United Energy's customers have connected solar to the network. This is good news for the climate and customers' hip pockets.
But what happens when you need power and the sun isn't shining or if the energy network doesn't need the energy you're generating? Does it go to waste? That's where batteries come in.
The pole-top batteries will store the energy that can be then used locally when there is a need. This also means homes without solar panels can still enjoy the benefits of renewable energy.
The batteries are fixed to the existing electricity poles and will charge at times of the day when there is low electricity demand and high solar i.e the middle of the day when the sun in shining and households are at work or school. The power generated in the batteries can then be used when power usage is high and there isn't as much sun – like in the evening when everyone is at home watching TV.
United Energy has partnered with leading retailer Simply Energy to roll out the project, which will use the batteries as part of its Virtual Power Plant program.
Customers will not notice any difference in their electricity supply when the battery is operating.
Why not just build a really big one?
The batteries United Energy is using are smaller than other batteries being trialled around Australia. They are 1 metre wide and 2 metres tall and sit about 3 meters off the ground on existing power poles. Because of their size they can be placed in more densely populated areas and are designed to blend into the urban landscape.
Unlike big battery projects which provide grid level stability and electricity market outcomes, these smaller batteries are designed to help improve electricity reliability and enable greater solar PV exports in local areas where the low voltage distribution network is constrained.
Are there other projects like this?
Other distribution network service providers are installing larger community batteries in their network, about the size of a 4WD.
Ausgrid launched its second community battery trial in Bankstown, Sydney earlier this year. The first is located in Beacon Hill. Both batteries are located in suburbs with medium to high density living and service about 100 homes each.
Western Power is rolling out various batteries across Perth and regional WA and there are currently 13 batteries on the network. These batteries have an added bonus of providing cheaper and reliable power to remote communities and reduce the high cost of upgrading existing power infrastructure needed to cover vast distances between towns.
Ring Fencing
While batteries and other energy storage device are becoming increasingly efficient options to address network reliability and smooth out the peaks and troughs of demand and supply, the regulatory framework that sits behind these projects needs updating to recognise this energy transition. Energy Networks Australia supports updates to the Australian Energy Regulator's (AER) ring-fencing framework to ensure customers can benefit fully from the introduction of new technologies.
While distributors can use energy storage devices to provide distribution services, the AER's existing service classifications and ring-fencing framework limit distributors' ability to provide certain energy storage services to customers. Enabling value-stacking of energy storage devices through the AER's current review will reduce the cost to all customers of networks providing distribution services, foster the energy storage market and provide incentives for third parties to enter.
Australia's electricity networks need more flexible, pragmatic regulation to support our accelerating transition to a decarbonised energy system.