Connecting solar and batteries to the grid
Over the last decade in Australia, customers have heavily invested in rooftop installed PV power. But what traditionally was seen as a solution for those households and properties on the edge of the grid in regional and remote areas is of increasing interest to customers in towns and cities of today, who are grid-connected. This week we look at how solar generated energy can connect to the grid. 
It has long been considered that customer-side investment in solar photovoltaic (PV) power and batteries could be an alternative for those living at the edge of the electricity grid. For those customers in regional and remote areas, reliability is crucial, and systems that include energy storage, which offers back up energy in times of disruption, is essential. .
Fast forward to towns and cities of today, and grid-connected solar and battery systems have gone mainstream. When feed-in tariffs for solar export dropped far below the rates paid for grid electricity, households started looking for ways to cut bills by making better use of their excess solar generation.
Over the past 10 years in Australia, low voltage power producers have gained significant system relevance as customers have heavily invested in rooftop installed PV power. It is forecast that this trend will continue for the foreseeable future. Storage solutions are also predicted to be widely adopted, indicating that low voltage power producers are continuing to gain significant relevance.
This customer investment in solar PV and batteries could become a critical alternative to investing in costly network upgrades, particularly where the local network is reaching capacity at times of peak demand. Modelling suggests there is significant whole-of-market benefits – particularly cost savings – if residential customers could access the full range of value streams that their installed systems can offer.
However, to enable these systems, they need to be connected to the grid properly. This means standardising, simplifying and streamlining the connection of next generation technology; an initiative that is a key priority for networks, customers and industry stakeholders.
Up until now, electricity network service providers across Australia have a mix of customers, geographic conditions and business models, all operating under a sophisticated set of rules, regulations and performance criteria. Each network has responded to these challenges independently, resulting in a range of technical requirements and connection processes which, although consistent with local regulatory requirements, result in some inconsistencies between networks and a lack of clarity for proponents.
These issues have been identified as a major concern by stakeholders in numerous industry reports and reviews including the joint CSIRO and Energy Network Australia Energy Network Transformation Roadmap[1], and the Clean Energy Council's Future Proofing Australia's Distribution Networks[2].
This lack of clarity causes confusion with regard to the technical requirements needed for systems to connect to the grid. This has resulted in a large proportion of customer inverters being installed with settings (e.g. frequency trip settings) outside those stipulated in the connection agreement between the customer and the network. This in turn has led to systems not operating to their full potential in integrating with the grid and consequently, full value not attained for the customer.
As Australia's electricity grid continues to modernise, these renewable technologies will need to be integrated properly, if they are to help facilitate the transition to a smarter grid.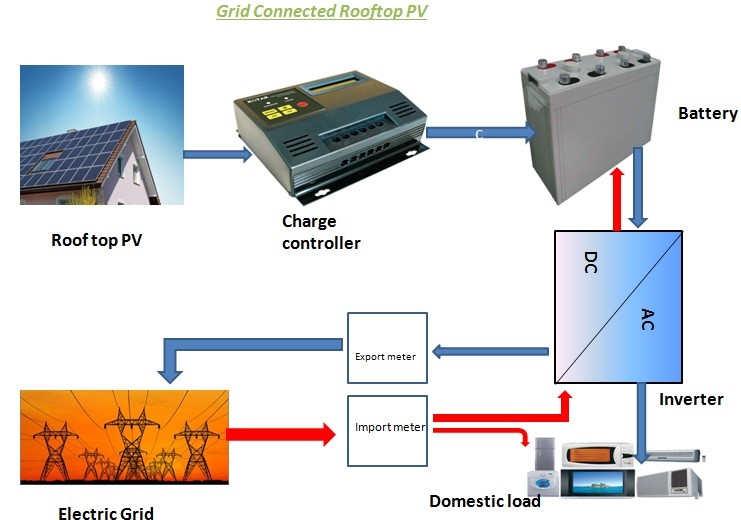 How solar generated energy can connect to the grid
Whenever the sun shines (and even in overcast weather), solar cells in rooftop panels generate electricity. The grid connect inverter converts the DC electricity produced by the solar panels into 240V AC electricity, which can then be used by the household.
If a grid connect system is producing more power than is being consumed, the surplus can be fed into the mains power grid. Some electricity companies will meter the electricity fed into the grid by your system and provide a credit on your bill. How much a customer is paid is determined by the feed-in tariff.
When solar cells are not producing power, for example at night, energy is supplied by the mains power grid as usual. The energy retailer charges the usual rate for the power used.
Every customer's needs are different and the generation potential of solar power differs from place to place, so solar and battery systems will differ. What doesn't change, however, is the need for maximum efficiency, lowest cost and steady supply, which is what the guidelines will support.
We need consistent nuts and bolts
Energy Networks Australia's seminal Electricity Network Transformation Roadmap of 2017 found that by the year 2050, almost two thirds of customers will have distributed energy resources and network service providers could buy grid support in a network optimisation market worth $2.5 billion per year.
However, a significant amount of technical foundation work is required before the market is ready and the Finkel Review specified a number of the challenges associated with integration of distributed energy resources (DER), such as household PV and batteries. To help meet the challenge regarding the connection of these resources, Energy Networks Australia, in conjunction with its network members, has commenced a project to prepare a nationally consistent set of guidelines for network connection of a range of generation technologies, outlining the technical requirements to facilitate streamlined integration.
The National DER Connection Guidelines set out the framework, principles, approach and technical settings for Australian Network Service Providers to adopt in the development and application of their technical requirements for grid connection of DER. The ultimate aim of the guidelines is to facilitate the fair and efficient integration of DER into the grid from the perspective of  network businesses, renewable energy customers and Australia's electricity system more generally.
Our guidelines will shore up a technologically sound, modernised energy grid that has the ability to connect customers with networks and markets in a consistent way that improves supply efficiency and bolsters security.
The first in a set of guidelines to be developed, "Distributed Energy Resources Grid Connection Guidelines: Framework and Principles", was published by Energy Networks Australia last week. This guideline contains the principles, objectives, structure and framework for Australian Network Service Providers to adopt within their own documents and procedures for connection of DER. The Framework and Principles Guideline will be followed by four subsequent publications. These will detail the specific technical requirements for network connection. While these guidelines are voluntary, all Australian networks have committed to adopt the requirements to ensure consistency in how household and business solar and batteries are integrated into the grid.
They will achieve this by:
Providing clear and complete technical requirements for grid connection for Australian distribution networks;
Providing a level of consistency between Australian network businesses' technical requirements for grid connection in terms of  structure of presentation and the requirements themselves; and
Ensuring that the networks technical requirements are consistent with the National Electricity Objective.
What you've told us
Early feedback to the guideline's release has been  positive.
Angela Day, Customer Experience Specialist at Energy Queensland, has said, "Connecting solar is a popular topic in our community engagement sessions. Forwarded thinking and alignment is key to equity for all Australians."
Kane Thornton, CEO of the Clean Energy Council, has said, "(The Guidelines are) a great initiative. (It's) very important to ensure consistent and appropriate treatment of connections for solar and batteries."
Energy Networks Australia is keen to receive further feedback that will inform subsequent industry guidelines.
The huge uptake of rooftop solar systems and the increasing growth of household batteries has created an urgent need for our grid to be retooled as a modern, two way energy platform. These guidelines will better enable integration of these resources into the system and this is a key priority for Energy Networks Australia and our members.
Energy Networks Australia will review the DER guidelines regularly to make sure they are consistent with legal frameworks and technical standards. The first review will be in October this year and the guidelines will be independently evaluated every two years.
"Distributed Energy Resources Grid Connection Guidelines: Framework and Principles" can be found here. Should you want more information on this project and the development of the technical guidelines, please contact Dr Stuart Johnston at info@energynetworks.com.au