Did Grattan say it was all distributors' fault?
Nope. You may get that impression, like I did, from the 'Overview' section, however once you move past that little bit about 97 per cent of outages being caused by local poles and wires, the report goes on to talk about how reliability of distribution has increased.
This increased reliability is despite the other challenges the Grattan report showed that both transmission and distribution networks are facing, such as increased prevalence of asynchronous and distributed energy sources (DERs), lack of policy certainty and the challenges hot weather places on the entire energy network.
Let's go through a few points.
Has reliability decreased? No. The Grattan reports states that "Australia's distribution networks are incrementally improving reliability". The report does highlight that the network is more vulnerable on hot days with outages three times more likely on days over 35 degrees.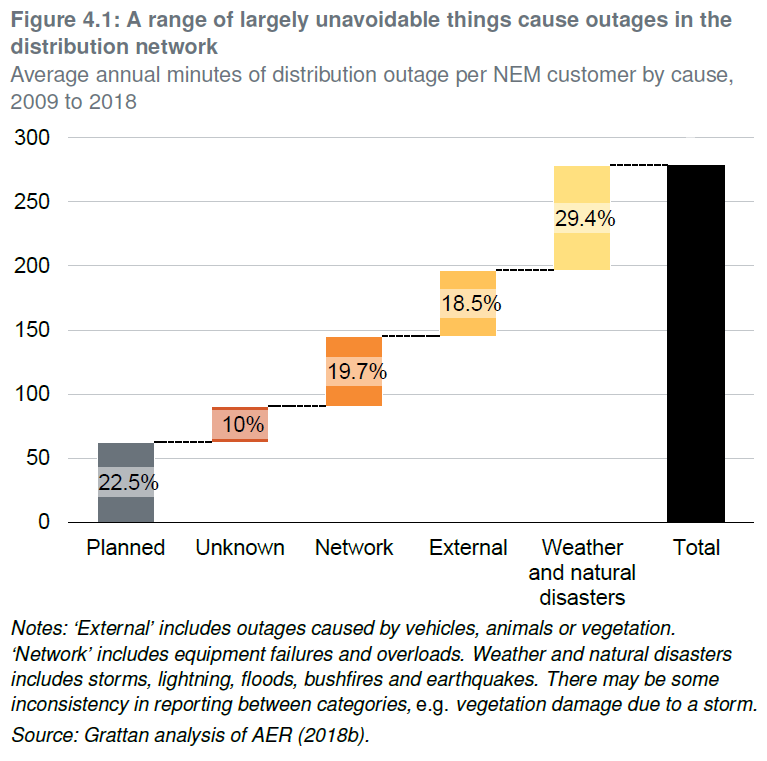 Weather and natural disasters contribute to 29.4 per cent of total outages. In fact, the report states that if uncontrollable weather events are removed from the equation then the normalised level of outages declines from about 133 minutes per customer to 116 minutes.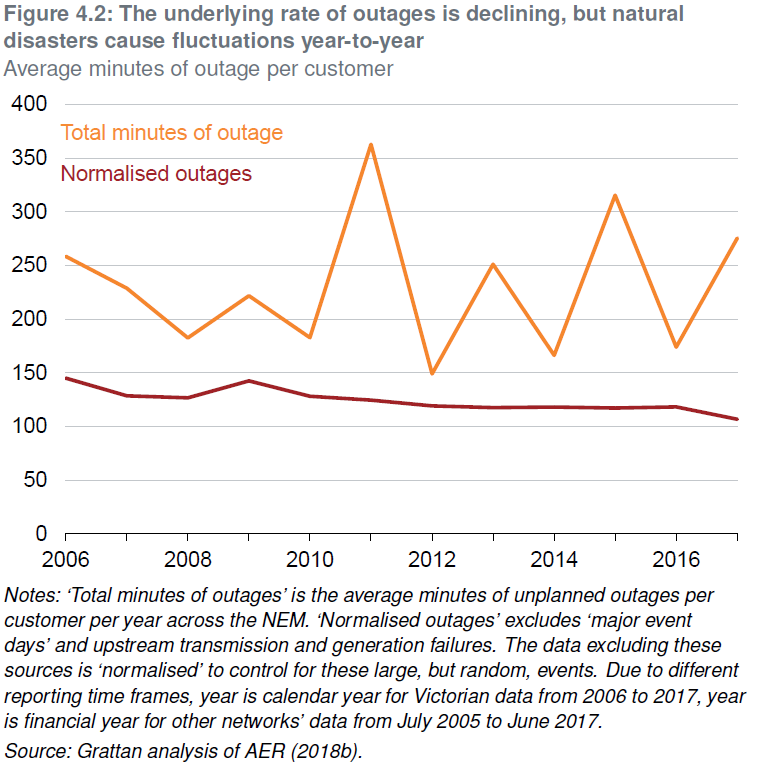 All these improvements are threatened by the rise in asynchronous energy sources, particularly DER.
As outlined in the Grattan report, DER presents a challenge to the grid.
The grid was originally designed to transmit and distribute energy from large, concentrated, synchronous sources to consumers in a one-way unidirectional flow. With the rise in rooftop photovoltaic (PV) solar systems and batteries at homes and businesses around the country, our system is becoming increasingly distributed. More energy is flowing back in to the grid from these DER sources as people export surplus power.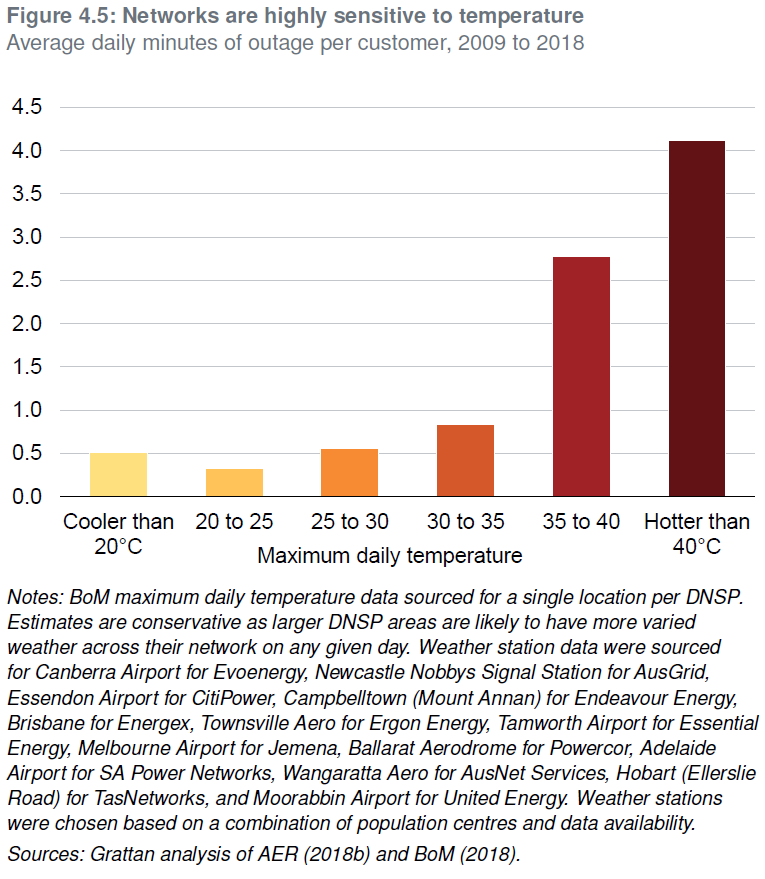 Over the past ten years in Australia, low voltage power producers have gained significant system relevance as customers have heavily invested in rooftop PV power. This is forecast to continue in the foreseeable future.
Energy Networks Australia's seminal Electricity Network Transformation Roadmap of 2017 found that by the year 2050, almost two thirds of customers will have distributed energy resources (DER) and network service providers could buy grid support in a network optimisation market worth $2.5 billion per year.
A significant amount of technical foundation work is required before the market is ready for the increase in DER connections and the Finkel Review specified a number of the challenges associated with their integration. To help meet the challenge regarding the connection of these resources, Energy Networks Australia, in conjunction with its network members, has commenced a project to prepare a nationally consistent set of guidelines for network connection of a range of generation technologies, outlining the technical requirements to facilitate streamlined integration.
The ultimate aim of the guidelines is to facilitate the fair and efficient integration of DER into the grid from the perspective of network businesses, renewable energy customers and Australia's electricity system more generally.
The DER connection guidelines will shore up a technologically sound, modernised energy grid that has the ability to connect customers with networks and markets in a consistent way that improves supply efficiency and bolsters security. [i]
Then there's the issue of how much we should be spending on our network infrastructure. There's been a tendency in the past to invest sizeable amounts to meet stringent reliability standards that were implemented following significant outages. A past Grattan report claimed $16 billion of investment in infrastructure by NSW and Queensland only returned between $2 billion and $4.8 billion to customers in these two states. While those amounts are questionable, we would agree the best time to be setting long-term energy policy is not straight after a blackout.
Overall capital expenditure by networks has decreased from 2006 levels[ii] and yet as the Grattan report has shown, network reliability has increased. The Grattan report also suggest that increasing this expenditure will not necessarily deliver proportionate increases in reliability.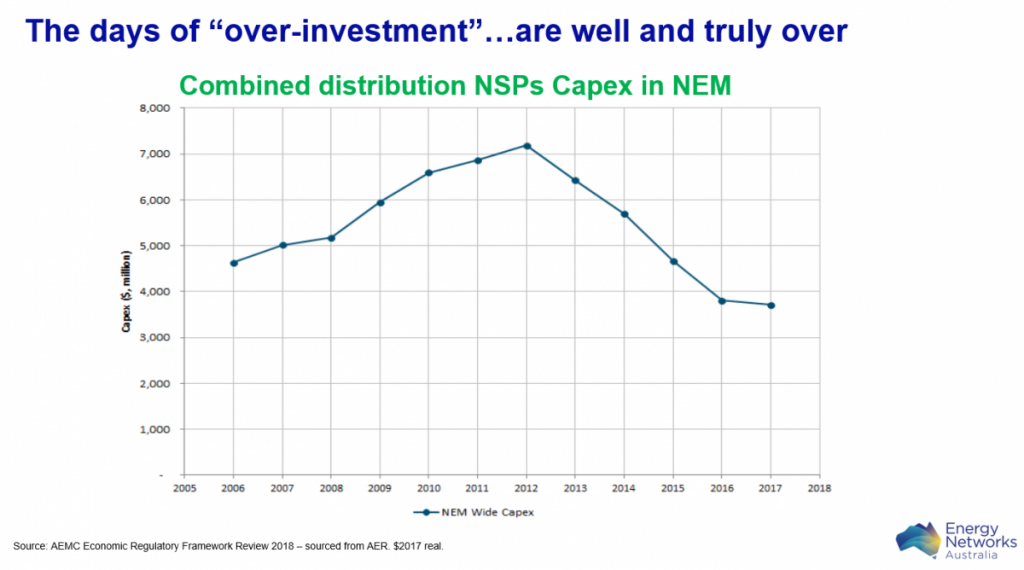 To wrap up, of course networks are the cause of some disruptions. Being the single largest component of the energy network, being the most exposed to extreme weather, falling trees, bushfires or runaway vehicles, you cannot guarantee nothing will be disrupted.
But as the Grattan report shows, networks have been improving reliability. Through smart investment, planning for new challenges like DER and having a fairer pricing structure, networks can continue to deliver more reliable services to customers.
You can read the Grattan report here.
[ii] AEMC Economic Regulatory Framework Review 2018 – sourced from AER. $2017 real.