Extreme Weather and a Transforming Grid
Australia's political leaders are dead-locked in a fierce battle over the impact of renewable generation on power system security and reliability.
Outside, grid operators and frontline personnel are dealing with increasing extreme weather events.   
South Australia's statewide blackout on 28 September last year ignited a fierce debate about renewables and carbon policy in Australia, prompting the Finkel review of National Electricity Market Security.
However, the supercell thunderstorms and four tornadoes which led to the System Black event were just the beginning of a season of unusual weather. South Australia has now suffered six extreme weather events since July, with electricity infrastructure repeatedly battered by strong winds, heavy rain and lightning strikes.
On Wednesday 28 December, severe storms delivered some of the worst damage ever seen to the electricity network in the Adelaide Hills, impacting 160,000 customers. This was the largest recorded power outage event on the SA Power Networks system – in terms of average minutes of lost supply (SAIDI). In fact, that single event resulted in more minutes of lost supply than SA Power Networks usually sees in a whole year.
By the time extreme storms struck again on 19 January, impacting a further 65,000 customers, energy customers and industry leaders were exasperated and blaming more than the weather.   BankSA chief executive Nick Reade tweeted: "Power out again. Our resilience in SA to the slightest storm is next to nothing."

South Australia electricity customers were hardly alone, with wild weather causing major outages in Tasmania, Victoria, Canberra and NSW over the past 6 months.
So…How Wild was the Weather in 2016?
The Bureau of Meteorology recently issued its Annual Climate Statement 2016 which confirmed something obvious to Australian electricity network operators:  2016 was a year of extreme weather events.
Australia had its fourth warmest year on record, 0.87 °C higher than average. Annual rainfall was 17 per cent above average but the regional outcomes were very patchy.  Adelaide residents had their wettest year since 1992 and second-wettest year on record and Sydney, Canberra and Hobart had above average rainfall. By contrast, both Darwin and Brisbane were significantly drier than average in 2016 and Perth and Melbourne were about par.
Scorching summer temperatures saw a new record peak demand in Queensland with Powerlink's electricity transmission network reaching  9357 megawatts (MW).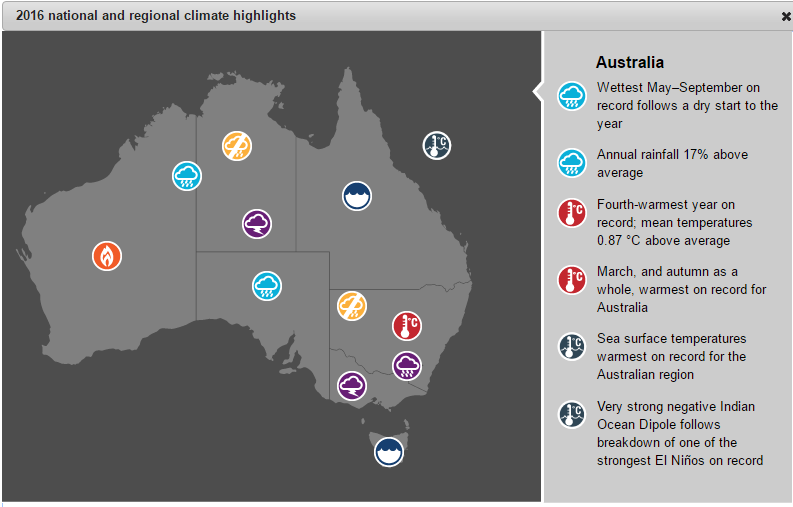 Source: Bureau of Meteorology, 2016 National and regional highlights
Along with other essential services, responding to extreme weather events is a core business for electricity network workers.  In NSW, in April 2015, an east coast low unleashed three days of winds reaching up to 135 km/h that cut power to 369,000 homes and businesses.  Half of Ausgrid customers on the Central Coast and Hunter regions experienced supply interruptions over a 5 day event.  Queensland's tragic Summer of Disasters saw unprecedented flooding and Cyclone Yasi, damaging 165,000 homes, and causing power outages to 480,000 residences and businesses.[1]
Attributing any individual weather event to climate change is inherently controversial but few would argue climate change will increase the frequency and intensity of extreme weather events.  There is a strong body of scientific evidence which projects that Australia's average temperature will increase, with more hot extremes and fewer cold extremes.  The CSIRO notes that climate change is already having scientifically observable effects on  extreme events in Australia –  notably an increase in fire weather, record-breaking temperatures and heatwaves.  It forecasts that extreme rainfall events that lead to flooding are likely to become more intense and the number of tropical cyclones is projected to decrease but with a greater proportion of intense cyclones. In the United States, the US Department of Energy has recognised that the frequency and intensity of storms are increasing,  concluding that 7 of the 10  most costly storms in US history occurred between 2004 and 2012.[2]
Opportunities to improve grid resilience.
Resilience to the expected changes in climate is likely to require new approaches to network planning, risk analysis and contingency management and innovation.
A Climate Risk and Resilience Manual released by Energy Networks Australia in September 2014 is being used by network owners to support the assessment of climate change risk and the development of adaptation plans.  The Manual contains practical guidance for network asset managers, for instance, it provides a stepwise risk-based process to identify climate effects, infrastructure and service impacts; metrics or risk measurement; trigger or thresholds for asset sensitivities and responses.
With increasing climate change, networks will need to carefully consider opportunities to increase the resilience of the grid, consulting customers on the options they value and trade-offs between costs and service.  The South Australian storms saw some renewed calls for widespread undergrounding of the distribution network. However, In its 2014 Directions and Priorities report SA Power Networks identified that
"…electricity customers identified bushfire, road safety, other high risk areas, along with visual amenity (ie how the streetscape looks) as priority areas for undergrounding the electricity network. Customers recognise that the high cost of underground power lines makes extensive undergrounding prohibitive…Choice research identified that a majority of those surveyed were willing to pay for a targeted program of undergrounding in high bushfire risk areas, and for improved road safety…For the average residential customer this targeted program would amount to approximately $4 on their quarterly electricity bill.  (Page 37)
SA Power Networks has consistently stated that undergrounding of power lines costs between three and nine times the cost of installing overhead infrastructure. In response to media inquiries in recent weeks, SA Power Networks has conservatively estimated a cost of between $30 billion and $40 billion to fully underground the SA electricity distribution system. In NSW, Ausgrid estimates that undergrounding of its network could take up to 40 years and could cost between $72 and $130 billion.
In Western Australia, Horizon Power completed the first phase of the Pilbara Underground Power Project – funded primarily by Royalties for Regions – in December 2013 at a cost of $130 million. When Cyclone Christine hit in December 2013 in Port Hedland, which had been undergrounded, only 100 customers lost power.
Managed effectively, distributed energy resources, microgrids and smart grid technologies can all improve resilience and reliability for customers and the resilience of electricity networks.   Last September, Hurricane Matthew caused power outages to 2.7 million people across the south eastern United States. In many cases, the impact to customers was mitigated by smarter, more resilient grid systems implemented under the American Recovery and Reinvestment Act.  That program resulted in 99 Smart Grid Investment Projects. Florida Light and Power (FLP) noted that 'self-healing' smart grid technologies like automated switches resulted in thousands of fewer outages, and 'hardened feeders' were 50% more resilient in severe weather conditions.  The result was  significantly  fewer outages and faster restoration times.
Ergon Energy is using its ROAMES technology for faster and more accurate inspection and assessments including after Cyclone Marcia in February 2015.  It was internationally recognised with the prestigious 2015 International Edison Award from the Edison Electric Institute.
Most fundamentally, the grid will also be essential to mitigating climate change and the risks of increasing extreme weather events.
With early action to achieve a network transformation, it is possible for the electricity sector to maintain a reliable, stable grid while achieving zero net emissions by 2050, in line with the aspiration of the COP 21 Paris Agreement.  CSIRO energy system analysis for the Electricity Network Transformation Roadmap confirmed Australia's electricity sector could exceed its share of current national carbon abatement targets, achieving 40% below 2005 levels by 2030.  However, an integrated set of measures will be required including stable enduring carbon policy frameworks and incentives to enable 'orchestration' of millions of distributed energy resources.
---
[2] Economic benefits of Increasing Electric Grid Resilience to Weather Outages, Executive Office of the President, August 2013.