Grid edgy-cation
Western Australia is leading the way for a smarter grid. Is the grid edge the smart way for new energy services?
Last month, Western Australia flicked the switch on another microgrid project supported by electricity networks as part of the plan to cut the cost of supplying power to isolated towns across the vast State.
Western Power, together with Energy Made Clean (EMC) and joint venture partner Lendlease, is building one of Australia's biggest renewables microgrids, powered by a wind farm and feed-in from residential solar panels, at Kalbarri on the Mid-West coast.
The project is seen as a forerunner of others in towns considered to be on the edge of the grid, which are costly to service and experience unreliable supply.
Microgrids are an ideal solution for edge-of-grid regional communities, making them well-suited to Western Australia. In some parts, the State services the biggest area with the least amount of customers in the world – for every 53.3km2 of terrain, there is just one customer.
WA Treasurer and Energy Minister Ben Wyatt has described the renewables microgrid option as an economic boost with broad regional potential:
"It is a game changer for regional communities who rely on power from a long feeder line, which is subject to environmental factors which can cause outages[1]."
Microgrids are increasingly recognised as an integral component of the power delivery system of the future, rather than merely "islanded systems" of generation and load. Microgrids are part of system operations, interacting with the distribution grid through advanced control and management systems and will have an integral role in Australia's grid modernisation.
This change is made possible by advances in technology — including solar and wind power, and electrical storage devices, known as distributed energy resources (DER). These include intelligent control, including switches and real time communication technologies across the distribution grid. These technologies enable advanced controls at the end-user point, supporting smart appliances and demand response, giving consumers more information and control over their power use.
Microgrids – the building blocks for a new approach
For some networks, Microgrids present a number of advantages including better reliability and power quality and increased autonomy, offering greater resilience in extreme weather conditions. There are many possible configurations of microgrids for deployment in residential, community, commercial, and industrial environments that use a combination of available intelligent equipment and control devices. Given the many identifiable benefits of microgrids, the opportunities have been steadily growing, and many networks are embracing these prospects.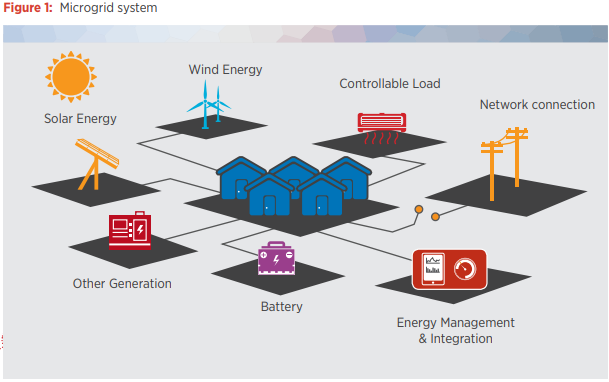 WA is at the forefront. Frank Tudor, Managing Director of Horizon Power, WA's grid operator for the State's vast regional and remote areas, suggests that the microgrid is evolving into a fundamental building block for grid modernisation, integral to the power delivery system of the 21st century:
"I would argue that microgrids in their various guises will form the DNA of the electricity industry in the 21st century. The technology we are developing here in regional Western Australia will steer the nation's energy industry into the future and help us to achieve our core business objective – to become the world's leading microgrid company.[2]"
Foreseeing the benefits and opportunities, the WA Parliament's Economics and Industry Standing Committee last month launched its inquiry, "Microgrids and Associated Technologies in WA"[3], which will investigate the emergence and impact of microgrids and associated technologies. The inquiry will report on the potential for microgrids to contribute to affordable, secure, reliable and sustainable energy supply in metropolitan and regional WA, opportunities to maximise economic and employment opportunities and will examine the regulatory barriers affecting microgrid development and electricity network operations.
The inquiry is fitting as inflexible rules sometimes cannot respond in a timely manner to developments in technology, leading to sub optimal outcomes for customers. While WA's electricity networks are leading the pack in terms of delivering innovative new services for customers, last year the Australian Energy Market Commission (AEMC) decided not to make a draft rule related to off-grid electricity supply solutions. Western Power requested a rule change to remove a regulatory barrier, arguing that electricity distribution services should be classified in terms of the service they provide, rather than just by 'poles and wires'.
At the time, the AEMC noted that
"Installing off-grid systems, which typically include solar panels, batteries and a diesel generator, in locations where it would be cheaper than maintaining the grid connection, can reduce network costs for all consumers."[4] However, the AEMC chose not to make the draft rule, suggesting it would be inconsistent with the National Electricity Law.
The current regulatory framework prevents distributors from establishing disconnected micro-grids and stand-alone power systems. This is despite the fact that in some circumstances, an off-grid supply solution may better meet customers' electricity service needs and be more cost-efficient than building more poles and wires, lowering costs for all network customers.
Initial modelling by Western Power estimates that stand-alone power systems could be used as a more efficient service to more than 3,000 customers over the next fifty years, avoiding hundreds of millions of dollars in capital expenditure compared to replacing existing network assets.
In 2017 Deloitte's Innovation in Electricity Networks Report[5] named Western Power and Horizon Energy as leaders in electricity network innovation, by doing more than just talking about innovations that benefit customers. Western Power CEO Guy Chalkley said the recognition amongst industry peers was a fantastic reflection of the experience and skills within the company, plus the commitment to delivering innovative solutions for its community.
"We're committed to maximising and enhancing the value of our existing network, but we're actively looking for innovation solutions to improve reliability for our customers."
An urban minigrid
The concept of the microgrid has a wide scope in terms of benefits for customer participation in the market, renewable integration, cost savings, reliability, and resilience. As well, providing opportunities for remote communities, there are important applications for urban communities—a microgrid with grid-like functionality.
In the latest milestone in its mini grid trial, AusNet Services demonstrated how a small, residential community in Melbourne's outer east might successfully work with the grid to improve reliability and reduce costs for everyone.
Earlier this month, the ground-breaking trial succeeded in taking 18 houses in a Melbourne street completely off grid –, for  almost 22 hours, powered only by the collective solar and battery storage systems installed in 14 of the homes. The achievement could be adapted to dramatically reduce the impact of power outages and improve community resilience; as it shows that when batteries and solar are shared with the network, they can be orchestrated to power nearby homes – even those homes without solar. It's the latest for AusNet Service's Mooroolbark Mini Grid Trial, which aims to demonstrate how utilities can harness concentrated pockets of distributed energy generation to help optimise the performance of the grid, while also delivering what customers need: a reliable, and cheaper, electricity supply.
The trial is based around what AusNet calls DENOP – a Distributed Energy Network Optimisation Platform – a cloud based software layer which operates in conjunction with a local control platform to orchestrate the activities of the distributed solar and storage resources.
Of the 18 households involved in the latest trial, 14 have rooftop solar PV (typically 3kW each) coupled with 10kWh of battery storage. The remaining four households have neither, but are linked up to their solar neighbours by the inverter technology.
The latest breakthrough helped prove that the utility could use this DENOP technology to orchestrate distributed energy resources, using the platform to safely enable more renewables on the network without impacting the grid.

For the 22 hours that the 18 residences were offline, four houses not taking part in the trial were able to be powered via the distributed energy resources in the mini grid being supplied purely by smart inverter technology, proving that a mini-grid in a suburban area can supply temporary back-up generation. This could support extremes in weather by kicking in during an outage.
The latest trial proves that customer DER can be optimised and orchestrated. Ultimately that means networks can facilitate more renewables, increase reliability and make it more affordable for all customers, whether they choose to participate or not.
It may be a case of use it, or lose it, with many suggesting the price of not embracing DER is too great a risk. Speaking at the Asia Pacific Solar research Conference in Melbourne last year, AEMO's Dr Jenny Riesz was clear:
"[It's] really important that we pursue these opportunities. If we have poorly coordinated DER, you can have quite the opposite effect. Instead of being our biggest opportunity, DER can be our biggest risk and our biggest problem on the grid[6]."
AusNet Services' General Manager of Network Engineering, Siham Knowles agrees.
"From our perspective, if (the distributed energy resource) is not coordinated effectively it will result in reliability issues, which would actually impose more costs."
In the future, this technology may be used to keep homes powered during major weather events, manage the rapid growth of distributed solar power and to smooth peak demand on the network, helping to reduce the need to build more network infrastructure and therefore reducing costs to customers.
---
[1]  http://www.afr.com/business/wa-flicks-the-switch-on-renewablespowered-microgrids-20180208-h0vs06
[2] Energy Magazine, Issue 1, March 2018, p.3
[3]http://www.parliament.wa.gov.au/parliament/commit.nsf/($all)/8C9FB0B8AA10E88D4825823B0019BAA3?opendocument
---