Major metering changes requiring careful implementation
Many Australian residential and commercial customers are aware of major changes in energy services, including solar panels, demand management and the potential for battery storage.
Very few Australian consumers would yet be aware of fundamental changes to metering arrangements for small customers. Metering reforms overseen by the COAG Energy Council and Australian Energy Market Commission (AEMC) will not only change the technology and service available at the meter board, but who is responsible for ensuring the safety and reliability of metering installations.
The new arrangements will commence on 1 December 2017 "to facilitate a market-led approach to the deployment of advanced meters where consumers drive the uptake of technology through their choice of products and services".[1] This recognises customers increasing choices in retail offers, onsite generation, storage and new energy services in competitive markets.
Historically, the distribution network has been responsible for connecting residential and small business customers to the electricity system by way of metering services.
In November 2015, the AEMC amended the National Electricity Rules and National Energy Retail Rules to transfer responsibility for metering services for residential and small business customers to metering coordinators appointed by retailers. Currently, retailers generally only manage metering services for large commercial and industrial customers, which is estimated to be only around one per cent of the metering market.
With other industry stakeholders, electricity distribution networks are working to manage this fundamental transition in responsibilities, while ensuring the safety, reliability and operational security of electricity services.
The timeframes are short. Changes to operational procedures, safety regulation and Business to Business (B2B) platforms will need to be implemented within 18 months, without disruption of service to customers.
The scale of activity is significant. While retailers have traditionally installed meters for large customers, the scale of installation in the small customer market is much greater and will require extensive expansion of their metering installation expertise. The anticipated upgrade of millions of meters for small customers over the next few years will require the training of additional electricians for meter installations, especially in New South Wales, Queensland and South Australia.
Industry and Government have recognised the need for robust assurance frameworks given the potential for new parties installing and supporting electricity meters. Metering installation, by its nature, involves millions of electrical installations where safe wiring is needed to mitigate the risk of electrocution or fires. Additionally, installers must be able to recognise and manage installation risks such as old asbestos meter boards and degraded wiring at customer properties, as some meters being replaced may be up to eighty years old.
The responsibility for the safe installation of meters, covering employment, training and safety compliance, must be transferred to retailers so that safety remains assured. This requires changes to legislation and regulation within jurisdictions, as safety remains the responsibility of state government organisations.
Currently, the distribution networks responsible for large-scale installations have found that extensive training, installation management, audit and compliance systems were essential to ensure that customers and installers remained safe in the connection of properties to electricity supply services. Risk management required not only safety management systems and practices, but undertaking thousands of site visits annually to check and verify safe installation.
The importance of safety risk management was recognised during the rollout of Advanced Metering Infrastructure (AMI) in Victoria, which was preceded by a detailed assessment of the safety risks relating to the connection of meters. Risk mitigation included comprehensive training and oversight of installers to ensure the on-going safety of both customers and installers.
Metering installation safety
Large-scale installation programs undertaken by a distributed workforce and contractors require robust assurance frameworks.
Figure 1: Training, induction and authorisation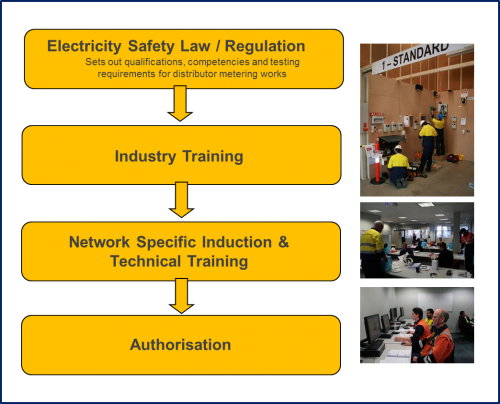 ​The Victorian AMI rollout placed great emphasis on the importance of appropriate training, audit and compliance checking. The experience highlighted the wide range of issues that may confront installers replacing aged meters. One Victorian business identified 6,800 defects that posed a serious threat to customer lives or property, and the need for over 300,000 on-site rectifications.
The timetable will be challenging for all activities to be undertaken for the new legal responsibilities and operations to commence by 1 December 2017. In some cases, key procedures will not be finalised until the end of March 2017, limiting the time to make changes to business systems, processes and testing.
To meet these challenges, Energy Networks Association members have made a number of recommendations for assurance to Governments overseeing the changes:
Given the rapid implementation timetable, responsible State Governments are encouraged to seek regular status reports on program implementation in their jurisdictions and the implementation of new safety and risk management requirements.
To support the timely delivery of metering reforms, it is recommended that the COAG Energy Council establishes a National Project Office to ensure coordination of the numerous inter-related activities required of various parties during the implementation phase.
The COAG Energy Council should commission a 'Readiness Review' prior to the commencement of the new framework in December 2017 that includes associated procedures, systems and legal responsibilities. It would be prudent for such a review to include:
a safety risk assessment to ensure customer and meter installer safety is not compromised; and
the readiness of the systems and procedures of AEMO and market participants involved in customer connection, supply and energisation services.
These kinds of assurance measures reflect good practice during the implementation of major system changes. A 'readiness review' before commissioning is a common feature of major project and program implementations within most government agencies. It would be particularly important in major ICT or business system changes with the potential to impact service continuity.
Electricity network service providers will continue to support transition activities with industry, AEMO and jurisdictional safety regulators in this period of major change.
[1] AEMC, Expanding competition in metering and related services, Rule Determination, 26 November 2015, Sydney, p. i