Networks ready for surge in electric vehicles
Last week a Senate Select Committee was announced to explore the benefits of, and potential support measures for, greater uptake of electric vehicles (EVs) in Australia. Energy networks are already anticipating an increase in EV adoption and are working to ensure the grid can not only support the surge, but add value for EV owners.
EV market study indicates shift in thinking
Energy networks, automotive associations and government agencies have conducted extensive modelling on the benefits of widespread EV uptake in Australia and the nature of existing incentives for their purchase. This analysis also includes the development of hydrogen electric vehicles by manufacturers (using a fuel cell instead of a battery), already available and sold in countries such as US, Japan, and Korea.
The Australian Renewable Energy Agency (ARENA) and the Clean Energy Finance Corporation (CEFC) recently released a report by Energeia reviewing plug-in electric vehicle (PEV) charging infrastructure and market modelling of PEV sales and associated charging requirements. This report contained some compelling data. For example, in Norway, potential buyers of EVs responded most positively when they saw immediate financial savings, such as exemption of EVs from certain taxes and charges. Of the non-financial incentives, ease of access to public charging stations came out on top.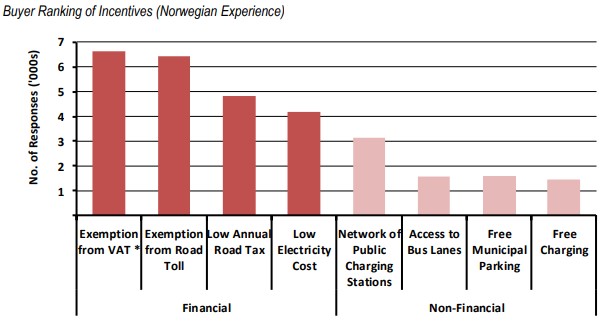 If we explore the important role of energy networks within the non-financial incentive sphere, it's apparent there is a shift in thinking by customers, especially in terms of the provision of charging infrastructure that is appropriate to public needs and wants. According to Energeia, as EVs and charging infrastructure replicate the utility of internal combustion engine (ICE) vehicles (i.e. in terms of driving range and refuelling times), EVs will become less likely be refuelled at people's homes or at work, and more likely to be refuelled at charging stations similar to existing "petrol stations". This is mainly driven by improvements in charging and battery technology and other trends, shown below.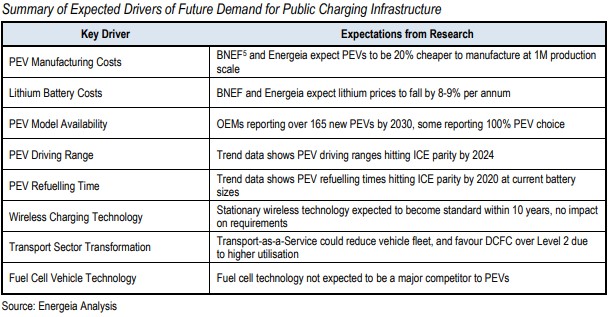 So what does this mean for charging infrastructure and the role of energy networks? Energeia believes the Australian Government and industry should focus their efforts in making available 'DC fast charging infrastructure' to assist in extending the range of EVs. This will require a range of technical and regulatory capabilities, such as the ability to locate and tap into energy networks at appropriate locations, install the infrastructure and manage the infrastructure (asset management). These core capabilities are potentially extended to, and dovetail with, installing hydrogen EV charging infrastructure. In fact, according to the figure below, electricity networks are one of the best placed potential suppliers and operators of this infrastructure.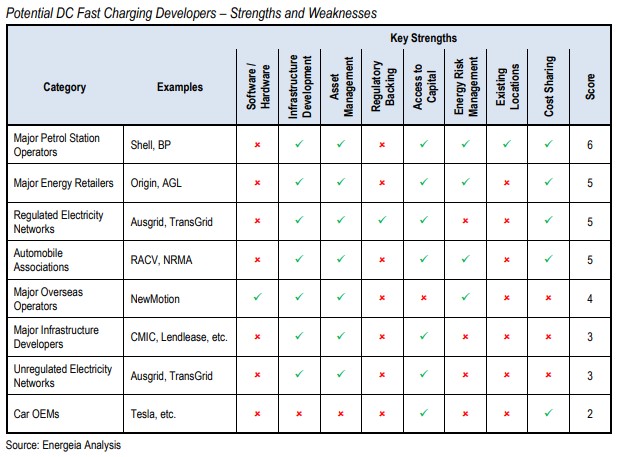 Unleashing the EV potential
In other countries, there are examples of energy networks providing access to DC fast charging stations. In Europe, energy supplier RWE owns more than 2,800 charging stations across Germany and surrounds[i]. Whether provided or enabled, if this potential scenario occurs in Australia, it would lead to another seismic shift in electricity network operation, as new generation and demand patterns up-end the century-old energy network model. Networks are anticipating this disruption and work has already started on facilitating the necessary changes.
Launched last month, 'Open Energy Networks' is  a collaborative effort between Energy Networks Australia and the Australian Energy Market Operation (AEMO)to explore options for installing a new system model with better visibility of demand and supply at the medium-low voltage level of the electricity system, to ensure EVs and other distributed energy resources work in harmony to deliver the most value for all customers. The Open Energy Networks process will not identify where or how to operate DC fast charging stations for enabling greater EV uptake, it will however:
Identify a preferred operating model for visibility and balancing of electricity supply and demand at the locations where such charging stations will be needed, as well as for those households who prefer to charge their vehicle at home.
Identify the minimum architecture required to support the system; and
 Identify an energy system operating model that will also ensure those of us who do not own our house, or who prefer to drive traditional vehicles, are not disadvantaged.
The Open Energy Networks process is designed to ensure regulated electricity networks and AEMO are better able to manage the risks of balancing supply and demand of energy at the bottom end of the electricity system, including for the purposes of providing EV charging infrastructure. This will alleviate any risk to maintaining reliability and quality of supply, while providing more value to customers.
Energy Network Australia looks forward to participating in the Senate Committee inquiry. Networks have a crucial role to play in facilitating Australia's evolution to a clean energy future. Supporting the shift to electric vehicle use, and ensuring customers get maximum benefit from this, is an important part of this transformation.