Sneak Preview: 2019 Electricity Prices
A new year heralds new hopes, beginnings and aspirations – and for Victorian residents, new power prices from 1 January 2019. While talking about the costs of keeping people connected doesn't sound as appealing as the summer holidays, it's worth exploring as there is good news – network businesses are continuing to deliver on their commitment to bring down customer costs.
Victorian network businesses recently submitted their 2019 pricing proposals to the Australian Energy Regulator and if history is anything to go by, these will closely mirror what households end up paying in 2019 for the network component of their power bill. These proposals incorporate what investment the businesses will make to maintain and, where necessary, improve power services. Network prices in other states are not expected to change until next financial year.
Figure 1 shows falling or flat-lining residential network charges in real terms for AustNet Services, CitiPower, Powercor, Jemena and United Energy from 2015 to 2018 and what residents can expect in 2019. The analysis, based on the main residential tariff for each Victorian distributor shows the network component of the average annual bill. These costs also include metering charges to account for the mandatory rollout of smart meters across the state.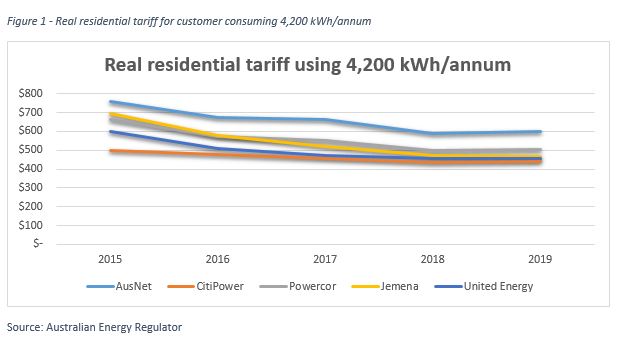 A good result:
This graph highlights that what Victorian residents are paying in network costs this year is quite similar to what they are likely to pay next year. In fact, for Victorian customers serviced by Jemena, network costs are forecast to drop by almost two per cent – equal to a $10 saving on their network bill. For an average Victorian energy customer, it is anticipated that network costs will rise by only 0.83 per cent in real terms, meaning households will pay an extra $4 to cover the cost of the physical delivery of electricity and related services such as maintaining ageing infrastructure. Given this increase is significantly less than inflation, this result is a good outcome for customers at a time when the focus on driving power prices down has reached new political heights.
If the AER approves the pricing proposals, average network charges for all Victorian households make up $505 of their overall power bill, compared with $501 paid this year.
While network prices have been blamed as a reason for significant power price rises over the past decade, it's important to note that a key factor behind this, the imposition of major increases in reliability standards, did not happen in Victoria. Consequently, the ACCC found network price rises in Victoria over the past decade have been low.
Indeed as Figure 1 shows, network costs have been falling since 2015, as has been the trend nationally. In Victoria, three years ago, customers were paying an average $658 for the servicing of poles and wires – almost $153 more than what they paid this year for the network component of their power bill. The AEMC's Residential Electricity Price Trends reports show that the network component (including the cost of the smart meter rollout fell from 47 per cent to 38 per cent of an average Victorian household bill over the last three years.
Next month the AER will make its determination on final Victorian network prices for the next calendar year. What has been put on the table is fair and reasonable – to supply households with reliable, safe and affordable energy.
What about the other parts of the bill?
Of course, networks don't bill customers directly – that is done by the retailers. While retail costs and margins have been under scrutiny in recent years, it's difficult to know what's in store for 2019. However, forward prices in the wholesale market can provide some guidance for that component.
Figure 2 below shows the changes in pricing for 2019 Victorian futures over the last 18 months. The outlook for 2019 is unclear compared with twelve months ago, although 2019 prices have been trending up recently.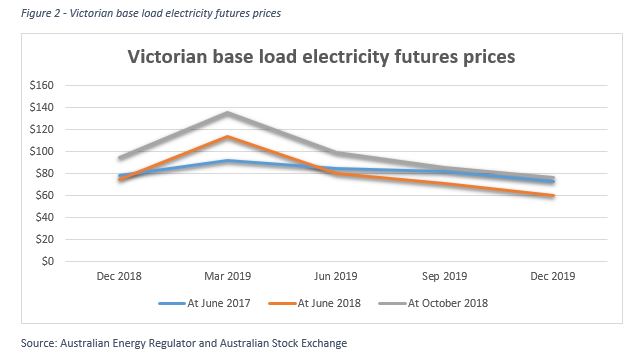 At this stage it is unknown what will happen to final Victorian retail prices for 2019, the good news is there won't be significant upward pressure from the network sector.