The generation & transmission transformation: game on for 2019
Proposed reforms to generation and transmission policy and regulation are significant for the energy market and customers and the timeline leading to the December 2019 COAG meeting – where decisions will be made – is ambitious.
The Australian Energy Market Commission (AEMC) released the 2018 Coordination of Generation and Transmission Investment (COGATI) final report on 21 December 2018, which followed the release by the Energy Security Board (ESB) on 19 December 2018 of an Integrated System Plan (ISP) Action plan.
The state of play of the current transmission planning framework is represented in Figure 1 below and Table 1 represents the key outcomes and workplan of the 2018 COGATI.
The 2019 COGATI implementation workplan is expected to start this month (February 2019) to further develop policy on dynamic regional pricing for generators, firm access rights and transmission pricing, in addition to the regulatory and legislative changes to embed the actionable ISP in the rules.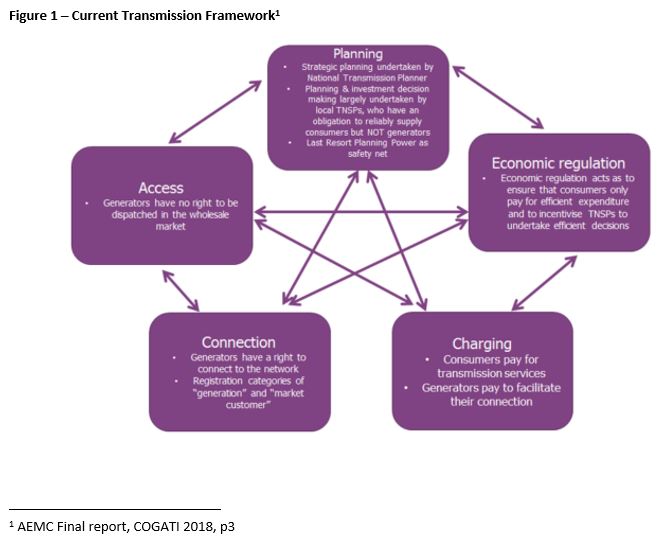 Table 1 – Implementation workplan
Area
Key deliverables
Planning

ESB submitted proposed non-controversial rule change to assist Group 1 priority projects by allowing concurrent Australian Energy Regulator (AER) assessment of post Regulatory Investment Test- Transmission (RIT-T) processes (limited to assisting Queensland-NSW interconnector and Victoria- NSW interconnector (QNI and VNI ) upgrades only). An expedited rule change completion is expected by March 2019.
AER to submit rule change proposal to change latest completion timing of Project Assessment Draft Report (PADR) from 12 months to nine months after the Project Specifications Consultation Report (PSCR) by March 2019.  This proposed change may benefit from being included in the ISP National Electricity Law and National Electricity Rule (NEL/NER) amendments package which is expected to commence in Aug 2019.
January to June 2019, AEMC, ESB and Standing Committee of Officials (SCO) to develop NEL/NER amendments to implement ISP and remove National Transmission Network Development Plan (NTNDP).  Amendments to implement ISP expected to be in place before Aug 2019 to enable the next ISP to be under the NER.  Australian Energy Market Operator (AEMO) commences consultation of the next ISP under the new framework (draft ISP expected December 2019 and final ISP Q2 2020).

Access and congestion

COGATI 2019 will develop rule changes to progress phased network congestion and access reforms, January to December 2019, and submit to Council of Australian Governments (COAG) by Dec 2019.  COAG submits rule change to AEMC to progress in January 2020.
July 2022, dynamic regional pricing for generators implemented.
July 2023, firm transmission access rights for generators implemented.

Charging

AEMC to review Inter-Regional – Transmission Use Of System (IR-TUOS) and TUOS charging arrangements and develop rule change requests, June –December 2019 (and submit to COAG by December 2019).  COAG submits rule change to AEMC to progress in January 2020.
July 2022, IR-TUOS reforms are implemented.
July 2023, TUOS reforms are implemented.

Storage

By March 2019, AEMO to submit a rule change to AEMC to create a new registration category for large scale energy storage systems.
AEMC complete the rule change process for new registration category by January 2020.

Economic regulation

AER to submit a rule change by March 2019 to AEMC to remove clause 5.16.6 (AER determination that the preferred option satisfies the RIT-T) and streamline the RIT-T process.  This proposed change may benefit from being included in the ISP NEL/NER amendments package which is expected to commence in August 2019.
July 2023, corresponding changes to economic regulatory framework to recognise that generators are funding transmission infrastructure.
Planning
The AEMC has proposed a more streamlined planning and investment process making the link between the ISP and Transmission Network Service Provider (TNSP) RIT-T process stronger.  The ISP will subsume the Project Specification Consultation Report (PSCR) stage of the RIT-T process and timeframes have been reduced in some of the RIT steps.  TNSPs include the ISP credible options, scenarios and inputs/assumptions in the RIT-T analysis and confirm that the preferred options meet the ISP identified needs.  The last resort planning powers remain with the AEMC to ensure that ISP-identified needs are considered for investment.
Given the current levels of change in the energy sector, with ongoing policy uncertainty and some of the highest levels of proposed rule changes ever seen before the AEMC, the NEL/NER amendments to facilitate improved transmission planning and investment arrangements is a significant body of work to complete and have ready for COAG by the middle of the year.  Energy Networks Australia is supportive of the COGATI planning recommendations and look forward to participation in the development of the amendments, this reform should take priority over the other elements of the package.
Network access and congestion
The AEMC has not been able to identify any options to facilitate development of Renewable Energy Zones (REZs) and improve the status quo which do not also involve a change to the access arrangements.
Proposed generation roughly equal to the current size of the National Electricity Market (NEM) (50GW) is foreshadowed for connection to the grid over the next ten years.  The AEMC considers that with this level of transformation, there is a need to change the access regime and it recommends a phased approach to make generator access to the transmission system fit for purpose, while reducing congestion.  Given the rapid transformation to intermittent generation Energy Networks Australia supports consideration of firm access.
The phased approach is as follows
Change access arrangements to introduce dynamic regions and dynamic pricing to generators
Use information produced by introducing dynamic pricing to supplement transmission planning – ISP and RIT-T
The AEMC is seeking to introduce the notion of firm transmission rights for connecting parties, which in turn is used to underwrite the necessary transmission investment needed to physically provide that access.  Generators are then able to be physically dispatched or are paid by TNSPs for lost revenue from not being dispatched.  Generators collective rights to purchase transmission rights would guide TNSPs planning decisions due to an obligation on them to provide sufficient capacity consistent with the rights purchased.
The AEMC will develop the NEL/NER amendments to facilitate these changes to access arrangements in the 2019 COGATI review, which is expected to kick off in February 2019, and provide the recommendations to COAG by December 2019.  This consultation will include consideration of the timing of the proposed phased reform. COAG is expected to submit a rule change to the AEMC to progress these changes in January 2020.
This in itself is a complex reform and an ambitious timeline that warrants appropriate engagement and consideration before committing to rules and timelines.  Firm access has been reviewed many times and due to a number of factors has never been progressed.  The energy market has changed since the last review.  Certainly the ten month timeframe catered for in the COGATI 2019 work plan is ambitious for such a complex reform.
Charging for use of transmission system
The AEMC considers there is merit in possible refinements to the IR-TUOS to better reflect who benefits and who pays:
should costs be allocated based on average load rather non-coincident peak demand?
should non-locational charges, in addition to locational charges, also be included?
should TNSPs be able to discount the non-locational element of the IR-TUOS charge? This flexibility could lead to better outcomes for consumers as a whole.
AEMO has raised broader issues with distribution and transmission pricing arrangements. Given generators are paying for access rights, the AEMC will consider more holistically how network charges are recovered and from whom.
The network charging issues including transparency around pricing methodology, impacts of recent trends and market outcomes and impacts of market design changes such as new five minute settlements, will be considered by the AEMC in the last half of 2019, with AEMC recommendations submitted to COAG by December 2019.This could include generators paying for use of system, not just paying for load to top up storage.
Treatment of electricity storage
The AEMC recommends that:
AEMO submit a rule change to create a new NEM registration category to accommodate energy storage and provide this to AEMC by March 2019.  This will need to consider stand-alone systems and hybrid systems and whether the load/generation is scheduled, semi-scheduled or non-scheduled;
The AEMC's preliminary view is that energy storage systems where the load is scheduled and can be constrained off should not need to pay TUOS. As part of the broader charging arrangements AEMC will need to consider whether and how storage would be assigned congestion compensation under dynamic regions/pricing and whether storage is able to procure firm transmission rights on both import and export.
The AEMC plans to commence consultation in April 2019 on this rule change and the Australian Energy Council proposed rules on reducing generator registration thresholds.
There is a huge amount of work required in a short time-frame to deliver these reforms. This is essential market and policy reform that at its highest level is intended to ensure the security of the electricity system for the benefit of customers as increasing amounts of renewable generation enters the grid.