Innovation allows more sun onto SA's electricity grid
Residents in Adelaide's south are at the forefront of the energy transformation as they take part in a world leading trial of flexible export limits, which will allow solar customers to export more of their surplus power onto the grid.
SA Power Networks has a goal of doubling the amount of rooftop generated power on the grid by 2025.
The trial, which is funded through the Australian Renewable Energy Agency (ARENA), will allow for export levels to update automatically throughout the day depending on the need and capacity of the wider network. This not only will allow more solar onto the grid, but it will enable more customers to connect rooftop PV.
Victorian distributor AusNet Services is a partner in the trial.  AusNet customers who currently have zero, or near zero, export limits are being offered the opportunity to be able export up to 5kW flexible exports at times when the network can accommodate it.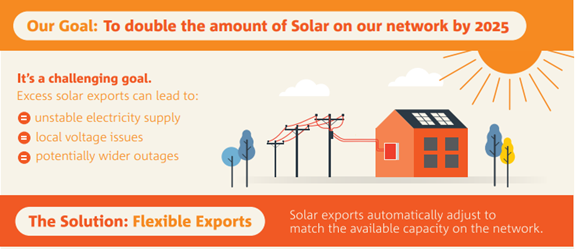 Fixed vs Flexible
Much of today's electricity network was built long before solar was even an option. As technology has advanced, more and more customers are enjoying the benefits of solar panels and other distributed energy resources (DER). Australia now has the world's highest solar uptake and South Australia is leading the charge.
The rapid growth of solar has created several challenges for networks. First, in localised areas, the amount of solar export can exceed the local network's capacity to support it. This results in some parts becoming overloaded similar to a road during peak hour, resulting in issues including rising voltages and inverters switching off in response. And, when there is alot of solar energy being exported into the network and low energy demand, it can create issues for managing security of power supply.
These two issues have emerged significantly in South Australia, which has more than a third of customers with solar and where solar has already proved capable of supplying entire demand at times.
Across the world governments, business and networks are all working to develop solutions to the challenge excess solar creates for power systems.
In April 2021 SA Power Networks announced plans to improve rooftop solar integration through the introduction of its "Flexible Exports" offering.
So, what are flexible exports and what is difference between fixed and flexible export options?
Much like a fixed home loan option – fixed export limits are permanent with set rates that don't change depending on external factors.
Currently, solar customers in South Australia can export the excess energy they create back into the network with a static limit of 5kW (kilowatts) per phase. But in areas with a very high take up of solar, SA Power Networks must reduce export limits to 1.5kW for new connecting customers.
Instead, SAPN will offer customers a choice of either a smart new flexible exports option (that changes the amount of export throughout the day) or a flat 1.5kW limit for the whole year.
The flexible exports option will give customers the ability to dynamically shift their export limit to a maximum of 10kW per phase subject to available network capacity.  In the industry this is called dynamic operating envelopes (DOEs) which we will talk about later.
Flexible export limits are a smart alternative to imposing lower, fixed export limits for the whole year in areas of high solar PV penetration. On the basis of recent network performance, SA Power Networks believes customers will be able to export at up to 10kW 98 per cent of the time.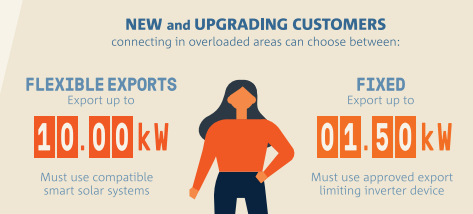 ARENA trial
Earlier this year ARENA announced $2.09 million in funding to a consortium led by SA Power Networks to support the $4.84 million trial that takes a new approach to integrating rooftop solar with the grid, using smart inverters.
SA Power Networks and Victorian-based AusNet Services have partnered with industry-leading inverter manufacturers, Fronius, SMA, and SolarEdge, and energy management software company SwitchDin to develop the technical capability needed to offer customers flexible rather than fixed export limits for solar.
The capability will be built into Australian products from market-leading inverter manufacturers and will be enabled in many other inverter brands through SwitchDin's Droplet gateway device.
Through a 12-month field trial involving about 600 customers in South Australia and Victoria, the project will test the viability of this kind of connection arrangement and customer experience to the point where it could be offered as a standard service to all customers installing solar.
Dynamic operating envelopes
As mentioned earlier operating envelopes are the limits that an electricity customer can import and export to the electricity grid through their rooftop solar. These limits are agreed between networks and their customers as part of the customer connection agreement which is approved by the Australian Energy Regulator (AER).
Overseen by ARENA, the Distributed Energy Integration Program (DEIP) is a collaboration of government agencies, market authorities, industry and consumer associations, including Energy Networks Australia and is aimed at maximising the value of customers' DER for all energy users.
In many parts of Australia, operating envelopes are fixed at conservative levels regardless of the capacity of the network because they are static and need to account for 'worst case scenario' conditions. This is why SA Power Network's Flexible Exports project is of such interest to many in the industry.
Dynamic operating envelopes are where import and export limits can vary over time and location. Dynamic rather than fixed export limits can enable higher levels of energy exports from customers' solar and battery systems by allowing higher export limits when there is more hosting capacity on the local network.
ENA is contributing to a cross-industry white paper being led by ARENA which is planned for release in the coming months, so stay tuned!