Shaking all over – Melbourne got the wobbles
There was a bit of rocking and rolling in Melbourne during September and just like Elvis, Victorians were all shook up. Along with damage to some buildings, the earthquake caused a few power cuts. And while there was a whole lotta shakin' goin' on, Victoria's networks got on with restoring power to customers.
Bushfires, floods, cyclones and now an earthquake – what's next? Australia has seen several natural disasters over the p­ast two years and we're bracing for more as climate change impacts accelerate. Resilience has never been more important and considering all hazards will be key in that approach.
Victoria earthquake
On 22 September 2021 at 9:15am local time, Victoria experienced the biggest earthquake recorded in the modern instrumental era (post 1900). The magnitude 5.9 quake had its epicentre 15km northeast of Woods Point, a town about 130km east of Melbourne. The tremors were felt as far as Sydney, Adelaide and Launceston.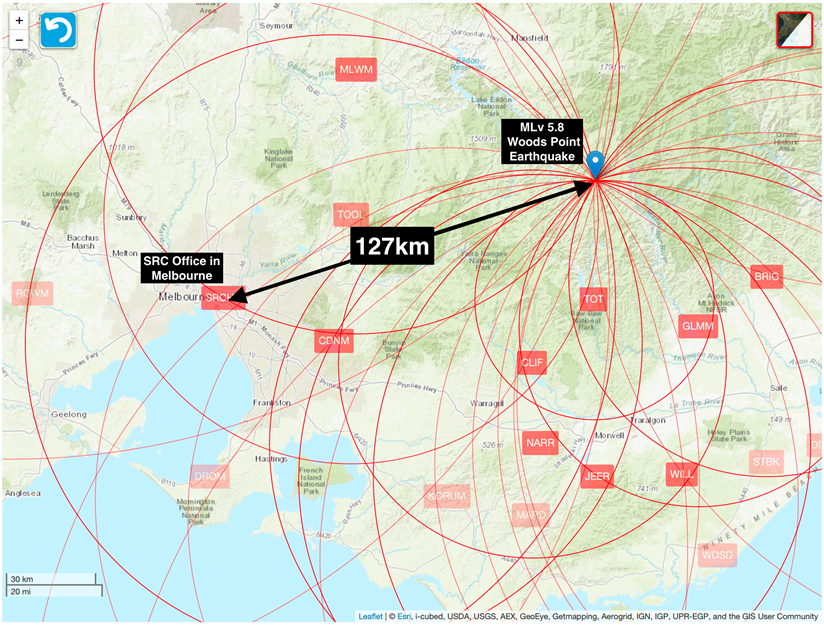 Figure 1 Graph prepared by the Seismology Research Centre (SRC) showing the epicentre and the seismic waves recorded
The earthquake caused building damage and wall collapses in the Melbourne suburbs of South Yarra and Fitzroy, as seen in the image below.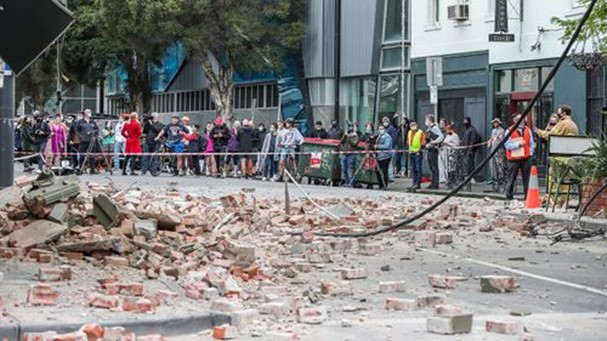 Figure 2 Building damage in Melbourne (Source: 9News3)
Victoria State Emergency Service (VICSES) volunteers responded to more than 108 calls for assistance with building damage to facades, chimneys and other old structures[1].
Near the epicentre, the town of Woods Point observed shallow landslides, toppled trees, cracks in roads and several toppled chimneys[2].
The public transport network was impacted with the suspension of regional VLine trains to Traralgon and Seymour[3].
Impact on electricity networks
The earthquake caused temporary power outages across the state. More than 35,000 people were without power across metropolitan Melbourne and regional Victoria in Mansfield and surrounding areas. Power was restored for most customers soon after the quake, but about 600 customers experienced outages for at least four hours.1.
In Victoria, one of the causes attributed to the power outages was the tripping of electrical devices known as Buchholz relays. There were reports of about 14 relays being tripped because of the earthquake across the CitiPower, Powercor and United Energy network.
What are Buchholz relays?
Buchholz (pronounced book–holts) relays are safety devices connected to large oil-filled transformers on the electrical network. These relays are used as a transformer protection device and include a mercury switch that detects faults in the transformer oil.
When faults occur inside an oil-filled transformer, heat is generated and this decomposes the oil into gases such as hydrogen, carbon monoxide and methane.
These gases get trapped in the Buchholz relay and displace the oil inside the relay. The change in the level of oil inside the Buchholz relay activates the mercury switch and subsequently trips and disconnects the transformer from the main electricity supply[4]. The images below show the location and mechanism of the Buchholz relay.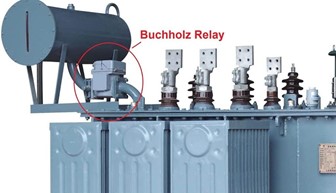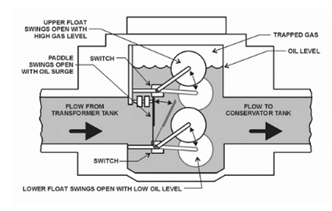 Figure 3 Buchholz relay connected to a transformer (top); Cross-section of the relay showing the operating mechanism (bottom)
In the case of the earthquake in Melbourne, the Buchholz relays inadvertently tripped due to the ground motion and vibrations. There was no damage or real fault to the transformers and so power was quickly restored to most customers.
During the 2010 Darfield earthquake in New Zealand, a similar incident occurred where Buchholz relays, that were designed to be seismically resilient, tripped and temporarily cut off supply for 1900 customers[5].
Learning from our experienced Kiwi friends
It's rare to see earthquakes in Australia, especially ones that we can feel. Earthquakes of similar magnitude to Melbourne occur, on average, once every ten years. In comparison, New Zealand expects several magnitude six earthquakes each year and records about 15,000 quakes a year[6].
In 2016, New Zealand experienced a magnitude 7.8 earthquake in Kaikoura that caused significant damage to buildings and other infrastructure in Wellington. The estimated insurance losses in Wellington were between NZ$2 to $3 billion[7].
To improve the resilience of the electricity network following this major quake, Wellington Electricity successfully secured regulatory funding to invest an additional NZ$31 million for resilience-related expenditure[8]. The Commerce Commission (NZ regulator) set a "resilience quality standard" to incentivise Wellington Electricity to complete the resilience work and made it clear that the money would be returned to customers through lower prices if it's not completed.
The steps Wellington Electricity took to deliver network resilience between 2018 and 2021 included:
Seismic strengthening of 91 buildings
Construction of two portable substations
Construction of three data centres
Upgraded communications systems
Increased spares stock
Resilience to all hazards
Australia is familiar with all sorts of natural hazards and this will continue with the accelerating effects of climate change. We've experienced bushfires, floods, severe storms, cyclones and droughts in just the past two years.
This earthquake, even though it's a rare occurrence, brings to light the importance of taking an all-hazards approach to risk assessments and resilience, especially for critical assets like our electricity network.
Effectively managing risk is key to ensuring that the lights stay on during natural disasters and a resilient network is supported for all customers. By incorporating all natural hazards, we can ensure that the wide-ranging impacts of climate change and other hazards are addressed and the long-term costs to customers are reduced.
[1] MEDIA RELEASE: Over 35,000 felt reports following Victorian earthquake (ses.vic.gov.au)
[2] Largest Earthquake in Victoria's history – Seismology Research Centre (src.com.au)
[3] Earthquake Victoria today: 'Watch-and-act' warning issued after Victoria's largest ever earthquake (9news.com.au)
[4] Buchholz Relay – Principle, Construction and application (electricalclassroom.com)
[5] Liu, Y., Nair, N. K., Renton, A., & Wilson, S. (2017). Impact of the Kaikōura earthquake on the electrical power system infrastructure. Bulletin of the New Zealand Society for Earthquake Engineering, 50(2), 300-305.
[6] New Zealand Earthquakes / Earthquakes / Science Topics / Learning / Home – GNS Science
[7] Fleisher, S. (2019). Wellington City's emergency management response to the November 2016 Kaikōura earthquake. Australasian Journal of Disaster and Trauma Studies, 23(2), 2019-2.
[8] Commerce Commission – Commission approves Wellington Electricity's $31 million earthquake readiness plan (comcom.govt.nz)