This price is definitely not right
A network price increase of 40 per cent from one year to the next is almost unheard of – but it is about to happen to the Australian Capital Territory's (ACT) electricity customers.
Evoenergy's proposed prices for 2021/22 were released by the Australian Energy Regulator on Tuesday morning and they tell a cautionary tale of how state-based policies can very quickly turn on their customers.
The cost of the ACT's large-scale feed-in tariff, a territory policy (known as a jurisdictional scheme) to fund the government's 100 per cent renewable energy target, will increase by 133 per cent on 1 July 2021 from $65m to $153m[i]. Legislation requires this charge to be administered by Evoenergy and recovered in network charges. Across a customer base just north of 200,000 households, it is going to be a big hit to hip pockets. Residential network charges are forecast to increase by almost $300[ii] a year.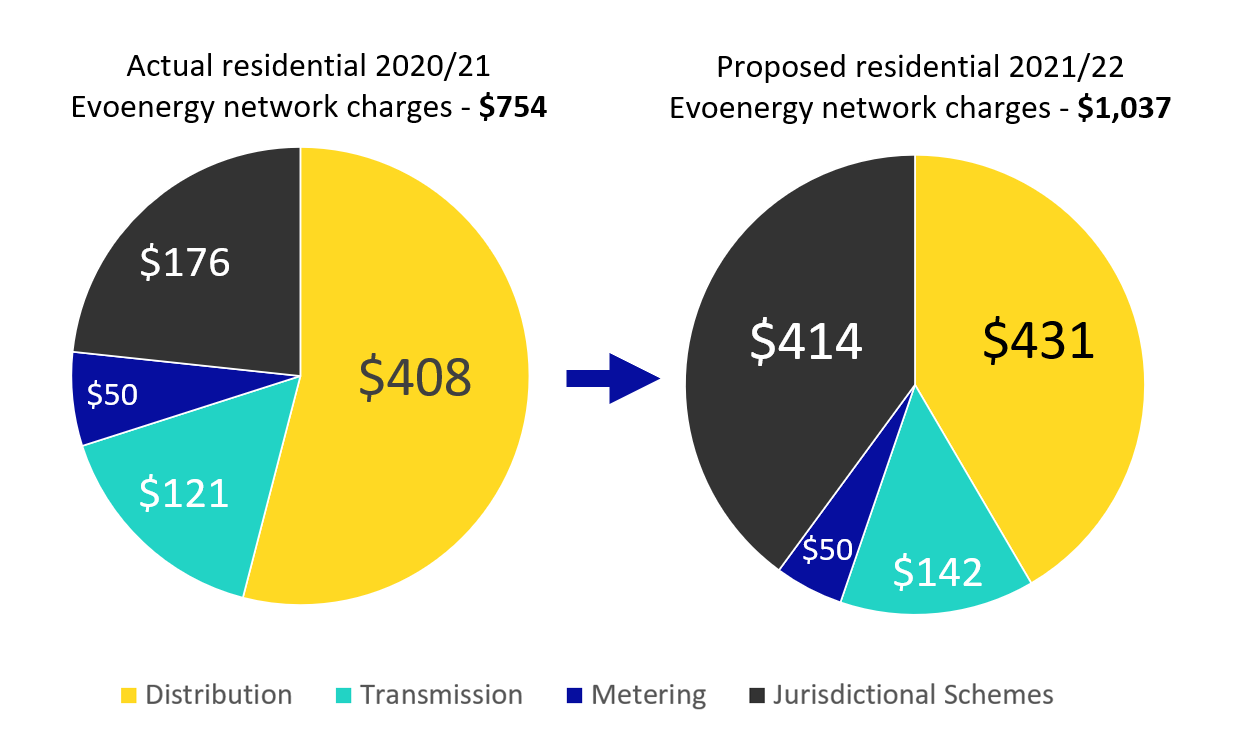 How did we end up here?
The ACT Government legislated in 2016 to source 100 per cent of all Canberra's electricity from renewable sources by 2020. To reach the 100 per cent renewable electricity target, renewable energy is purchased and offset through 'contracts for difference' under the large-scale feed-in tariff scheme from wind and solar farms mostly outside of the ACT. Under this legislation, Evoenergy is required to administer the scheme.
'Contracts for difference' effectively lock in the price of electricity paid to renewable generators for a period, irrespective of what actual wholesale prices are. They are a tool to give certainty to renewable generators, ensuring they will be commercially viable if constructed.
Renewable generators make payments to Evoenergy if the wholesale price is above that specified in the contract, while Evoenergy makes payments to renewable generators if wholesale prices fall below the price specified in the contract.
Several contracts have been struck since 2014, at an average of about $90/MWh[iii]. Wholesale prices have plummeted in 2021, averaging $35-$40 to date. Normally that would be cause for rejoicing, but ACT customers will not see the benefits because they're effectively paying fixed wholesale prices of $90/MWh.
Payments from Evoenergy on behalf of the ACT Government to renewable generators have totalled $146m to September 2020.
Cumulative payments to generators under the large-scale feed in tariff scheme[iv]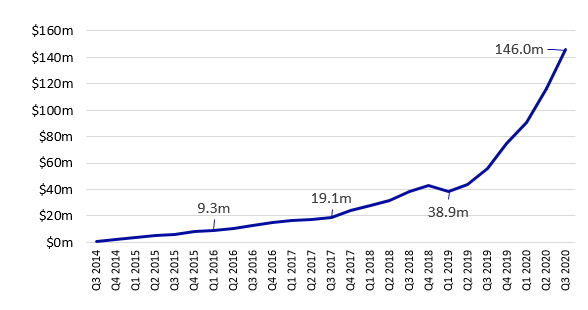 Unfortunately, there is no end in sight either given the contracts have a period of between 10-20 years. ACT customers will continue to pay $90/MWh until the contracts expire, meaning any chance for customers to take advantage of what is expected to be a prolonged period of low wholesale prices has been lost.
The purpose of the legislation appears to be to encourage renewable generators into the market to reduce carbon emissions. You would reasonably expect wholesale prices to fall from a supply increase, so locking in prices at higher levels was always likely to hit hip pockets when they fell.
A cautionary tale
While 21 per cent of the payments ACT customers make to source renewables are mandatory under the national Renewable Energy Target, the ACT Government pays the remainder voluntarily to meet its own 100 per cent renewable energy target.
Other states are also going it alone on energy policy, with Victoria and NSW joining the ACT in carving their own path.
While it is the prerogative of each jurisdiction, departures from national frameworks can have unintended consequences on customers, with the ACT's large-scale feed-in tariff scheme a strong case in point. The sheer magnitude of customer impact from this single policy provides a cautionary tale about bespoke state policies rather than developing least-cost national solutions.
Irrespective of the intent, a key policy design question is whether any government should use an electricity network company to administer and achieve its broader policy objectives – in the ACT's case its 100 per cent renewable energy target.
Where does that leave us?
A government scheme being the driving factor in a 40 per cent increase in network prices over a single year is cause for concern. Given the length of the contracts for difference, these price increases are likely to be a feature of electricity bills over the foreseeable future without legislative changes to protect ACT customers.
This policy is the first major customer pain point to develop from states going it alone with their own polices.
For the ACT, there is another future customer pain point looming in the Greens' anti-gas connection policies. The territory is heavily reliant on gas for heating in winter. In some months, twice as much as is used than electricity. If all this winter gas demand is forced to shift to electricity, the grid will require major, expensive upgrades – and these too will be paid for in customer bills.
ACT's Daily Energy Consumption (2016-2018)[v]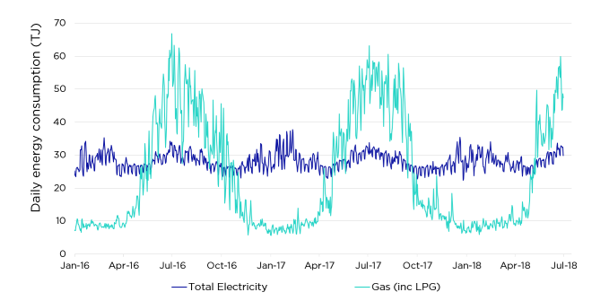 Designing long-term nationally coordinated policy which lowers costs for all customers is not easy, but it is preferable to a piecemeal approach of state and territory governments going it alone. In the volatile, transformative environment that defines our energy system, there is very real risk that bespoke state-based policy decisions could have unintended consequences that hurt customers.
The ACT's price increases could be a sign of things to come for others unless lessons are learned.
[i] Evoenergy Pricing Proposal 2021/22, p. 12.
[ii] Evoenergy Pricing Proposal 2021/22, p. 65.
[iii] Evoenergy Quarterly Reports prepared for the Minister for the Environment, available for download here.
[iv] Evoenergy Quarterly Reports prepared for the Minister for the Environment, available for download here.
[v] Data prepared by Deloitte Access Economics for ENA using AEMO data as part of the Gas Vision 2050 update