Australia's fast-change energy transition pushes the boundaries
As states continue to go-it-alone on energy policy and generators announce early closure of coal-fired power stations, interconnectors like Project Energy Connect will become increasingly important to help keep the lights on. The transition to renewables is certainly happening faster than expected, especially in South Australia, pushing the boundaries of system operability.
The Australian Energy Market Operator's (AEMO) final 2020 Integrated System Plan considers a range of possible futures from slow change to fast or step-change scenarios. AEMO selects an optimal development path for the integrated system which is robust to the range of possible futures.
While the central scenario considers proceeding along the current policy path, the fast or step change considers higher distributed energy or variable renewable energy uptake. Recent advice provided to the Australian Energy Regulator (AER) by AEMO warns the market is transforming closer to the fast-change scenario than previously thought.
This has been helped along by go-it-alone energy policies such as the Victorian Government's renewable energy zone development plan and the NSW energy infrastructure road map. The recent announcement from Energy Australia bringing forward plans to close the Yallourn coal fired power plant adds weight to these signals. As part of its advice to the AER, AEMO has reiterated the importance of Project Energy Connect (PEC) to power system security. PEC is on the optimal development path in the 2020 ISP in all scenarios with an expected implementation date around 2024-2025, subject to AER funding and transmission network service provider (TNSP) board decisions to proceed.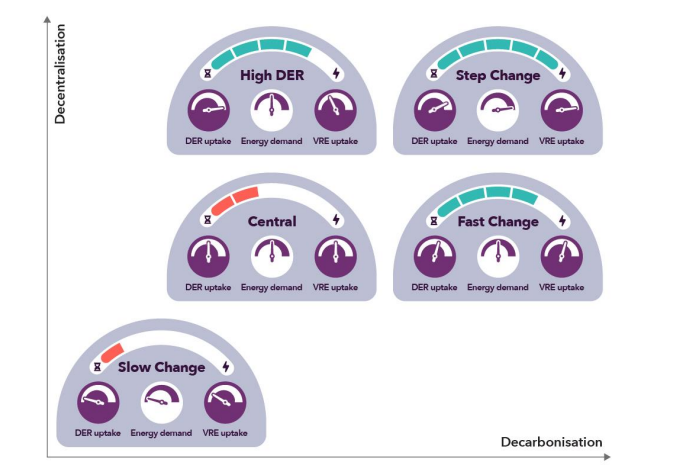 Fig 1. Rates of decarbonisation/decentralisation across the 2020 ISP scenarios[1]
Since publication in July 2020, AEMO considers that the fast change or step change scenarios appear more likely than the central scenario:
The fast change scenario has more variable renewable energy (VRE) build in SA and is more aligned with commitments for projects such as Port Augusta Energy Park (210MW wind and 107MW solar in Stage 1[2]) and Cultana Solar Farm (280MW solar[3]):
The NSW Electricity Roadmap declared five renewable energy zones intended to deliver 12GW[4] of VRE by 2034-35, whereas the fast change scenario had 7GW VRE and 1.5GW of new storage by 2031-32.
The uptake of distributed photovoltaics is also observed to be faster than the central scenario. Similarly, the distributed battery uptake in SA in the fast change scenario is smaller than the AGL-announced Torrens Island battery project with a capacity of 250MW[5]
Additional VRE and storage capacity from state policy and special financed schemes will place downward pressure on wholesale electricity prices and may lead to earlier coal plant retirements due to the difficulties in maintaining commercial viability. Project Energy Connect featured under all scenarios in the 2020 ISP and AEMO has observed the similarities of the current environment to the step or fast change scenarios.  Essentially there is more renewable energy generation and it is coming online faster than expected.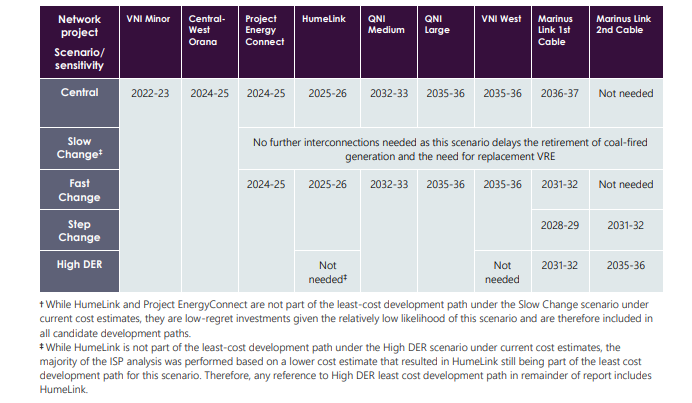 Fig 2. Ideal timing for ISP projects under the different scenarios[6]
So how do the net benefits of PEC change across these scenarios?
Under the higher VRE in the step or fast change scenarios, the fuel cost savings (i.e. avoided gas fired generation) are reduced, however this is offset by additional generation capital cost reductions. PEC enables more efficient sharing of resources across the National Electricity Market (NEM) and the capital deferral benefits increase as more coal plants close earlier than expected.
Regardless of VRE levels, gas fired generation is expected to continue to help meet peak demand when VRE output is low, or when needed to maintain system security, and PEC delivers savings by avoiding these fuel costs.
If a coal plant does retire earlier than expected in NSW then the benefits of PEC would be greater.
System security in SA
SA is leading the way globally in operating with very low or no synchronous generation, which is pushing the boundaries for system operation into unchartered territory.
In its advice to the AER, AEMO has re-confirmed that PEC and synchronous condensers are needed in SA for power system security and to survive a 'non-credible' separation event – where it is islanded from the NEM due to interconnector failure. Such separation events have occurred once every three years since the NEM's formation in 1998 and PEC would help reduce the risk.
AEMO is working with TNSP ElectraNet on how to optimally operate and test SA's new synchronous condensers, which will provide much-needed system inertia.
AEMO's advice confirms that PEC remains important to our energy future in a rapidly changing environment based on the analysis in the 2020 ISP. It is now time to get the funding and make investment decisions.
[1] AEMO 2020 Integrated System Plan, July 2020, p32
[2] https://www.iberdrolarenovablesinternacional.com/about-us/our-company/renewable-energy-park-port-augusta
[3] https://www.simecenergy.com.au/en-au/our-energy/cultana-solar-farm/
[4] The NSW Electricity Roadmap https://energy.nsw.gov.au/government-and-regulation/electricity-infrastructure-roadmap
[5] https://www.agl.com.au/about-agl/media-centre/asx-and-media-releases/2020/november/agl-unveils-plans-for-grid-scale-battery-in-south-australia
[6] AEMO 2020 Integrated System Plan, July 2020, p64