Award winners up in lights
Energy Networks Australia's Annual Dinner and Awards night was held on September 14 after a two-year hiatus. The sector's night of nights, the event hosted the glitterati of the industry as the bright sparks mingled. The mood in the room was electric while the lights shone on the winners of the consumer engagement and innovation awards. The industry contribution award winner, although shocked, also enjoyed his moment in the spotlight.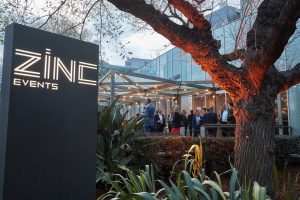 Zinc Events, Federation Square, Melbourne
2022 Industry Contribution Award winner
Energy industry veteran Laurie Curro from Western Australia's Horizon Power won Energy Networks Australia's 2022 Industry Contribution Award. Laurie was recognised for his contribution and commitment to the energy industry, in particular power transmission and distribution in WA over the past 30 years.
Laurie was a member of ENA's Asset Management Committee for many years and has made a significant contribution to smart grids development, standards, distributed generation, network management, safety and asset management.
His retirement this year represents a major loss to the sector. It is a most appropriate recognition of his many years' service for him to be the 2022 Industry Contribution Award winner.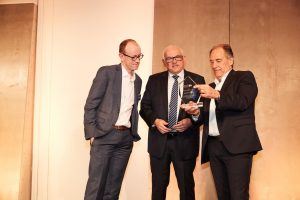 ENA CEO Andrew Dillon, Laurie Curro, ENA Chair Frank Tudor
2022 Consumer Engagement Award winners
AusNet Services, Australian Gas Networks (AGN) and Multinet Gas Networks (MGN) won the 2022 Energy Networks Industry Consumer Engagement Award. The Victorian gas networks' joint submission 'Three businesses, one plan to deliver better outcomes for Victorian customers' took out the top gong. AGN and MGN are part of the Australian Gas Infrastructure Group (AGIG).
Run jointly by ENA and Energy Consumers Australia, the award recognises an Australian energy network that demonstrates best practice consumer engagement.
AusNet Services, Australian Gas Networks and Multinet Gas Networks came together to design and deliver a single, integrated, consumer and stakeholder engagement program for their regulatory reset engagement plans for the Australian Energy Regulator.
By involving all three gas distribution businesses, a clear and consistent engagement plan was able to be produced, providing a single forum to discuss issues of importance to the sector.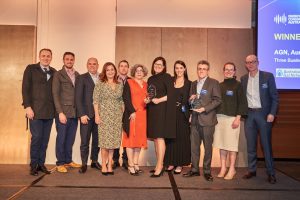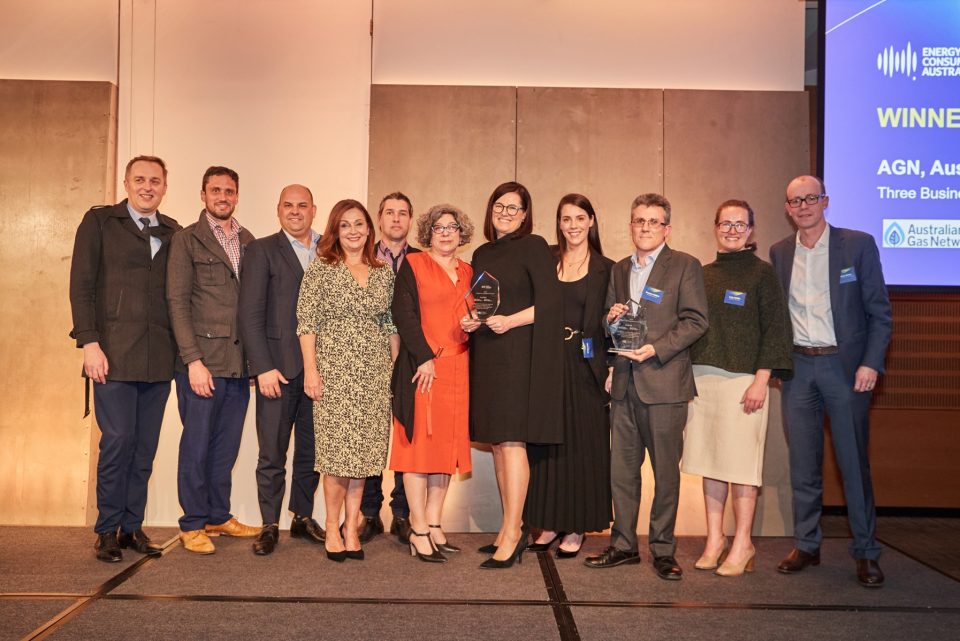 The winners of the Consumer Engagement Awards, AusNet Services, AGN and MGN
This year, the judging panel received seven submissions for the Consumer Engagement Award.
AGN, AusNet Services and MGN – Three Businesses, One Engagement Program for Victorians
Endeavour Energy – Community Engagement Beyond a Bushfire
Ergon Energy – EQL – SAPS
Essential Energy – Stand Alone Power System (SAPS) Social Science Research Project
Essential Energy – Customer Journey Mapping
TasNetworks – TasCollab
Western Power – Access Arrangement 5 – Community Engagement Program
To find out more about the submissions, you can read a report with all the details here.
A webinar will be held on Tuesday 18 October at 2pm AEST for the four finalists to present their projects and learnings. CLICK HERE TO REGISTER
2022 Industry Innovation Award Winner
New South Wales electricity distributor Endeavour Energy has won the Energy Network Industry Innovation Award 2022 for its application 'Using a Network Digital Twin for Digital Emergency Response and Resilience.' The award recognises leadership in the design, development and application of a ground-breaking Australian energy network initiative.
The Digital Twin is a 3D digital model of Endeavour Energy's footprint including topography and network assets, along with flood modelling capabilities. This allows for near real time information in the event of a major incident such as flood or fire and for longer term planning of the grid such as infrastructure builds and vegetation management.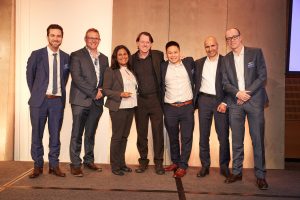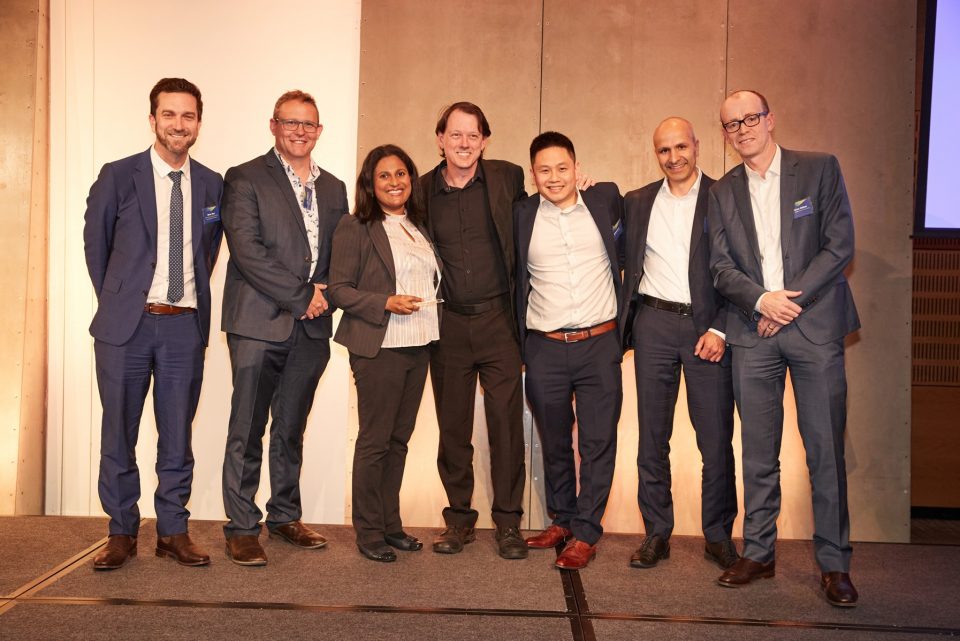 Winners of the Industry Innovation Award, Endeavour Energy
This year, the judging panel received nine submissions for the Industry Innovation Award.
Ausgrid – Community Battery Trial
Endeavour Energy – Digital Substation
Endeavour Energy – Using a Network Digital Twin for Digital Emergency Response and Resilience
Ergon Energy Network and Energex – EV SmartCharge Queensland – research program drives network benefits
Ergon Energy Network and Energex – Test and Verify Virtual Training Aid
Essential Energy – evolve DER project
Jemena – End to End (E2E) Project – A Better Way for Our People
Transgrid – Use of SmartValve technology for the delivery of the Victoria-New South Wales Interconnector (VNI) Minor
Western Power – Standalone Power Systems.
To find out more about the submissions, you can read a report with all the details here.
A webinar will be held on Wednesday 12 October at 2pm AEST for the four finalists to present their projects and learnings. CLICK HERE TO REGISTER
We look forward to next year's awards program and encourage all our members to make an application. For more information contact Alicia White awhite@energynetworks.com.au
Press play to watch the highlights from the 2022 Energy Networks Australia Annual Dinner