Livin' La Vida Loca
Just before this summer in Australia, the Bureau of Meteorology (BoM) declared a La Niña event, one of the key climate drivers associated with wet conditions for eastern and northern Australia over the season.
La Niña summers are wetter than average, and conditions become favourable for tropical cyclones. But no two La Niña events are perfectly alike.
Climate change adds to this complexity as it is predicted that the impacts of La Niña will amplify over the coming decades[1]. Based on the weather in Australia over the past few months, we are already starting to see this become a reality.
Recent storms
After a notable heatwave leading up to this year's Australia Day, Victoria was hit by severe storms that caused damage across the state leading to flash flooding and as many as 12,000 households losing power across the Citipower Powercor network[2]. This was prolonged for several days by roads and the public transport network being impacted by flooding.
Similarly, south-east Queensland experienced wild weather for several days with some regions receiving 50 to 100mm of rain. A severe thunderstorm impacted this region with more than 23,000 homes left without power in Brisbane and Logan[3]. The storm also caused a tree to fall on to railway powerlines which caused further public transport delays.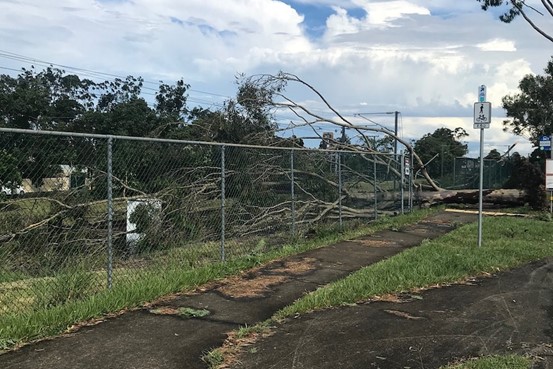 Figure 1 Railway powerlines brought down by fallen trees in Woodridge, Queensland (Credit: Queensland Rail/ABC News)
These sorts of freak storms are occurring more frequently. Just before Christmas 2021, Sydney's Northern Beaches experienced a "mini-cyclone" that tore down powerlines and ripped off building roofs[4].
The difficulty in predicting such events makes it critical that our electricity networks are resilient and can bear the brunt of these impacts.
Networks working together
Network service providers have a long history of assisting each other during emergencies and on recovery efforts in the aftermath of severe weather events. Following Sydney's Northern Beaches storm over Christmas, Endeavour Energy crew helped Ausgrid restore supply to more than 30,000 customers.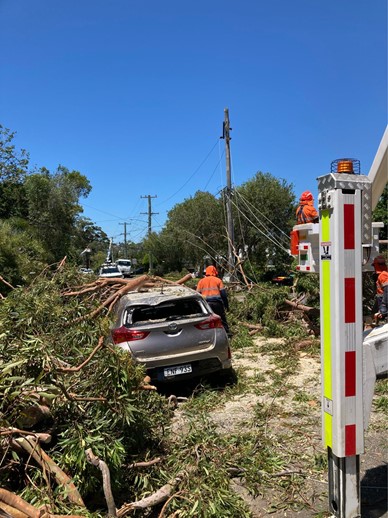 Figure 2 Damage from a storm in Sydney's Northern Beaches (Credit: Scott Ryan, Endeavour Energy)
After the destructive storms in Melbourne's Dandenong Ranges in June 2021, crews from NSW's Endeavour Energy, Essential Energy and Ausgrid supported AusNet Services' recovery effort[5].
Networks collaborating on resilience for the future
In an effort to develop a joint position on network resilience, six distribution network service providers (DNSPs) currently undergoing a regulatory reset have developed a collaboration paper for stakeholder consultation.
The purpose of this paper is to seek stakeholder views on how DNSPs can support the customers and communities they serve in adapting to a changing climate over the next ten years and beyond.
The feedback through this consultation will help the six DNSPs develop and align their responses to the Australian Energy Regulator (AER) on the impacts of extreme and changing climatic conditions.
Feedback to this consultation paper closes 28 February 2022. If you would like to provide feedback, please refer to the DNSP contacts provided in the document.
A guide on climate change for electricity networks
Energy Networks Australia will soon release an authoritative report that consolidates and presents the latest scientific information on climate change and its likely impacts on Australia's electricity networks. It utilises the latest data and projections from preeminent sources such as the Sixth Assessment Report from the Intergovernmental Panel on Climate Change (IPCC)[6].
The report, Electricity networks: A guide to climate change and its likely effects, will help the sector better understand the risks from climate change, conduct scenario planning, and communicate the likely impacts of climate change on networks with internal and external stakeholders.
It is ENA's hope that this report helps inform the discussion on how networks will continue to best serve their communities during a changing climate in accordance with the National Electricity Objective (NEO) i.e., how the concept of resilience might be interpreted in the delivery of the NEO.
The report will aid the industry on undertaking holistic risk assessments in approaches to implementing resilience and having an industry-wide resource will ensure that there is consistency and alignment across network businesses.
Addressing these impacts for our critical electricity networks is crucial to ensure that the wide-ranging impacts of climate change and other hazards are addressed and the long-term costs to customers are minimised.
[1] How will climate change change El Niño and La Niña? – Welcome to NOAA Research
[2] More thunderstorms, rain, flash floods expected as Victorians urged to take shelter from wild weather (weatherzone.com.au)
[3] Supercell storm tears off roofs, downs trees and cuts power across Brisbane and Logan – ABC News
[4] Major Storm Event – Sydney Northern Beaches – Fire and Rescue NSW
[5] Stormy weather – Feeling the low | Energy Networks Australia
[6] AR6 Climate Change 2021: The Physical Science Basis — IPCC