New rules to support WA's solar love affair
Rooftop solar installations in Western Australia have increased more than 600 per cent[1] over the past decade, with 36 per cent of the State's customers now generating their own electricity. While this huge influx of renewable energy is great for customers and our net zero ambitions, it presents major challenges for the electricity system. New rules came into effect this Valentine's Day to help manage this and enable WA's love affair with rooftop solar to continue.
With these new emergency solar management requirements, WA joins South Australia as the first two jurisdictions in Australia to require that new and upgraded rooftop solar can be remotely turned down or switched off in emergency situations, where system reliability and security are at risk. The rules are part of a suite of policy, regulation and system changes being implemented as part of WA's Energy Transformation Strategy.
According to Energy Policy WA, the new requirements will:
only apply to new and upgraded rooftop solar – existing customers will be unaffected.
only be used in emergencies – expected to be needed infrequently and for short periods and will prevent loss of power for consumers during these critical times.
not interrupt power supply to customers – only rooftop solar generation is reduced, and customers will continue to receive power from the grid.
only impact households as a last resort – other options to protect the power system, including turning down large-scale generators, will be exhausted first; and
allow more renewables overall – by managing risks during these infrequent emergency times, greater levels of rooftop solar installation will be possible.
The new rules are intended to work as a last resort with a host of other new capabilities and policies being introduced to support renewable integration in the grid. These include the Kwinana ''big battery'', community battery trials, Western Power's Flexibility Services Pilot, virtual power plants and tariff reforms to encourage customers to use more energy in the middle of the day to soak up solar generation.
The solar emergency intervention capacity has become critical as WA's rooftop PV installations have rapidly accelerated. Its speedy introduction was a recommendation of the Australian Energy Market Operator (AEMO) in its 2021 Renewable Energy Integration – SWIS Update report.
Figure 1 AEMO Renewable Energy Integration – SWIS Update 28 September 2021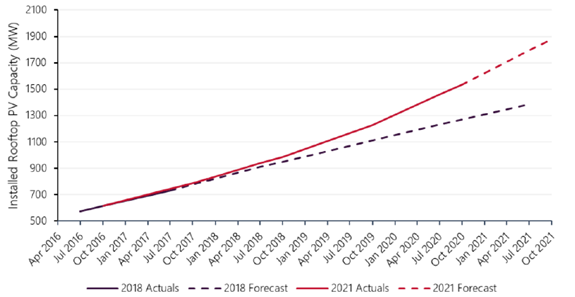 At 1362MW, the combined residential solar output from all this distributed renewable rooftop generation now exceeds that of WA's biggest power station – Synergy's 854MW Muja Power Station.
This renewable transition presents great opportunities for customers, but the plummeting demand from the grid during times when solar is generating (known as low-load or minimum demand) makes the electricity system vulnerable.
When demand is extremely low, it creates voltage instability that if not checked could cause widespread power outages.
Figure 2 Why solar management is needed: Source: Energy Policy WA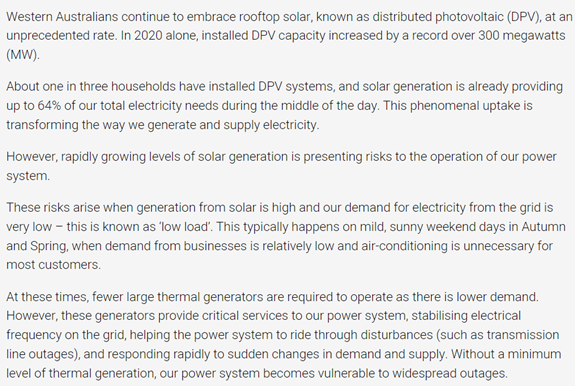 The graph below (source: EPWA) represents what those in the energy industry know as the solar ''duck curve'' – though in WA's case the problem is becoming so severe the duck looks more like a swan. The low demand on the system is represented by the belly of the duck, with corresponding peak demand as the sun goes down and solar stops generating.
As more solar is adopted, demand plunges in the middle of the day and peaks higher and earlier in the evenings as all the self-generators turn back to the grid for power.
AEMO has forecast that WA faces system security risks by 2024, based on current solar adoption rates.
Figure 3 WA's swan curve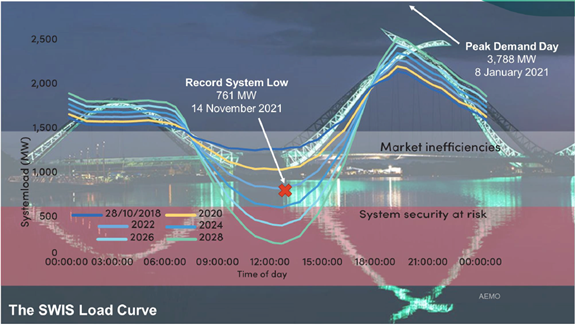 WA's Energy Transformation Strategy and the policy and system changes being introduced by government, Western Power and other key energy industry stakeholders were developed in anticipation of the challenges presented not just by rooftop solar, but also the growth in utility-scale variable renewable generation.
The new emergency solar management capacity is only part of the toolkit, but it is a vital last resort measure. The impact on customers will be minimal and their power supply will not be impacted when their solar is ''managed'', but the support it provides to the electricity system will be critical.
As well as helping prevent outages, being able to manage the risks during emergency times will mean more rooftop solar installations will be possible.
Future changes will include the capacity for customers with solar, batteries and EVs to participate in the energy market and be paid to provide system services – like stored energy at peak times or switching off solar at low-demand times. Community batteries can also be used to provide these services, benefiting the customers participating in these programs. These are just a few of the huge and complex changes underway.
The WA Government, Western Power, Synergy and industry stakeholders are to be congratulated for the planning and progress being made to enable the State's transition to renewable energy.
For more information, check out the EPWA website.
[1] https://www.mediastatements.wa.gov.au/Pages/McGowan/2022/01/Western-Australias-rapid-solar-evolution.aspx