Supply chain transition lowering prices
The AEMC released its 2021 Residential Electricity Price Trends report today, showing that customers can expect reductions in their electricity prices across the next few years.
The annual price trends reporting series details Australian Energy Market Commission analysis of historical, current and forecast prices broken down by supply chain component, allowing a detailed look at how changes in the energy sector are generally impacting customer bills. It covers all jurisdictions except Western Australia and the Northern Territory.
Individual customers are of course different from the AEMC's representative customer and while the report provides an excellent snapshot of general trends, customer bills will vary based on location, usage profile and their retail offering.
Prices are heading down
It's no secret that customers understandably focus on their hip pockets above many other factors when it comes to their electricity bill. In excellent news, prices are forecast to be down by more than five per cent across the country in 2023-24 compared with today's prices. The forecast reductions are largely driven by an influx of new renewable generation across the NEM. Notably the retirement of Liddell removing 1,680 MW of dispatchable capacity and higher gas prices are expected to sustain current prices until 2023-24.
Figure 1 – Electricity bill for national representative customer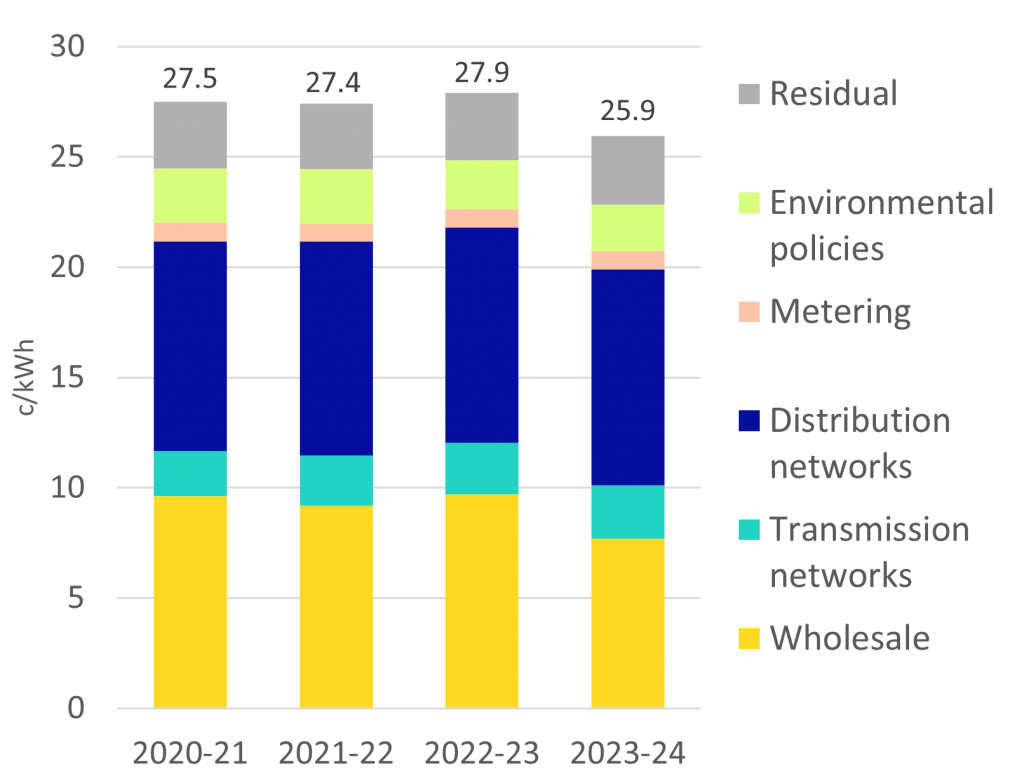 Network prices are expected to gradually increase as network providers work to connect renewables at a world-leading pace, and expand and replace ageing network assets. Large transmission projects such as Project Energy Connect and HumeLink are expected to link Renewable Energy Zones to the National Electricity Market and reduce wholesale prices more than they contribute to network bills.
Environmental policies set by federal and jurisdictional governments are set to decline from 2021-22 onwards with the main driver being a higher supply of large-scale generation certificates, which is expected to reduce their price.
Wholesale in focus
Queensland is the jurisdiction forecast to have the highest overall price reductions of 10 per cent by 2023-24, but it isn't likely to be smooth. Wholesale prices are expected to significantly increase this year and decline over the following two years, settling 10 per cent below 2020-21 levels. Gradual reductions in environmental policy costs over the period are also expected to contribute.
Figure 2 – Forecast wholesale costs across time and jurisdictions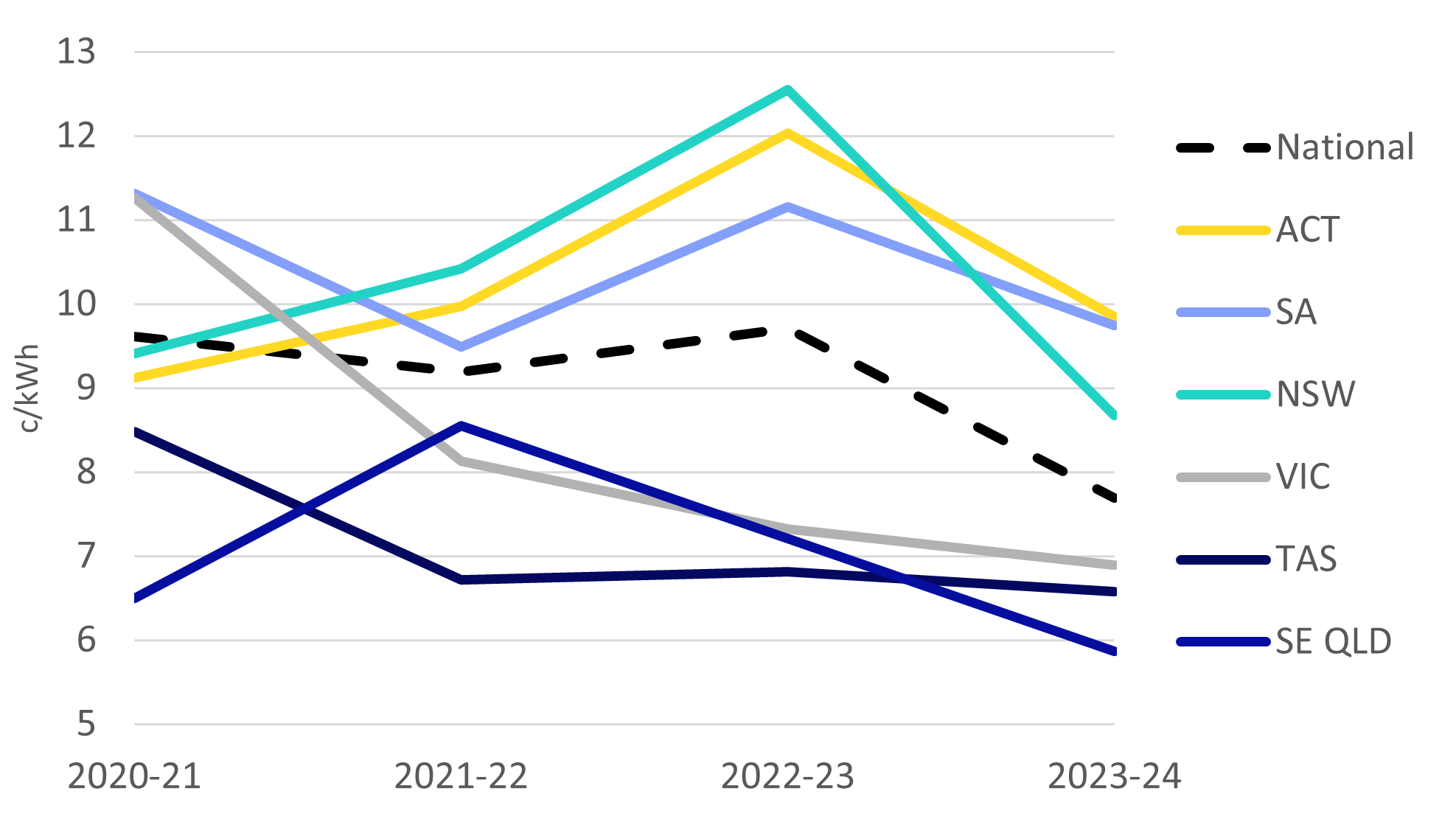 New South Wales is expecting similar wholesale price volatility, with 2020-21 prices of 9.41 c/kWh forecast to increase to 12.55 c/kWh in 2022-23, only to fall by more than 30 per cent to 8.67 c/kWh in 2023-24.
It's all good news for Victorians with wholesale prices forecast to reduce substantially each year, resulting in a nearly 40 per cent reduction in 2023-24 on 2020-21 prices. Significant generation capacity has been proposed in Victoria, with 32,800 MW across 131 projects in the connection application or completion process[1]. Most of this capacity is wind generation, with the Victorian Government on Wednesday committing $40 million of additional funding for offshore wind projects.
ACT on the rise
The ACT is notably the only jurisdiction covered in the report that doesn't forecast overall price reductions to 2023-24.
Environmental policy costs in the ACT are expected to contribute significantly to customer bills, costing 6.85 c/kWh currently and reducing to around 6 c/kWh over the next two years. To put that in context, ACT's current environmental policy costs on a per customer basis are practically equivalent to forecast wholesale prices in Victoria in 2023-24, or current distribution network charges in the ACT.
The bulk of environmental costs are made up of the ACT Government's Large-scale Feed-in-Tariff Scheme to support its 100 per cent renewable energy target. Contracts were entered into that locked in wholesale prices for some renewable generators, and now with wholesale prices on the way down, customers are forking out the difference as well as the locked in wholesale prices. Feed-in-Tariff scheme costs are about $370 per annum for a representative ACT customer.
The price trends reporting series is valuable for its disaggregated description of the cost stack components that make up customer bills, providing visibility of policy costs independent from other costs. This breakdown isn't included on customer bills where jurisdictional scheme costs are often lumped in with network charges.
Policy design is critical
This year's Price Trends report is a comforting reminder that the distributed energy transition looks set to continue delivering welcomed price outcomes for customers over the next few years with a wave of renewable generation leading the charge.
Yet it also tells a tale of how the unintended results of policy design can sometimes miss the mark on delivering good customer outcomes. With so many jurisdictions currently developing their own energy policies, it's useful to look back on what worked and what didn't so that we can avoid a bad case of déjà vu.
[1] Energy Magazine, Record VIC wind and solar investment (May 2021), accessed 24 November 2021.