Get Smart: When will Australia realise the benefits of smart meters and IoT?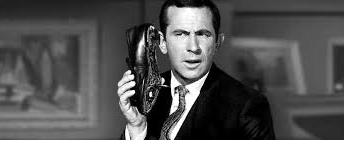 Japanese electricity utility, TEPCO, is deploying smart meters at a pace which is unparalleled in the utility industry. TEPCO has installed more than 10 million smart meters in Japan's Kanto region which includes the city of Tokyo, Yamanashi Prefecture, and the eastern portion of Shizuoka Prefecture. With an average of one million smart meters and devices being installed every three months, TEPCO is on track to deliver its ambitious plans to have 30 million utility and consumer devices operating on the network in seven years.
For TEPCO however, the project is about much more than smart meters. It is an opportunity to create a platform linking energy systems with smart devices in homes and businesses.The potential to improve lifestyles and progress economies comes from the opportunity of communications within smart meters to link with other platforms and applications, transforming a smart meter rollout into a foundation for multi-services architecture for the Internet of Things (IoT).
Adrian Clark, CEO of Landis & Gyr in South East Asia, Australia and New Zealand, noted that TEPCO's vision will see Japan emerge as a key test bed for a whole range of technologies that fall under the IoT category. "TEPCO chose Landis+Gyr to partner in deploying a multi-technology smart metering platform for 27 million customers over a 10 year deployment plan," Mr Clark said. "But almost immediately TEPCO realised that energy management is at the heart of the Internet of Things. We now see an accelerated program, brought forward to complete in seven years, with a broad focus on a range of smart grid and smart city services."
What differentiates TEPCO's rollout from other deployments in Europe and America is both scale and the commitment to open standards and interoperability.
"Scale is a winner in these types of projects – it gets you there faster and cheaper and brings forward the things customers want sooner," Mr Clark said.
"Interoperability and open standards provide the flexibility to adapt to a range of platforms down the track. It's a win-win for IoT in Japan."
Smart meters in other markets
There is now global recognition that smart meters can deliver much broader benefits than faster billing services. Global Market Insights recently estimated the global smart meter market at $11 billion. In May this year, the GTM AMI Global Forecast reported installations of smart meters are expected to rise to 2020, fuelled mainly by growth in Asian and European markets, reported by Greentech Media and shown in the graphic below.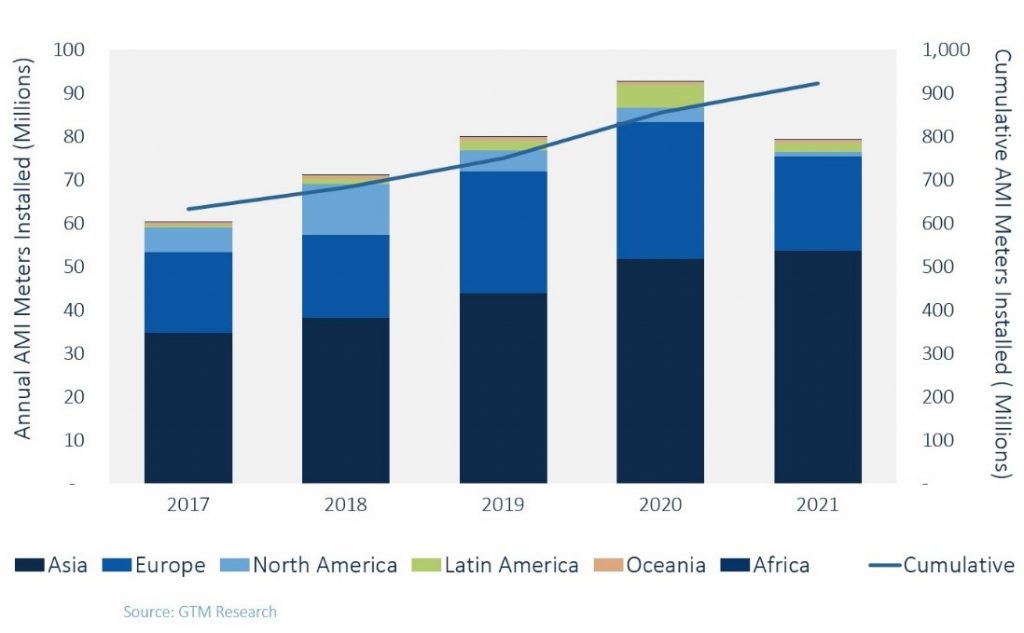 Asian markets delivering "smarts" for customers
As part of delivering a smart city vision for Hong Kong, China Light and Power announced the successful 'go live' of their first phase Demand Side Management trials for 2017 and deployment of the first 350,000 smart meters, with a vision for broader smart grid and smart cities capabilities. Electronics of Things reports that the Indian Government is planning to invest up to $21 billion until 2025 in smart grid technologies with additional plans afoot to install up to 130 million smart meters by 2021. This has led to a number of utilities in India embarking on smart grid and smart metering pilots. A recent example was one of the market leaders, Tata Power Delhi, announcing this year a project to build a smart grid canopy that caters for both the utility grid requirements and the need for smart metering.
European role outs – scale vs competition
GreenTech media[1] reports Europe will install the second greatest amount of AMI in the next five years, driven in part by the European Commission target of converting 80 percent of meters in Europe to AMI by 2020. Sweden, Finland, Italy, and Luxembourg have already reached full deployment, having started rollout prior to the mandate. France, Spain, Denmark, and the Netherlands, are all on track to reach their targets of over 95 percent.
Last month, the Queen's speech referenced Britain's continued commitment to the rollout of smart meters with the aim of delivering more transparent energy bills. Great Britain set a target rollout of 53 million gas and electricity smart meters by 2020. Ofgem's analysis of quarterly progress since 2012 suggests that the rollout is behind schedule[2]: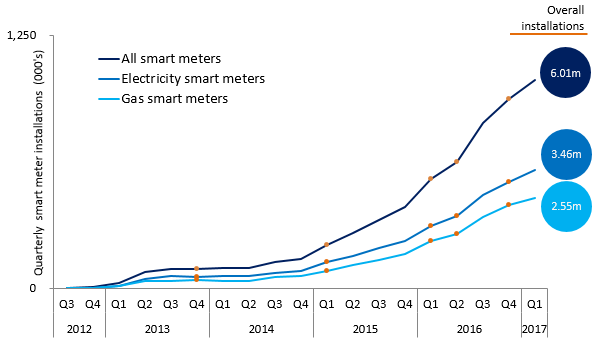 Technology delays have been attributed to deployment being behind schedule. However, other commentators are attributing some of the blame to the choice of deployment strategy.
In an article for the Guardian, Patrick Collinson suggests the slower rate and higher cost of the smart meter rollout in Britain can be put down to competition. Collinson notes:
"Each supplier has to install smart meters only for their own customers, which means they can't just go street to street… they have to contact individual customers wherever they live, agree for them to allow access and organise engineers around that."
Collinson comments that the resulting duplicated activity wastes billions of dollars, with the bill passed on to consumers to satisfy the rules on "competition".
Is Australia on track?
Analysis by both CSIRO and Energeia reveal that substantial power system benefits can be achieved through better pricing arrangements and incentives for procurement of distributed energy resources, all of which can be aided by a greater smart meter penetration. These benefits start to erode in Australia from 2020, placing some priority on the need for greater efforts on smart meter penetration.
Unfortunately, the smart meter experience in Australia is very much a tale of two different worlds. While most Victorian households have smart meters installed, most other states are in the very early stages of smart meter rollout. Victoria is now starting to see some of these investments pay dividends.
United Energy has been nominated as a finalist of the Australian IoT Awards 2017 for combining smart meter investment with advanced analytics to maximise their infrastructure investment and improve outcomes for customers. Andrew Steer, Senior Network Engineer at United Energy recently told Utility Magazine[3] that one of the first initiatives for "big data" analytics was to provide a simple to use EnergyEasy web portal, allowing customers to view their energy use data.
"Numerous customers have told us that they've viewed their half-hourly data profiles and identified energy or appliance issues in the home and reduced their energy usage as a result.

"We continue to consolidate the utilisation of data in both planning and real time decision making… to manage the emerging complex energy networks where the customer is key in localised energy generation."
New rules – too little, too late?
Smart meter penetration in other parts of Australia has been stagnant for almost a decade.The National Electricity Rules precluded networks outside Victoria from rolling out these technologies are part of their standard service. New rules will come into place which will place the onus of the smart meter rollout on retailers through contestable meter service providers. This is likely to be akin to arrangements in the UK which promoted a contestable roll out of smart meters, limiting the opportunity for scale rollouts like the one experienced in Japan. Many stakeholders, including the Australian Energy Market Commission (AEMC), would argue that market-led roll-outs promote innovation and investment in smart meters because consumers drive the uptake of technology through their choice of products and services. What is unclear however, is the likely projection of smart meters that will materialise in non-Victorian states between now and 2020.
Energeia predicts that under current policy settings, these new Rules are likely to see almost two million meters being installed between 2016 and 2020 to replace old meters and connect new customers, with possibly three million other smart meters installed where customers take up new technologies or tariffs. Even with these projections, smart meter penetration will be below 60% – well behind most markets in Asia and Europe.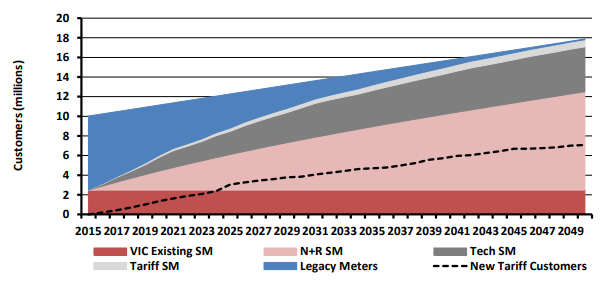 Source: Energeia[4]
However, even these projection may be in doubt. There are concerns emerging around the Australian Energy Market Operator's (AEMO) proposed start date of December for changes in metering to occur. The May 2017 Power of Choice Executive Forum Industry Readiness Report highlights a number of project deliverables at risk due to constrained timelines for delivery. The AEMO report also shows that, at the time of the May Report, approximately 19 retailers are not yet taking part in industry reporting.
Look beyond metering or miss the boat
Landis+Gyr's Adrian Clark is hopeful that Australia can "catch up" but this does depend on whether governments and policy makers can see beyond the "bubble" of existing regulatory frameworks and service delineations.
"Communications is at the heart of all global smart meter deployments. It is also at the heart of the broader use cases for the smart grid and smart city. For smart metering in Australia therefore it's a simple question: do you want to sterilise the opportunity and limit the communications discussion to just smart meters for energy use? Or do you use smart metering as the catalyst for the opportunities that the Electricity Network Transformation Roadmap provides and for the broader benefits of IoT? 

"We see the latter being proven successfully in other markets with opportunities to leverage the communications in smart meters to service gas, water, streetlights, distribution automation, a broader utility control network that integrates with invertors and load control devices such as air conditioners.This delivers cheaper, more reliable smart metering and it brings more benefits to utilities and the end customer. It is clearly a win-win.

"But the question in Australia outside of Victoria is whether these types of IoT solutions are achievable given the market design and resulting rollout strategies. It certainly makes the whole situation more complex. But we are hopeful that ultimately we'll see scale and consolidation in the market to then move forward with the preferred solutions for utilities and their customers."
---