Making a Zero Net Emissions Electricity System Work
With Christmas approaching, it is timely to remember the unofficial spontaneous truce that occurred on the Western Front in Christmas 1914. One can only imagine how it felt when, after a few sane hours of discussion and fraternization, both sides climbed back into the trenches and renewed the senseless bombardment.
'He [the German] put up a sheet with "Thank you" on it, and the German Captain appeared on the parapet.  We both bowed and saluted and got down into our respective trenches, and he fired two shots in the air, and the War was on again.' Captain J C Dunn, Royal Welch Fusiliers
Even as Australia's carbon policy returned to the political trenches this week, the landmark CSIRO and Energy Networks Australia, Electricity Network Transformation Roadmap, Key Concepts Report was released after two years of very broad stakeholder engagement and 19 separate expert studies.
The Roadmap made the same conclusions about Australia's carbon abatement challenge that had been confirmed in past reviews by the Climate Change Authority and Australian Energy Market Commission.
Australia clearly needs a stable and enduring carbon policy which is not susceptible to dynamic change at every election cycle;
Abatement can be achieved at lowest cost if carbon policy reinforces National Energy Markets rather than poorly integrated State measures.
Technology neutral options which focus on abatement outcomes, rather than picking technology winners could achieve our current abatement targets in a way that saves customers over $200 per year.
As part of the program, workshops were held involving hundreds of network industry staff and hundreds of stakeholders including customers and consumer groups, industry, financial institutions, market participants, technology providers, regulators, market institutions and government.
There was an emphatic and widely shared view by Roadmap stakeholders that a long-term plan for the electricity system must include the capacity to reach Zero Net Emissions by 2050.
CSIRO analysis confirmed it is possible for the electricity sector to maintain a reliable, stable grid while achieving zero net emissions by 2050, in line with the aspiration of the COP 21 Paris Agreement. On the way to a zero net emissions future, Australia's electricity sector could exceed its share of current national carbon abatement targets, achieving 40% below 2005 levels by 2030.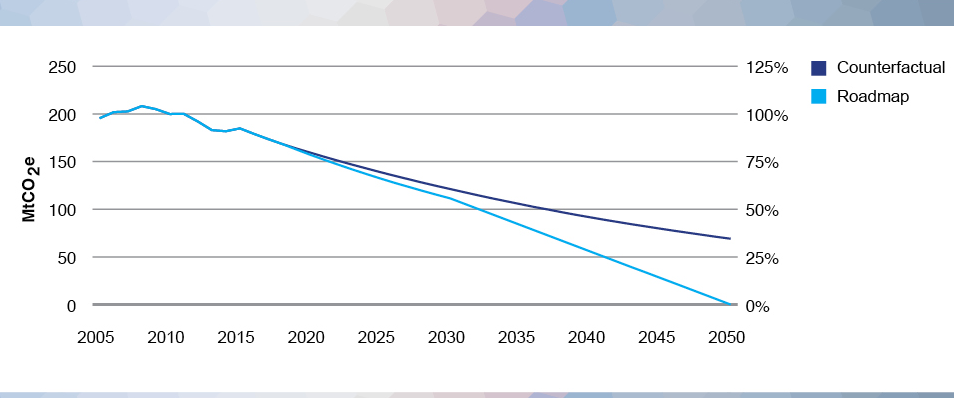 However, the transition is underpinned by an integrated set of measures including a stable carbon policy framework and incentives to enable 'orchestration' of millions of distributed energy resources, like storage, electric vehicles and smart homes.
The Generation Mix on the path to Zero Net Emissions?
CSIRO analysed diverse generation options recognising the need for system security, significant planned retirements of incumbent generators from the 2030s and the latest available generation and technology costs.

The Roadmap analysis confirmed the critical role of thermal plant, like gas-fired generation and black coal-fired generation, in balancing variable renewable energy output during the transition. From the 2030s, however, this balancing role must increasingly be played by low emission solutions like battery storage. Based on the current technology cost curve, the Roadmap analysis pointed to a plausible zero net emissions future where intermittent renewables were enabled by battery storage and biomass.
However, there is a fierce technology competition underway. The Roadmap generation modelling is not intended to be an optimised analysis of comparative technical solutions to achieve a wholesale portfolio scenario, and ultimately each NEM region will need to consider all of the possible combinations of solutions.
Battery storage is forecast to provide the dominant new source of energy balancing. However, there are a diversity of potential solutions which could be employed as alternatives while still achieving zero net emissions depending on their changing economic potential. For instance, some of the other options for energy balancing which may provide such solutions in a low or zero net emissions system include:
additional transmission and state interconnectors;
renewables diversity (technological and geographical),
'pumped hydro' storage,
'Power to Gas' hydrogen storage,
concentrated solar thermal generation or gas-fired generation supported by carbon capture and storage (CCS) technology;
firm (dispatchable) renewable capacity and
demand management.
It is recognised that power system security with this generation mix, with very low levels of native inertia will require careful analysis of system stability and security risks during the transition of the generation portfolio.  A range of technical solutions exist to achieve inertia and frequency management outcomes, including the use of synchronous condensers, rotational stabilisers, large scale batteries, flywheel technology and emulated inertial responses from, for instance, super-capacitor technologies or wind turbines by using the kinetic energy to support the frequency by interchanging this energy with the grid.
So it's just an issue for the High Voltage Transmission System?
One of the key insights from the Roadmap analysis is the transformed challenge of distribution network operation. Power system stability issues will emerge as high penetrations of distributed energy resources occur and they are already prevalent in some networks.
However, an upgraded and smart grid which can interact with millions of distributed resources also has the solutions to these operational and system stability issues.
The distribution system can be a potential source of new ancillary services to support transmission-level system stability. New sophisticated control systems will allow inverter-connected devices to set and maintain frequency, enabling genuine replacement of synchronous generation in large network systems.
The Roadmap Key Concepts Report identifies three key sources for meeting the "sub five minute" power quality challenges on the grid, including:
conventional spinning reserve
advanced inverters
synchronous condensers
What new systems or Markets will be required?
A range of new mechanisms will be required to ensure that the security of the power system is maintained as the sources of generation change at both the transmission and distribution level.
These changes include:
new operational standards that specify minimum values of inertia and system strength to be maintained in the power system at all times;
ensuring that AEMO is able to acquire additional inertia or fast frequency response as required to maintain system security;
standards may also be able to be imposed on new connections to ensure provision of capability to support system security; and
new technological approaches may be employed, for example new protection and control methodologies with different equipment may be necessary to address the issues arising from lower fault levels arising in the main transmission networks.
With so much technology innovation occurring, market frameworks which are technology neutral and allow the best solutions to emerge will deliver lower costs for customers.
The Key Concepts Report includes a case study of the projected South Australian system at 80% renewables in 2036, to show how some of the energy balancing solutions could work together over a twelve-month period. This charts show three days for both the summer and winter seasons. It illustrates that the most efficient solution may rely on battery storage on one day in summer while benefiting from renewable diversity later in the week. By winter, as renewable output falls away the most efficient solution relies on gas peaking plant much more during this period. The Report notes the example could be modified to include other solutions such the deployment of further demand management or state interconnectors.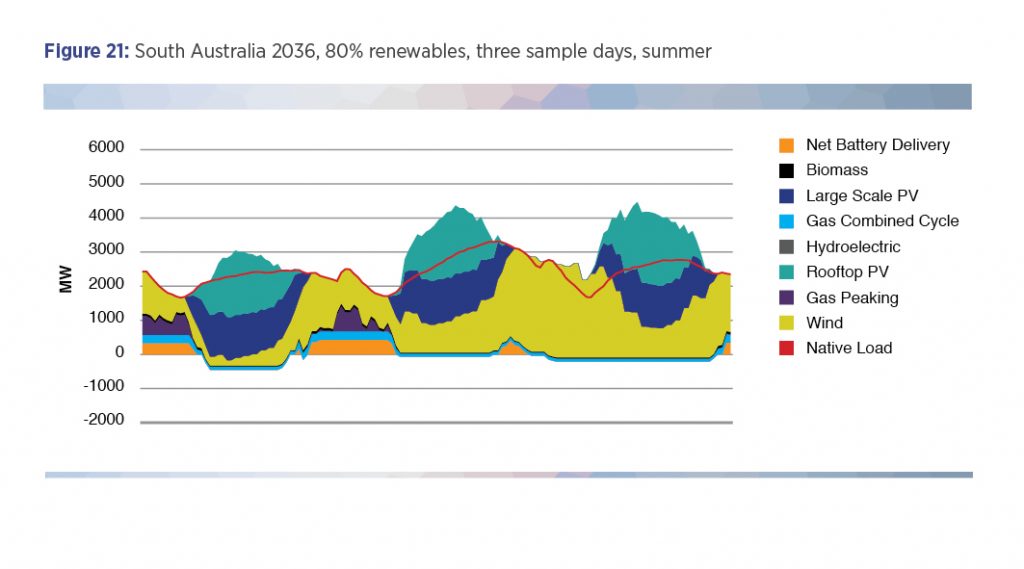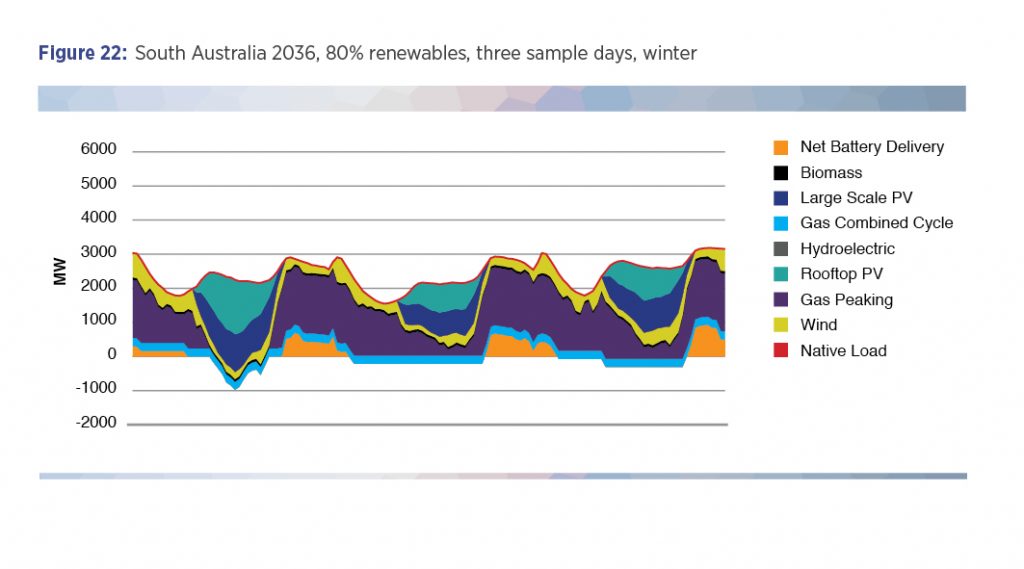 The Roadmap Key Concepts Report has been released for external consultation. Feedback has been sought by February 16 and the program will be finalised in March 2017.
You can view the webcast of the Key Concepts Report Launch here and the launch presentations are available here.