Smarter energy… "in three clicks or less"
Australian's love of digital devices is growing stronger every day, with our lifestyle increasingly controlled at the tips of our fingers.
The connected home has, on average two: TVs, laptops, tablets and smartphones. A recent study found smartphone ownership at 81% and tablet ownership at approximately 62% of respondents.[1]
Our devices enable more than communication and convenience. They are also a source of addictive entertainment.
Angry birds, said to be the most successful mobile app, has been called a "masterpiece of addictiveness" because it's simple – there's no learning curve, it's realistic, rewarding, and funny.[2] It's a biophysical effect – with psychologists identifying that the anticipation of 'reward' puts our dopamine system into overdrive, making you compulsive to want to know what will happen when you fling the next bird.[3]
Energy-oriented smartphone apps
Some energy-oriented smart-apps are increasingly adopting the principles that made Angry Birds such a phenomenal success to assist customers in managing their energy use. These energy apps are engaging energy customers and supporting their interaction with the energy system like never before, with the ultimate goal of creating value for customers and a more sustainable energy system.
The best apps recognise the human preferences that can cause engagement strategies to fail. Simplicity and a sense of reward is key in new platforms being trialled across Australia and internationally.
In Victoria, electricity distributor United Energy, used 'gamification' and a smartphone app to successfully reduce peak demand by more than 30 per cent. The trial targeted peak usage between 4pm and 7pm, with four 'events' occurring over the 2015/16 summer.
Each home was provided with an individualised energy use goal for the peak event period based on historic energy use data. The app communicated demand response event messages via mobile push and email notifications, tracked events and advised customers of their reward based on event performance.
Figure 1 below represents the in-app functionality used in the United Energy trial[4]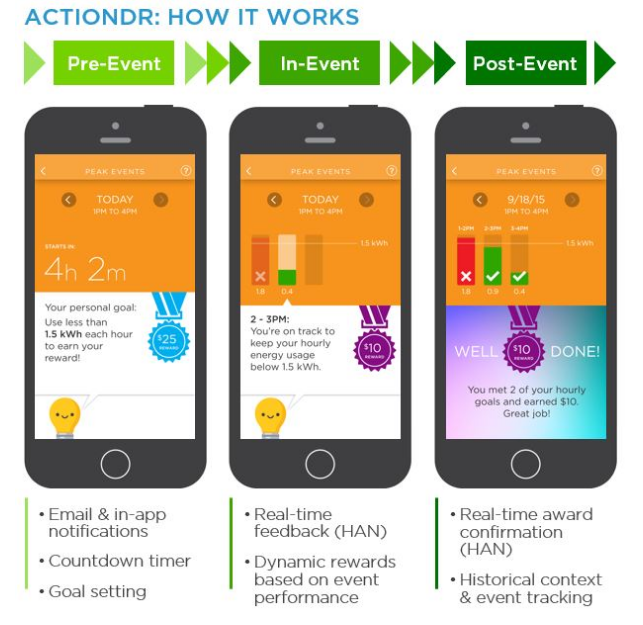 Figure 2 below shows peak usage shift during event #2 – a reduction of about 30%. It also demonstrates the effectiveness of the app in communicating an event, with a clear break in trend when the event occurs.[5]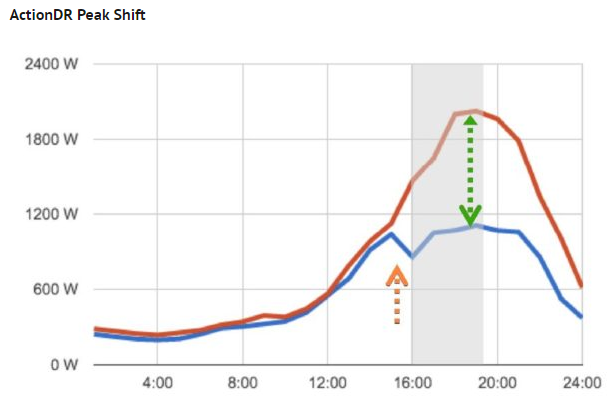 In New Zealand, electricity retailer Flick Electric Co, offers a free app – Choice – that shows the current electricity mix and real-time carbon impact of electricity being consumed. It engages customers in the dynamics of electricity production and consumption and sends 'dirty alerts' that help customers make the choice to use more electricity when there is a greater proportion of renewables in the mix and cut back their consumption when the proportion of non-renewables is high.
The reward, Flick says, is not only helping to change the energy mix and reduce the carbon impact, but also lower prices, because Flick gives their customers access to wholesale electricity prices direct from the spot market, and when the mix is cleaner, the price tends to be lower.
Back in Australia, AusNet Services, another Victorian energy distributor, sends customers with a grid-connected solar system an SMS when their smart meter readings indicate the customer's solar PV installation is not exporting power to the grid. The SMS prompts the customer to check their installation is operating correctly and directs customers to a troubleshooting fact sheet.
Horizon Power, the electricity distributor across regional and remote Western Australia, is trialling a new way of charging for electricity, looking to 'beat the peak' and avoid infrastructure investment in Port Hedland. Horizon Power is supporting customers in making the transition with a smartphone app that gives them access to their near real-time electricity usage data. During the pilot, participants are given a consumption allowance for each hour of the peak period and financial incentives to stay within that allowance by shifting their consumption to off-peak periods.
This new customer relationship with the energy system, through access to information, choice and control, was a clear focus for over 800 Australian and international energy industry leaders who gathered in Adelaide in May for Energy Networks 2016.
Keynote speaker Basil Scarsella from UK Power Networks described the fourth industrial revolution – the digital revolution, where technological advancement is blurring the lines between the digital and the physical, creating a cyber-physical system and providing increased capability for the exchange of energy services.
Ann Burns, Managing Director Resources ANZ, Accenture, told conference delegates the next generation energy customer doesn't want products or services, they want experiences, and they want to engage with the industry "in three clicks or less". Ms Burns told delegates, "I don't actually want to talk to you, but I want it on my phone and I want to push it with my button".
Chris Black, from energy services company Tendril Inc, reiterated the sentiment, "Millennials have been taught that they can pull out their phone and demand any product or any service from anywhere at any time".
Energy networks are embracing the change and connecting millions of customers for a smarter, cleaner system. Smart technology is offering new opportunities for choice and customisation – for communication, entertainment and essential services, like energy.
For Australian energy customers, the grid will be a key element in the future energy system, but it will be used differently, providing new services and technology, while maintaining the safe and reliable electricity and gas services that customers depend on.
Smart apps are providing new ways for customers to manage their interaction with the energy system, to make different choices about energy use and generation, and support the efficiency of the system – all at the swipe of their fingers.