Unveiling the invisible
Gas is the invisible energiser of over 6.5 million homes in Australia. Transparent in its original form, once ignited, a natural gas flame will appear blue at a temperature of about 1,960°C.
Gas has lacked visibility in Australian energy policy too, at least until the gas crunch sent shockwaves through commercial and industrial customers and caused the Australian Energy Market Operator to warn of potential power shortages.
Concealed beneath our feet, it's easy to forget that almost 90, 000 kilometres of distribution pipelines and 30,000 km of transmission pipelines reliably provide approximately a quarter of Australia's total energy needs including electricity, transport and direct heat. These pipelines also provide gas to industry to produce everyday materials such as plastics and fertiliser.
Globally, carbon reduction policies have focussed on power generation, in the form of support for renewable energy, power security or reducing emissions from large-scale coal fired power stations. In the UK and Europe, strategies for decarbonisation of their economies include decarbonising the use of gas…unveiling the invisible.
International developments in gas networks
Leading the way is the Northern Gas Networks H21 project, the proposed conversion of the city of Leeds gas distribution network from natural gas to hydrogen. While the scope of the H21 project looks to the future of a transformed gas grid, the project emphasises communication and engagement as integral to the detailed implementation plan.
Central to this is that the technology for converting to hydrogen networks is commercially available now.  The project documented in the 382 page report will require four 256 MW hydrogen production facilities to produce 1,780 million cubic meters of hydrogen with 1.5 mtpa carbon dioxide equivalent stored in offshore depleted oil fields.
http://www.northerngasnetworks.co.uk/archives/9689
The approach outlined in the project recognises electricity accounts for around 20% of the total energy consumed by UK households, illustrated in the chart below. Electricity, predominantly from gas fired generation, has some seasonal fluctuations and ranges between 700 and 1000 GWh per day. Transport fuel represents around 1500 GWh per day and is fairly uniform throughout the year. UK domestic gas consumption for heating experiences large seasonal fluctuations coinciding with the huge thermal load during winter. The daily energy use of gas ranges between 400 and 3000 GWh – an increase of nearly ten-fold! If the thermal peak in winter was to be met with electricity it would require an increase of 20 fold of the electrical infrastructure.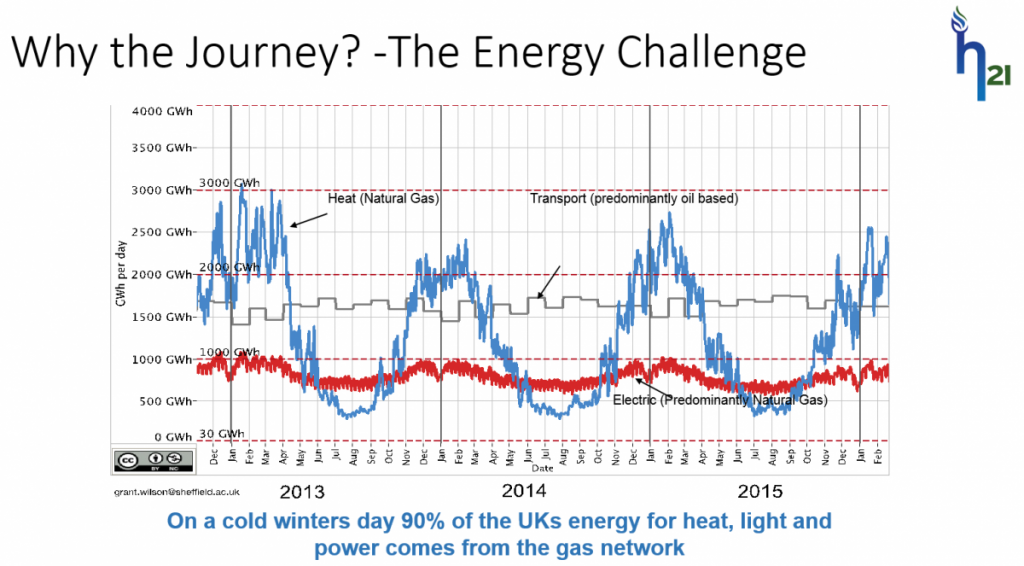 Source: Dan Saddler – 2017 – Energy Networks Australia Gas Vision 2050 Seminar, Melbourne, June 2017.
The Australian context
On average, gas provides 44% of energy to homes in Australia, and this reaches higher in colder climates such as ACT and Victoria. In some parts of Australia gas consumption experiences similar seasonal fluctuations as the United Kingdom. The chart below shows the seasonal variation of electricity and gas in the Australian Capital Territory. This shows a peak in gas demand during the winter months and a near tenfold increase in demand between summer and winter periods.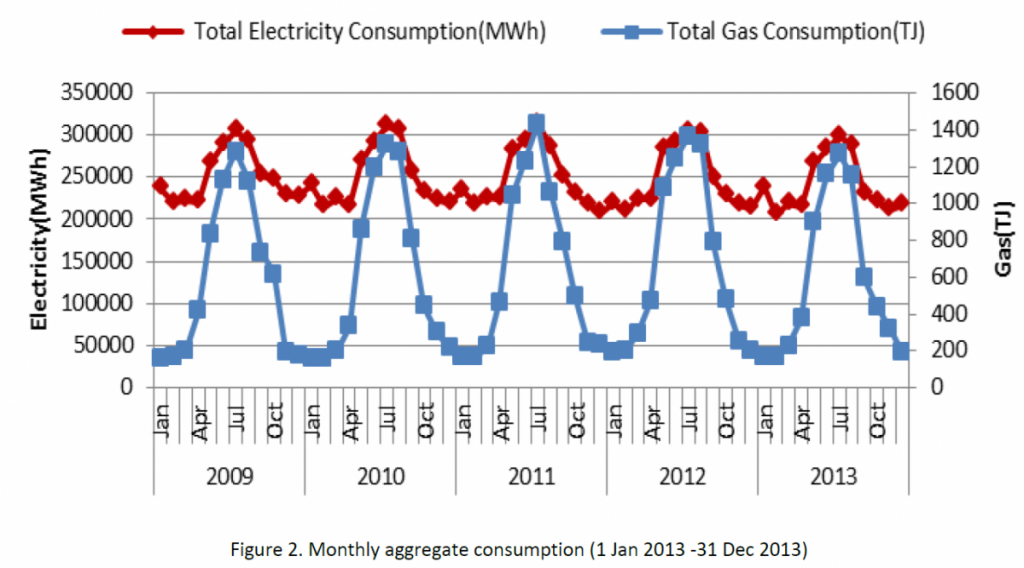 Source: ACT Government – 2015 – Electricity and natural gas consumption trends in the Australian Capital Territory 2009-2013.
Replacing this amount of energy – or meeting the gas peak demand – with electricity is not practical in the near term, as electricity also starts its own decarbonisation journey to contribute to global reductions in CO2 emissions.
While gas networks provide large amounts of energy to households and allow the peak demands in winter to be met, the focus on decarbonising these networks has not been a policy or technological priority.
The transformation of the gas grid
Projects – such as the H21 Leeds project – may well be the catalyst for reprioritisation. Simply, H21 consists of the following steps:
Produce hydrogen from natural gas using steam methane reforming – either store the hydrogen in salt caverns for later use or transport to the city;
Apply carbon capture and storage to the resulting carbon dioxide and sequesters it under the North Sea;
Distribute hydrogen in the converted Leeds gas distribution networks.
Modifications are made to household's appliances allowing them to continue using these appliances as usual with hydrogen in place of natural gas.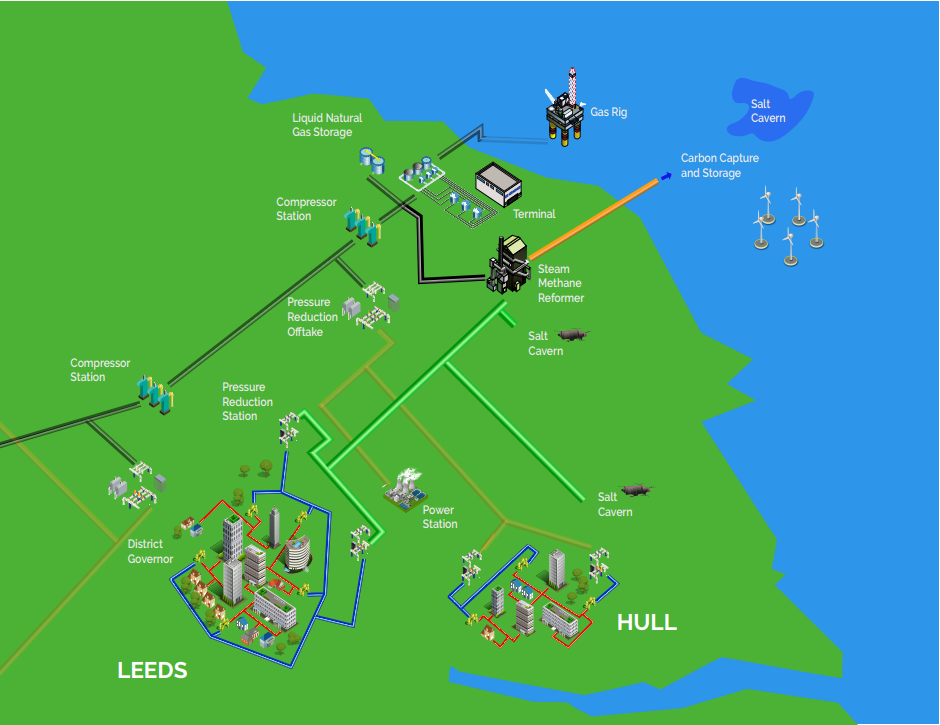 Source: Northern Gas Networks – 2016 – H21- Leeds City Gate Report.
Meeting demand fluctuations can be achieved by using salt caverns for storing hydrogen. This allows the steam methane reformers to run at optimum capacity with the hydrogen being stored in either an interday or interseasonal storage sites.
Modelling of hydrogen production rates has been completed and this indicates that 4 by 256 MW steam methane reformers would be required to provide enough energy for the project. Over a year, this would provide 5.94 TWh of energy, (or 1,780 million cubic meters of hydrogen) and 1.5 million tonnes of CO2 for sequestration.
The modelling shows how excess gas produced between April and June could be stored in interseasonal salt caverns to be used during the colder months when the hydrogen demand exceeds the production capacity of the steam methane reformers. Hydrogen or gas stored in underground caverns or reservoirs provides flexibility to store vast amounts of energy across seasons but can also be used to store smaller amounts to manage interday peaks. This type of storage provides large scale energy security and could complement variable renewable generation.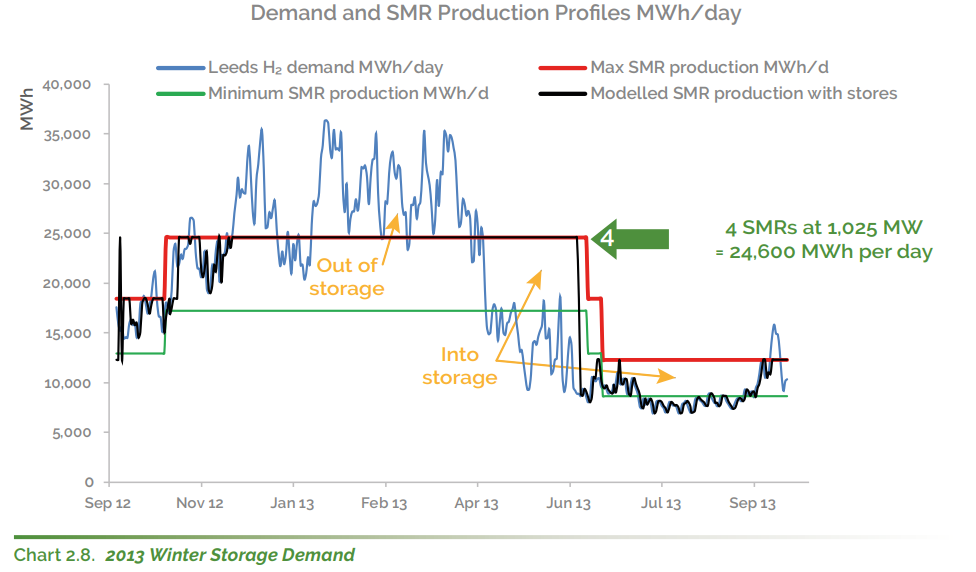 Source: Northern Gas Networks – 2016 – H21- Leeds City Gate Report.
Part of the project will require network modifications – mostly to reduce bottlenecks for gas supply and to replace older parts of the networks. It will also require modifications within homes – predominantly to update appliances so they can operate safely and effectively with a new gaseous fuel. The project plan demonstrates how this conversion will be carried out over 3 years with the appliance conversion commencing in the mid 2020's, after the network modification have been completed and the hydrogen producing infrastructure constructed.
The conversion of the Leeds city gas distribution network will demonstrate the important role that gaseous fuels play in providing energy security to households but more importantly, it will demonstrate that the energy source can also be decarbonised. The project team selected steam methane reforming as it is currently available at the scale required. Further technological developments – and cost reductions – in electrolysers would allow hydrogen to be produced from excess renewable energy.
The opportunities for Australia
Hydrogen is primed to play an important part in the decarbonisation of Australian gas, as industry leads innovation efforts to capture the potential of carbon-free fuels and the H21 project demonstrates clear opportunities for Australia. Currently, Australia is a major energy exporter of coal and gas. Over time, these resources could be used in Australia to produce hydrogen with the carbon dioxide geologically stored. This may create new export opportunities for either low carbon transport or network fuels. In the longer term, commercial opportunities could arise where variable renewable energy is bottled in Australia and exported internationally as Australian renewable hydrogen.
A number of industry-led research and development projects are already underway and some Governments in Australia – such as South Australia and ACT – have recently shown increased interest in hydrogen as both a domestic and an export fuel. Indeed, the SA Government announced $9 million of funding towards it hydrogen roadmap in June 2017. Further policy focus should be on continuing to support research, development and demonstration of a diverse range of low emission technologies, especially those that allow decarbonisation from gas networks.
The technology is demonstrably here. As hydrogen edges closer to becoming a commercial energy source, last week, Siemens – one of the world's leading power engineering firms – met with Australian wind and solar energy firms and state governments to advance the case for hydrogen storage. Siemens' STYLIZER technology has been bought by the French wind farm developer Neoen as part of its renewable energy project for the ACT, where up to 20 vehicles will be purchased by the ACT government and fuelled by hydrogen produced from renewable energy.
The Australian gas industry – through Gas Vision 2050 – is focussing on technology development to support decarbonisation. Innovation – as shown at Leeds – will be the key to achieving this. Three transformational technologies – biogas, hydrogen and carbon capture and storage – could provide new zero-emission and low emission fuels that can deliver power to Australian homes, businesses and vehicles using the existing distribution network.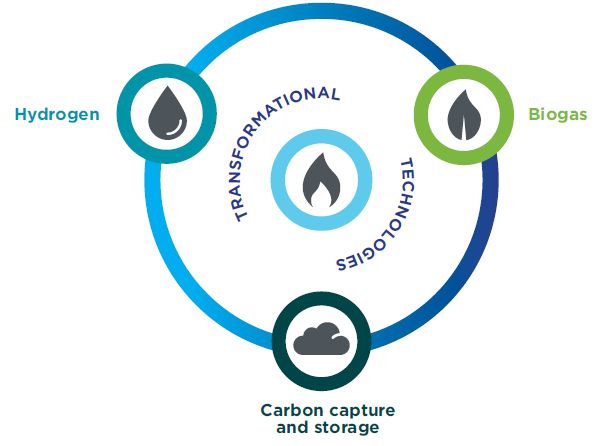 Source: Energy Networks Australia – 2017 – Gas Vision 2050.
More of these types of projects will be coming on line in the next 12 months to make the invisible visible.  With technology-neutral policy environment to support industry to research, develop and demonstrate a diverse range of low emission technologies, new technology will drive the decarbonisation journey of gas.