The freezing winds of change
Four out of five Canberran households rely on natural gas to heat their homes.
The phrase 'now we are cooking with gas' wasn't born out of nowhere. Natural gas for many families is the preferred energy source for cooking and space heating. It is responsive in cooking and quickly heats homes during those frosty winter nights.
Yes, gas emits carbon – albeit at much lower rates than coal – and needs to be decarbonised, but is turning off gas networks the best way to get to zero emissions? Not if customers want to avoid big hits on power bills, like we will see on 1 July for electricity in Canberra.
That hike has been caused by increases in the cost of the ACT's large-scale feed-in tariff to reach the 100 per cent renewable electricity target.
Switching from gas to electricity sounds straightforward until you consider that gas provides twice as much energy to the ACT as electricity does. Turning off gas means the ACT electricity system would need to deliver three times the energy it does today. Moreover, gas in the ACT is typically used between May and September so any new electricity infrastructure to replace this heating will be majorly underutilised. Energy efficiency of appliances and homes can decrease that, but it will still be a massive and costly increase.
More power generation and more grid capacity will be required. Paying for these upgrades would significantly increase power bills for electricity users, on top of this year's price hikes. Customers on the gas network will pay for these costs twice: once as an increase on the electricity network but also a price increase from the gas network as fixed costs for gas supply are recovered from fewer connections. More bad news for customers, especially those vulnerable customers who are unable to make the transition to an electrified home without major energy efficiency upgrades.
To be clear, the question is not should we reduce the ACT's emissions from gas use, it's how best to do it.
Research for Gas Vision 2050 – Delivering a Clean Energy Future found that net-zero emissions can be reached at half the cost of electrification by replacing natural gas with renewable gas.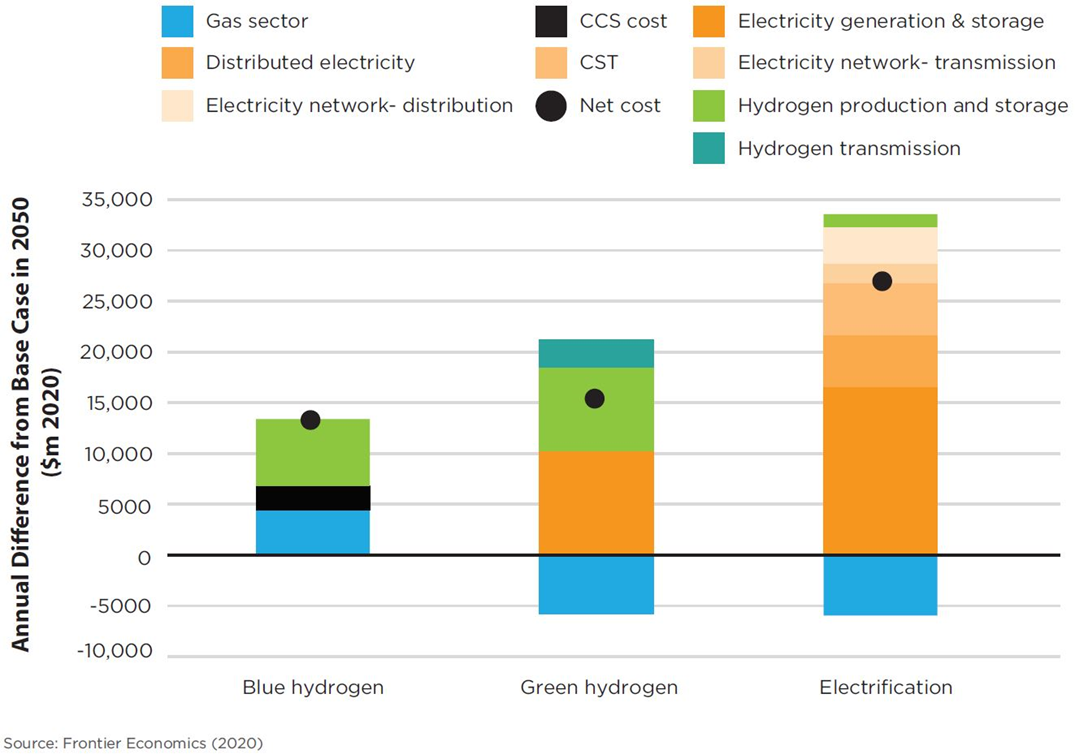 Decarbonisation costs (Source: Gas Vision 2050: Delivering a Clean Energy Future, Nov 2020)
This will see gas pipelines and infrastructure used to supply renewable hydrogen. This is a much cheaper option than delivering the additional energy through electricity transmission lines and expansions to the poles and wires network.
The good news is that this is far from a pipe dream – the transition to green gas is underway. Australia's first hydrogen facility for gas networks is in Canberra and has tested the suitability of the network to carry hydrogen. The ACT is also a leader in demonstrating the role for hydrogen fuel cell vehicles.
Just a few weeks ago the NSW Government announced a renewable gas certification pilot scheme which will enable gas users to identify and purchase renewable gas products with confidence.
In South Australia, 700 Mitchell Park households are already cooking with renewable gas, with the blending of hydrogen into the existing gas network. This will be followed by conversions of entire networks to 100 per cent renewable gas in the next few years.
Right around the world engineers are trying to figure how they will manage what the Germans call dunkelflaute – long periods in winter with little electricity generated by solar and wind. Batteries, pumped hydro and demand response are all likely to play a role, but one thing is very clear: if places like Canberra shift all their existing gas heating and cooking load to electricity, managing dunkelflaute will be much harder and more expensive.
It's important we decarbonise our energy supplies using options that harness our natural resources and use existing infrastructure, without hitting customers in the hip pocket. There's no place in the country where renewable gas makes more sense than the ACT.