Suring up the supply chain
In the past three years, Australians and the rest of the world have had a crash course in supply chains.
Remember the Covid-induced global rush on toilet paper? That was all due to the huge uptick in (panic) purchasing at a time when there were already supply chain disruptions.
As the world recovers from the pandemic, there are still lingering flow on effects on  supply chains – with huge backlogs occurring across the world. Add to that a war in Europe, soaring gas and fuel prices and slower than usual turnaround times for freight and industries across all parts of the economy are needing to plan ahead more than ever.
Transmission businesses are no different. Australia's long term emission reduction plan seeks to achieve net zero emissions by 2050. Fortunately for the environment, and unfortunately for our capacity to get it done – the rest of the world has the same target.
This means a huge amount of pressure is being placed on supply chains that are working overtime to deliver the essential components – reactors, transformers, line conductors and steel – needed to build large scale transmission infrastructure.
There's no transition without transmission.
This is a phrase we like to use a lot at ENA. It's catchy and it's true. Australia is working towards net zero but is hampered by a lack of transmission infrastructure. This is essential to connect new renewable generation to the grid and deliver it to homes and businesses. More connectivity also is critical to put downward pressure on wholesale prices.
In the past 12 months we have seen state and federal governments sending significant signals to the market to encourage this infrastructure build, including updating the regulatory framework to allow for landholder and community benefit payments and the creation of the $20 billion Rewiring the Nation fund.
These are welcome measures – but they can't deliver the infrastructure without the materials and labour to build it.
Economies of scale
Most of us are familiar with the microeconomics theory economies of scale. We see it all the time. Large chain stores can buy in bulk at a negotiated lower rate which enables them to pass those savings onto the customer. NSW transmission network service provider Transgrid has done just that with its transmission infrastructure buys.
Transgrid is bundling procurement for key transmission projects such as VNI West, HumeLink and Energy Connect allowing it to compete globally for highly-sought-after equipment and deliver it faster and cheaper for consumers.
The Powering Tomorrow Together program seeks to de-risk a highly competitive supply chain as energy companies race to secure critical, large-scale equipment, materials and skilled people to deliver the projects which will reshape the nation's grid.
"By rolling EnergyConnect, HumeLink and VNI West into one procurement program we're able to purchase materials, like steel and substation equipment earlier and at a lower cost, enabling limited construction resources to be secured and used across all three projects" – Transgrid CEO Brett Redman.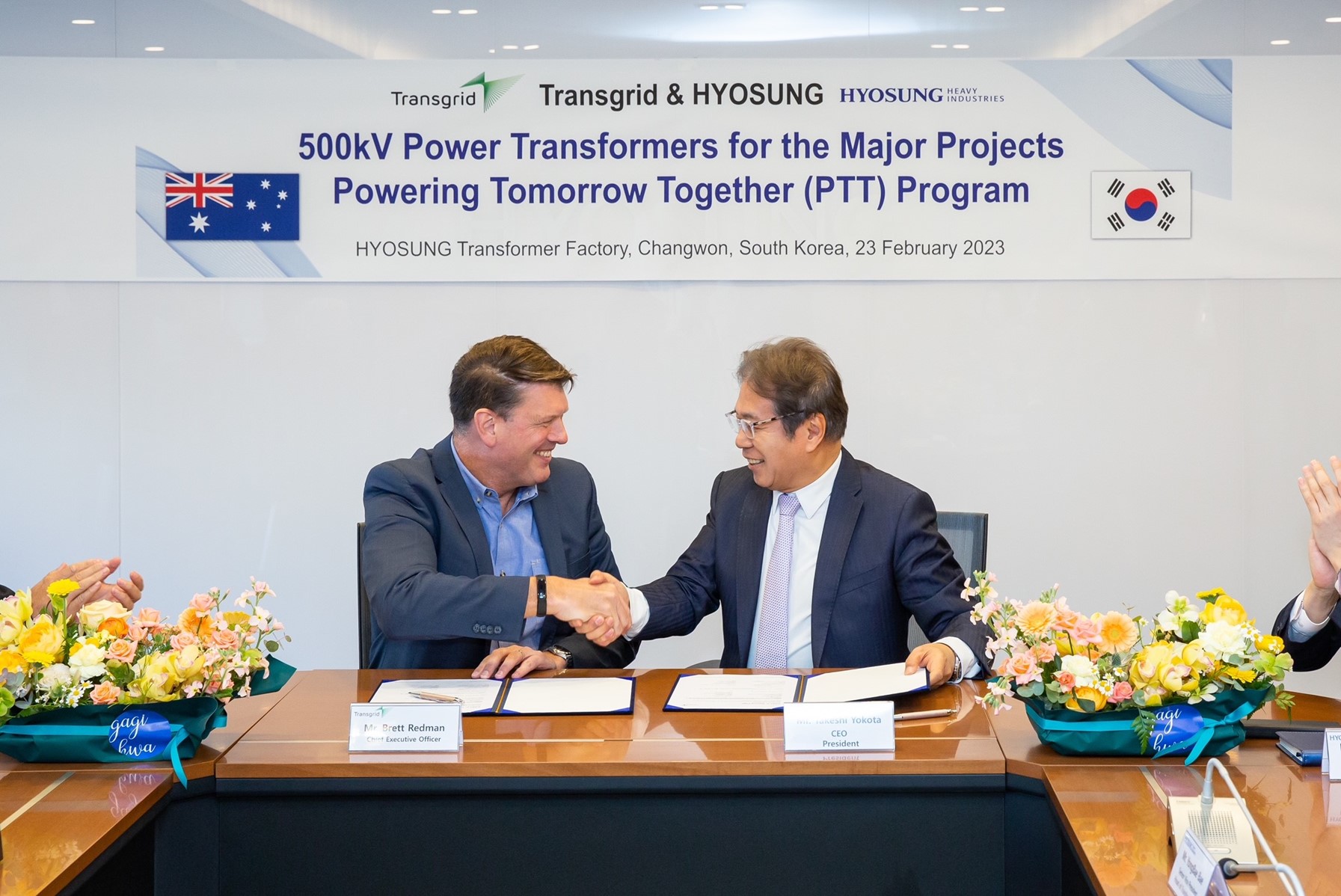 Transgrid CEO Brett Redman and Hyosung CEO and President Takeshi Yokota sign the contract for single phase transformers.
So far Transgrid executives including CEO Brett Redman have visited South Korea and Japan with a 'shopping list' which includes $385 million in equipment, transformers, steel and cables.
By bundling procurement for the three projects into a single program of work, Transgrid is expected to save up to $500 million, savings that can be passed on to customers.
The energy sector has been doing a lot of the heavy lifting in the shift to net zero. Networks like Transgrid understand the importance of being ahead of the closure of coal generation and the need to build large scale renewable generation. But the sector can't bring on new renewables until we have the transmission in place.
This is why the entire sector must work together to accelerate the timeline of this program of work to allow fully for the transition to net zero.