ACCC's top 5 for networks
While only one ACCC recommendation relating to networks – writing down asset bases – received any media attention, other recommended regulatory changes have the potential to make our networks more responsive to technology and market developments while also improving energy affordability for consumers. We take a look at the recommendations.
1. Pricing reforms (Recommendation 14)
It's no wonder consumers are furious and concerned over rising electricity bills and so they should be. As the ACCC (Australian Competition and Consumer Commission) report states, customers are paying more than their fair share of network costs as the current pricing structure provides distorted signals to customers. To address this, the ACCC stresses the urgency of moving to fairer pricing structures as soon as possible, otherwise the inequities of the status quo will remain.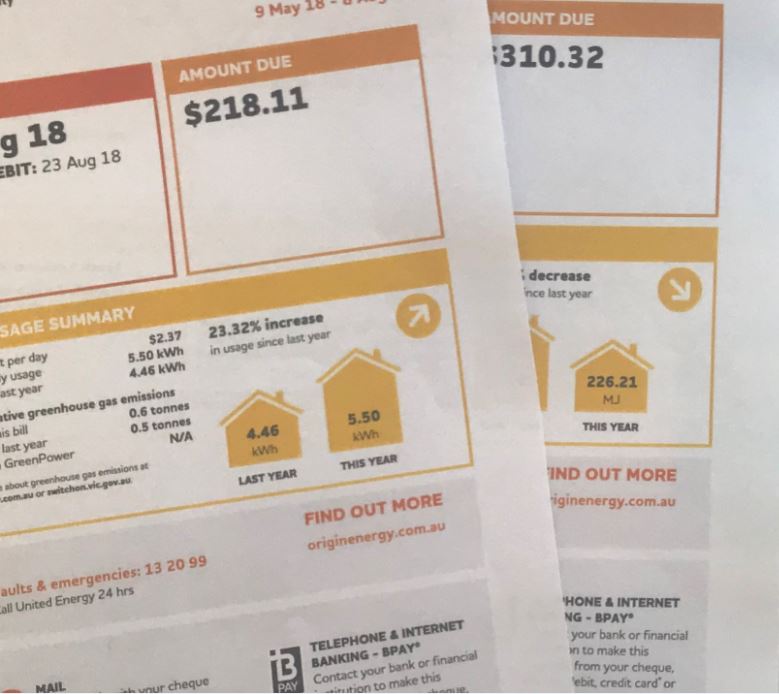 The potential benefits of this move are substantial. The findings of the Energy Networks Australia/CSIRO Electricity Network Transformation Roadmap suggest that with the adoption of cost reflective tariffs, customers could save approximately $414 per annum by 2050. However, these benefits can only be achieved if the existing barriers to cost reflective pricing are removed.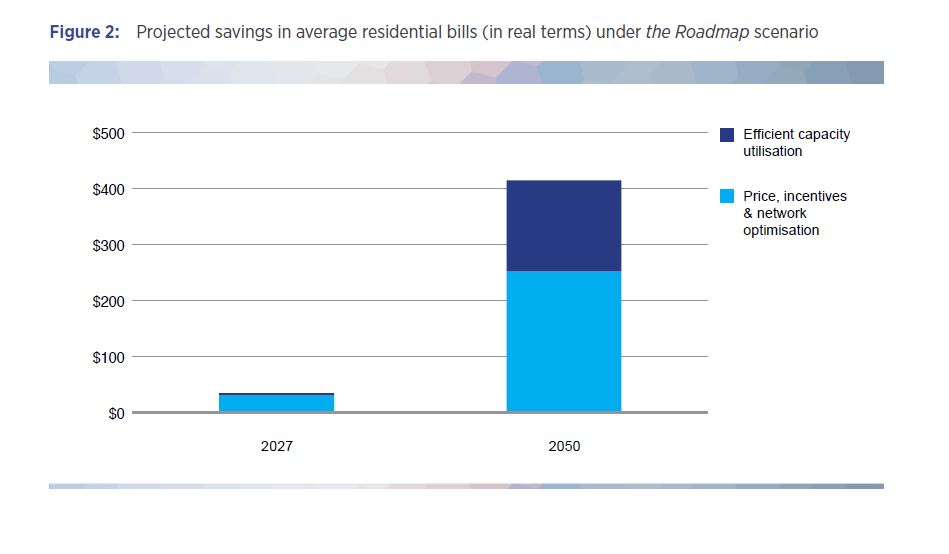 Source: Energy Networks Australia/CSIRO Electricity Network Transformation Roadmap.
A crucial ingredient for success is networks being able to provide price signals to retailers through restructured network tariffs. Retailers already manage significant volatility in wholesale markets, there's no reason why they can't also manage time-of-use or demand-based inputs relating to network costs. Action must also be taken to address other recognised barriers to cost-reflective pricing such as low metering penetration, jurisdictional policies and a reliance on "opt in" frameworks.
We are pleased the ACCC has recognised these issues, which is another step forward towards fairer electricity pricing and better customer outcomes.
2. New directions in regulatory rules supported (Recommendation 20)
Looking ahead, the ACCC has explored options to support regulatory innovation. It has made a number of positive recommendations that, if properly implemented, can achieve improved outcomes for consumers.
Given the transformation of the industry, more flexible regulatory approaches might be better suited to the future energy services market. Forms of flexible regulation such as a customer-centric framework or more flexible, lighter-handed regulation are contemplated by the ACCC as future reform options.
This is consistent with a range of initiatives currently underway.
Earlier this year, AusNet Services launched Australia's first trial of a negotiated regulatory approach to price setting for its Victorian electricity distribution business. The trial is being conducted under the 'NewReg' approach to electricity network regulation, which is a joint initiative by the Australian Energy Regulator, Energy Consumers Australia and Energy Networks Australia.
In another example, the recent interest in exploring TOTEX approaches by a range of independent parties highlights that industry participants want to be on the front foot in leading regulatory innovation for the benefit of energy consumers.
In this context, the ACCC's support of new directions in regulatory rules is to be welcomed.
3. Removing barriers to efficient off-grid supply solutions (Recommendation 23)
Another positive in the report is the ACCC's call for urgent action to support the transition from grid supply to off-grid supply where it represents the best way of meeting customers' electricity service needs and is more cost-efficient than building more poles and wires.
The existing barriers to the pragmatic adoption of off-grid supply solutions by distributors, such as disconnected micro-grids and stand-alone power systems is a worrying example of how our inflexible regulatory regime sometimes cannot respond in a timely manner to developments in technology, leading to sub optimal outcomes for customers.
Western Power proposed a rule change along these lines and in December 2017 the AEMC published its final determination. The AEMC supported enabling off-grid electricity supply in locations where it is cheaper than maintaining the grid connection as this can reduce network costs for all consumers.
The AEMC recommended changes to more than just the rules to enable this and the ACCC's recommendation reinforces this.
Taking some edge-of-grid customers off grid is as close to a no brainer as you get in this industry – lower prices and often more reliable supply for affected customers and lower costs for everyone else. It can also help get existing power lines removed in areas with high bushfire risk.
It's no surprise the Finkel Panel also recommended action in this space and the sooner we get moving the better.
4. ACCC identifies write-down risks (Recommendation 11)
Over the past few years a number of commentators have called for Australian governments to consider undertaking mandatory 'write-downs' of asset values of electricity networks to lower prices for consumers. Many of these proposals have been made without adequate consideration of their long-term consequences for electricity consumers.
Energy Networks Australia conducted its own analysis which found that 'write downs' would actually lead to higher network tariffs. This is due to the increased cost of capital which would flow from the higher investment risk that comes with the potential for some capital expenditure not being recovered.[1]
The ACCC's consideration of the potential "over-investment" numbers are heavily reliant on the Grattan Institute's Down to the wire report – the analysis that network sector considers as arbitrary and risky.
To be fair, the ACCC recognises the limitations and critiques made of the Grattan Institute's methodology. It also correctly observes that mandatory write-downs undertaken within the core regulatory framework would lead to higher risk, resulting in a higher cost of capital.[2]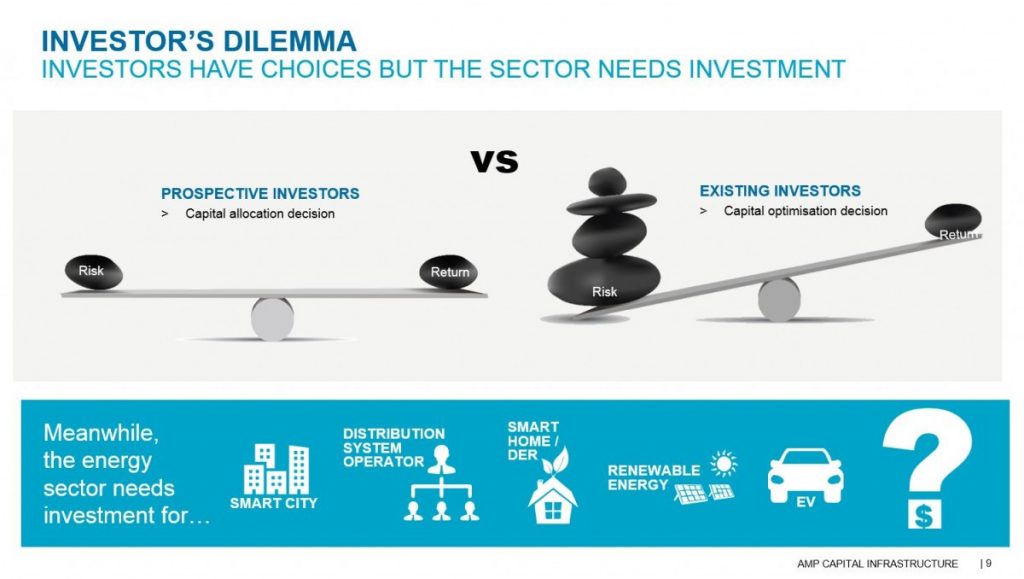 Source: Stasha Prnjatovic, AMP Capital Infrastructure – Investor persective on on global and Australian trends in energy regulation. Presentation to Energy Networks Australia Regulation Seminar 2018 – Power of Collaboration.  
Interestingly, the ACCC's position is that the Australian Government should financially contribute to the cost of any write downs or any rebates paid.
In recent years, network costs have fallen significantly in every one of the five National Electricity Market states and territory, so doing no harm to this trend should be policy-makers' and regulators' highest priority.
5. Putting in stable risk rules for possible futures (Recommendation 13)
The ACCC recognises the risks of breaching the regulatory compact and wants to have a conversation about risk allocation arrangements going forward. It suggests regulatory rules should be amended to include a process whereby network assets may be stranded in the future.
Such a change would mean that investors may not be able to recover return on and return of the assets that are deemed to be redundant or stranded. This approach penalises network firms for inefficient investment decisions. However, it also provides penalties for investment decisions that were efficient at the time to ensure a reliable and safe energy supply.
The framework addressing future potential risk allocation arrangements is an area worthy of careful and deliberate consideration and discussion. The current gas and electricity framework does provide some treatment of these issues, and a critical area will be ensuring additional risks and the potential for increased financing costs that they may create are consistently and efficiently managed within the regulatory framework.
The way forward
ACCC Chair Rod Sims briefed the COAG Energy Council on his report last Friday and Ministers agreed to progress an initial set of 16 cross-jurisdictional recommendations and to a program of work to consider the remaining 23 recommendations that are COAG Energy Council's responsibility.
We don't yet know the detail of the Energy Council's decision, but hopefully it means action in areas like network tariff reform and using stand-alone power systems where that makes sense is on the way.
Energy Networks Australia looks forward to continuing discussions on the report and its recommendations with energy policy makers and regulators.