After the storm – Resilience of major grids
Last Friday, Australian Energy Ministers committed to an independent review of Australia's power system security, even as supply was still being reconnected to major industrial customers in the State's mid-north. The disruption to over 1.6 million South Australians was another example of the way major storm events can create an acute focus on the reliability of the grid – how it can catalyse action by governments and industry.
A week after South Australia's storms Hurricane Matthew brought power outages to 2.7 million people across south eastern United States. In many cases, the impact to customers was mitigated by a smarter, more resilient grid.
Florida Light and Power (FLP) noted that investments of $2.6 billion resulted in fewer outages and faster restoration times in this week's event:
Automated switches prevented at least 25,000 outages.
'Hardened' feeders performed 1.5 times better than non-hardened feeders, with no poles sustaining damage.
With more than 4.8 million smart meters, FLP was able to identify which customers were impacted in real time and schedule faster, less expensive responses.[1]
These benefits reflect widespread, measurable improvements in grid resilience that the United States achieved with the electricity industry under the American Recovery and Reinvestment Act, which resulted in 99 Smart Grid Investment Projects. Examples of the benefits identified by the US Department of Energy[2] include:
Following July 2012 storms, Tennessee's utility reduced total restoration time by up to 17 hours and prevented power loss, or instantly restored power, to 40,000 customers using automated feeder switching. The same utility reduced service restoration time by up to 36 hours and saved an estimated $1.4 million in overtime costs due to fewer truck rolls following a February 2014 storm.
Pennsylvania's utility avoided more than 6,000 truck rolls and reduced service restoration times by two to three days following Superstorm Sandy in October 2012—even with smart meters deployed to only 10% of customers. Following a February 2014 storm, with smart meters 50% deployed, it restored service an estimated three days faster, and automatically restored about 37,000 customers in less than five minutes using Automated Feeder Switching.
Improvements in storm resilience and response were in addition to general reliability benefits of over 40 % in Florida and Tennessee identified by the US Department of Energy.
Superstorm Sandy in 2012 is now often credited with changing the face of America's grid, after leaving 8.5 million people without power in 21 US states. It drove a fundamental new focus on resilience, investment in smart-grid technologies and faster restoration strategies.
"I think Sandy was a watershed event for the industry in terms of planning.  It was a wake up call."
Peter Fox-Penner, The Brattle Group[3]     
"It [Hurricane Sandy] was one of those tipping points where utilities, regulators, the policy makers all agreed that there needed to be not just incremental, but significant new investments to deal with severe weather."
Rick Nicholson, Vice President Transmission and Distribution Solutions, Ventyx[4]
Climate change and the need for a more resilient grid
Severe weather is the leading cause of outages in the United States, causing over 87% of outages impacting 50,000 customers or more[5], and the US Department of Energy has recognised that the frequency and intensity of storms are increasing. Seven of the ten most costly storms in US history occurred between 2004 and 2012.[6]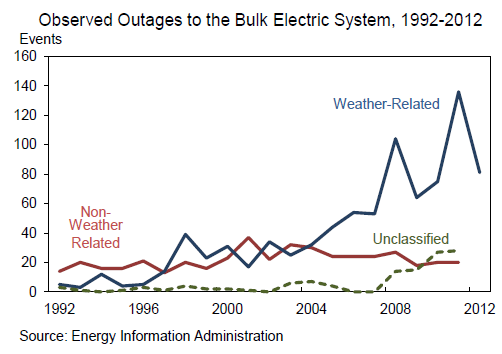 The Australian energy network sector is particularly exposed to climate change impacts including extreme weather events such as storms, heatwaves and bushfires, as well as significant changes in the weather. Given the long life of energy network assets, investment decisions made today must incorporate risk assessments from a whole range of factors including future climate change. The way energy networks are operated and maintained will also need to be reviewed to maximise their resilience to climate change.
The Energy Networks Association's Asset Management Committee published a Climate Risk and Resilience Manual in September 2014 – an industry methodology and tools to support members in managing climate risk and resilience across core network business activities. It is also designed to promote consistency in factoring climate change risk into future network investment decisions.
Towards energy security – The Finkel Review
COAG Energy Council Ministers agreed to initiate a review by the Chief Scientist, Dr Alan Finkel AO, to "take stock of the current state of the security, reliability and governance of the NEM and provide advice to governments on a coordinated, national reform blueprint."[7]
The scope of the review is broad, particularly as it is intended to take account of existing reviews underway already including[8]:
Reviews into the South Australian 'system black' event by AEMO, AER and the AEMC;
Detailed analysis and reports by AEMO and the AEMC into future power system security and market frameworks;
Analysis by AEMO and the AEMC into the impact of carbon mitigation policies at both the Federal and State level on energy markets;
A review of governance arrangements (Vertigan review);
National Gas market reforms which relate to NEM security, reliability and affordability; and
A review of the appropriateness of existing regulatory arrangements for interconnector investment.
The purpose of the review is to develop a national reform blueprint for maintaining energy security and reliability in the NEM. The blueprint is intended to outline national policy, legislative and rule changes required to maintain the security, reliability and affordability of the NEM in light of the transition taking place.
Importantly, it will require an economic dimension and will need to assess the costs and benefits of options for improving system security and reliability in the NEM. A preliminary report has been sought for the COAG Leaders' Meeting in December, with a final report early in the new year.
There are two obvious challenges for the Finkel Review, given the intense political focus on these issues and the limited time available:
How to ensure this Review is integrated with, rather than duplicates, the numerous overlapping review activities underway by diverse agencies?; and
How to ensure a blueprint makes coordination between national energy institutions stronger as they seek to integrate carbon and energy policy?
As international experience demonstrates, there is opportunity to develop the resilience, not only of the grid, but the institutional capacity to better manage the trilemma of energy security, sustainability and affordability to benefit customers.