Centenarians – the staying power of hydro as states go it alone
This week, Prime Minister Malcolm Turnbull announced an $8 million agreement between the Australian Renewable Energy Agency (ARENA) and Snowy Hydro to fast track the Snowy Hydro 2.0 project's feasibility study, telling the ABC's 7.30 that "… this is the biggest renewables project in our history since the Snowy Mountains scheme was built."
In a video posted on the Prime Minister's Facebook page this week, Mr Turnbull declared that "Snowy Hydro 2.0… will make renewables reliable."
In response, energy, carbon abatement markets and technology analyst, Tristan Edis tweeted:
"So based on this Snowy 2.0 promo Victoria can ramp up wind & solar without security issues – right @JoshFrydenberg?"
Forty three years after its construction was completed, the Snowy Mountains Scheme appears to be primed to play an important role in our evolving energy mix – despite this week's announcement being compared to an episode of Utopia by David Uren.
Old renewables in a new era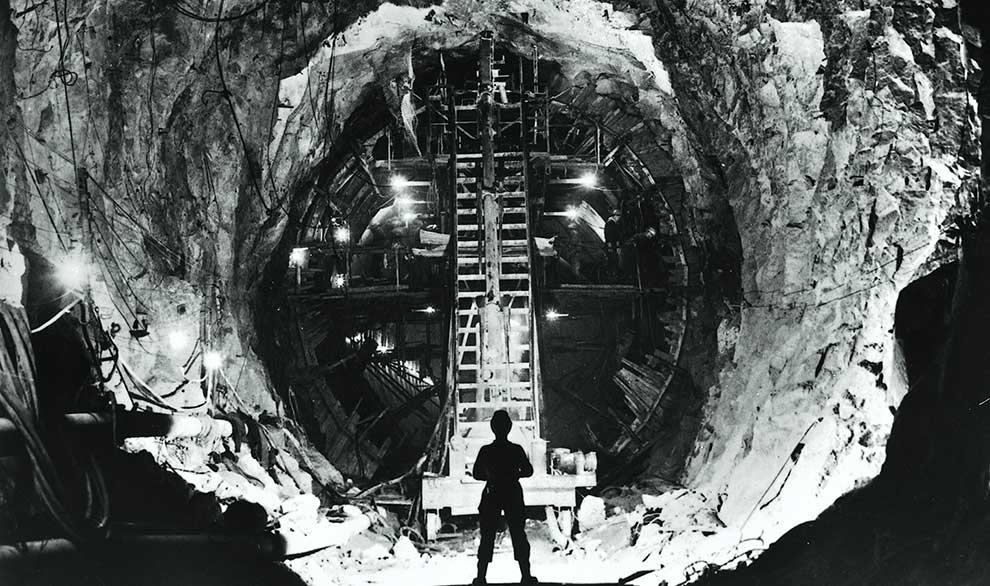 Source: Snowy Hydro.
Snowy Hydro 2.0 is aiming to breathe new life into a source of nostalgia for many Australians. In a video promoting the project, Prime Minister Malcolm Turnbull recognised that "this is a very romantic story in many ways."
A look at the US Department of Energy Staff Report to the Energy Secretary on Electricity Markets and Reliability released last week puts the age of the Snowy Mountains Scheme into perspective, highlighting the longevity of hydro energy assets.
According to the report:
"… the average hydroelectric facility has been operating for 64 years. However, with routine maintenance and refurbishment of turbines and electrical equipment, the expected life of a hydropower facility is likely to be 100 years or more."[1]
In Australia, Hydro Tasmanian celebrated its centenary in 2014 and is also the subject of pumped hydro feasibility studies.
The proposed expansion of the Snowy Hydro Scheme recognises the continued value of these hydro energy assets – but now the focus has shifted to its storage potential.
A big battery
The Prime Minister said Snowy Hydro 2.0 will be "the biggest battery ever built in Australia". Mr Turnbull told Leigh Sales:
"When it is doubled to 4,000 megawatts as I'm sure it will be in the future and indeed it could go up to 8,000, this will be the biggest pumped hydro scheme in the world."
According to the Snowy Hydro 2.0 Feasibility Study webpage:
Pumped hydro can provide energy storage at a fraction of the price of batteries. In fact, it is around 100 times cheaper than the best practice energy storage batteries out there. Lithium ion batteries currently have a limited ten year life span, after which they need to be replaced. In comparison, pumped hydro has an enduring life. In terms of capacity, Snowy 2.0 could store up to 350 Gigawatt hours of energy. It would take 35 million domestic batteries to match this.
It's an ambitious plan but it's not a new concept. The project's webpage confirms that pumped hydro is a proven technology used around the world and has been part of the security back-up for the National Energy Market for decades. It explains:
Pumped hydro storage system works like a conventional hydroelectric scheme: in periods of high demand, electricity is generated by releasing water from an upper reservoir and into a lower reservoir. Unlike a conventional hydro scheme, where water is discharged, a pumped hydro scheme "recycles" or pumps water back to the upper reservoir during off-peak hours.
It can then be used to rapidly help meet peak electricity demand and provide system stability.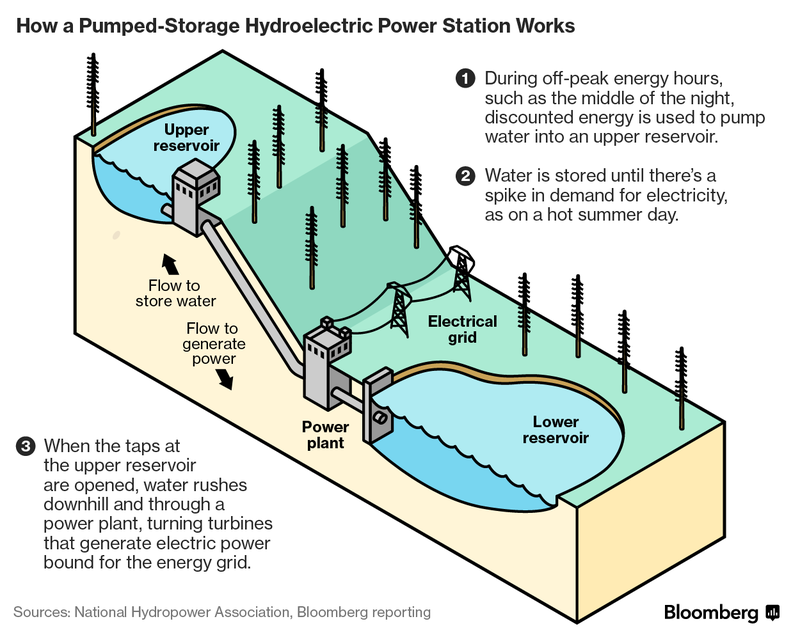 Source: Bloomberg.
The feasibility study for Genex Power's 250 MW Kidston pumped storage hydropower project in Queensland was completed last November and found the project to be technically and commercially feasible. The Australian Renewable Energy Agency (ARENA), which provided $4 million funding towards the project's feasibility study, said "it will be the first in the world to use two disused mine pits for hydroelectric power generation." Announcing the completion of the feasibility study, ARENA CEO Ivor Frischknecht said:
"The favoured design would be capable of rapidly delivering enough electricity into the grid to power over 100,000 homes when it's needed most. Early indications show it could provide low cost storage that's significantly cheaper than other options such as batteries."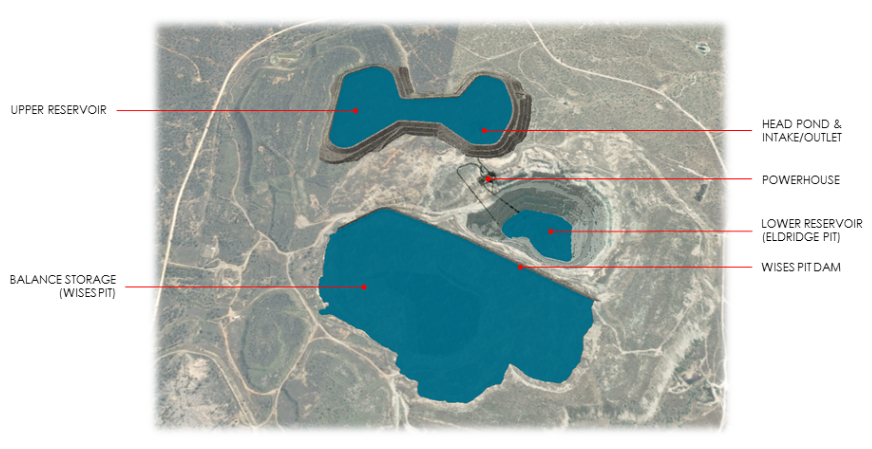 Source: Genex Power.
Earlier this year, the Australian National University (ANU) announced that its researchers had identified 185 sites in South Australia potentially suitable for pumped hydro storage, confirming its potential to help provide electricity system security. The study's lead researcher, Professor Andrew Blakers, said pumped hydro energy storage currently accounts for 97% of energy storage worldwide and "…can be increased across the country to support high levels of renewable energy, primarily solar photovoltaics and wind."
Government investments in storage
Despite the obvious discord between State and Federal Governments and the uncertainty over a national carbon policy framework, there is a striking similarity in the hands-on investments of State and Federal Governments when it comes to storage.
Mr Turnbull told Leigh Sales this week:
"..the sun doesn't shine all the time and the wind doesn't blow all the time. You've got to have the storage and that storage is what Snowy Hydro represents on the largest scale."
One of our oldest renewable energy assets is now a central part of the public discourse on our current energy and climate policy challenges.
---
[1] U.S. Department of Energy Staff Report on Electricity Markets and Reliability, page 34.