DER – it's a no brainer!
It is well canvassed that Australia's electricity industry is undergoing a transformation. We are evolving from a centralised system of generation, transmission and distribution, dominated by relatively few players, to an increasingly decentralised system, with more moving parts.
This is largely driven by technological change in renewable and distributed energy resources (DER), enabling more participants in the energy system – including customers – connecting to the grid and energy markets. This mean that electricity transmission and distribution networks are receiving an increasing volume of applications for connection of new generation. In some areas with high-energy resource potential, applications over the past few years have increased exponentially.
As Australia's electricity grid continues to modernise, these renewable technologies will facilitate the transition to a smarter grid. However, correctly connecting DER to the grid can, in technical terms, be quite complex. This is due to the evolution of generator and inverter technology, the emergence of battery storage technology, as well as the strain on existing networks, especially in locations that were never designed to accommodate large generation capacity.[1]
Inconsistency cost
The electricity network service providers across the country have a mix of customers, geographic conditions and business models, all operating under a sophisticated set of rules, regulations and performance criteria. Each network has responded to their circumstances independently in order to ensure the delivery of safe and reliable electricity to customers. However, this has resulted in a disparate landscape in which a range of technical requirements and connection processes exist.
Choice is a good thing, however, when it comes to DER differing interpretations of the relevant instruments and standards, although potentially all consistent with the National Electricity Rules, inconsistencies between networks and more complicated processes for the entire supply chain and its customers can result.
Proponents and networks have identified inefficiencies and opportunity costs. The Clean Energy Council's 'Future Proofing in Australia's Electricity Distribution Industry' project identified that lack of clarity and transparency of regulations frustrates proponents and costs the industry in excess of $31 million per year at current connection volumes.[2]
Survey respondents to the Clean Energy Council identified that standardisation of connection processes is a high priority for all embedded generators, and grows in priority as generator size increases.[3]

The Finkel Review identifies that it has been over a decade since a comprehensive review of connection standards has been undertaken and recommended development of Energy Security Obligations by mid-2018 that includes a holistic review and update of connection standards.
"It is important that the connection standards are now updated so that they are harmonised across the NEM, and are fit-for-purpose in a modern and rapidly transforming power system"[4]
To that end, standardising and streamlining the connection of next generation technology has been identified as a key priority by networks, customers and industry stakeholders.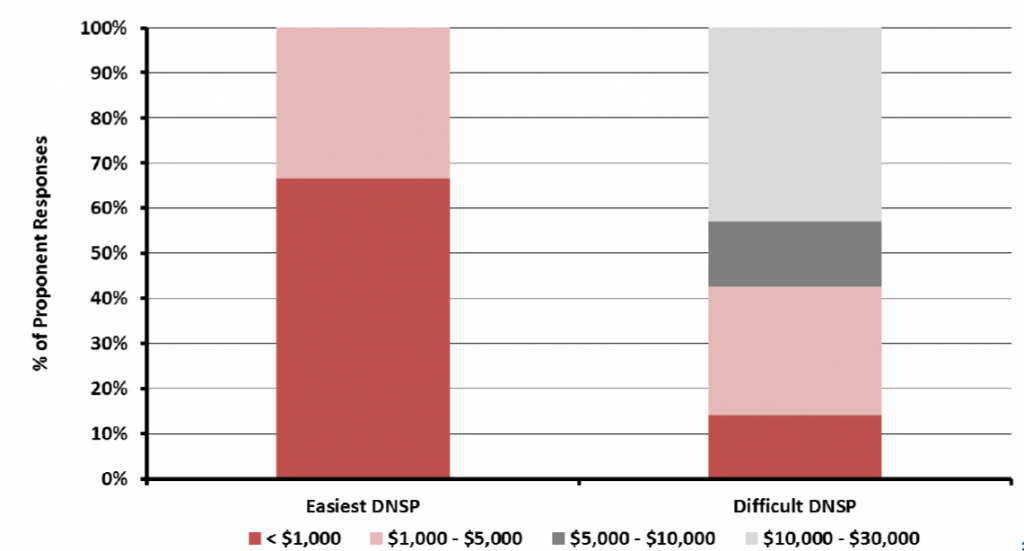 Opportunity to Reduce Costs of Applications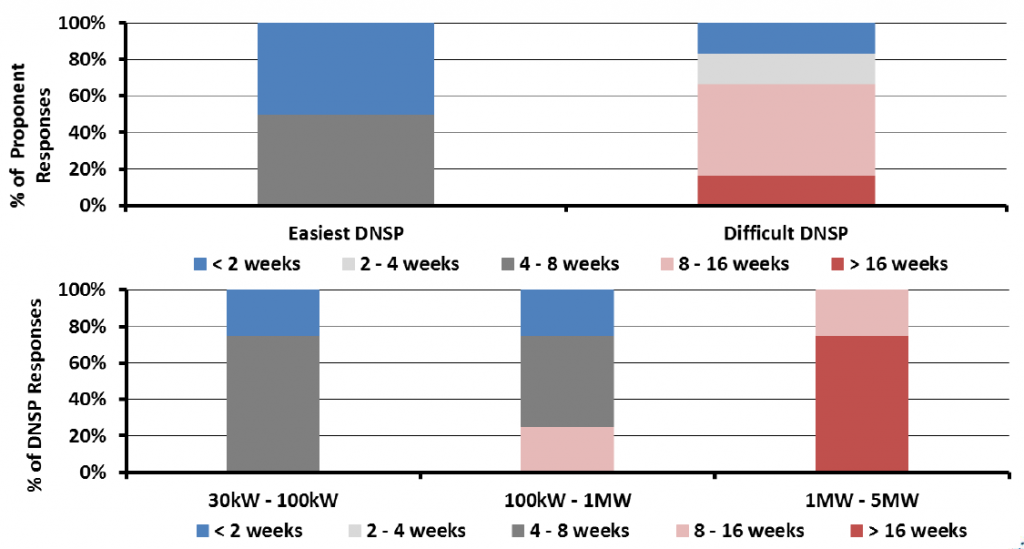 Opportunities to reduce application approval timeframes
The development of National Connection Guidelines to standardise the connection of DER into the grid has been identified by the Energy Networks Australia and CSIRO Electricity Network Transformation Roadmap as a critical action to better integrate of growing numbers of customer resources into the grid.
 Customer Oriented Networks, Milestone 3: By 2024, electricity customers and market actors trust networks as active enablers of expanding products and services with streamlined connections which avoid impacts on other customers
To support this, Energy Networks Australia has commenced a project to prepare a nationally consistent set of guidelines for network connection of a range of generation technologies, outlining the technical requirements to facilitate streamlined integration.
About the Distributed Energy Resources National Connection Guidelines
The Distributed Energy Resources National Connection Guidelines project aims to standardise the connection of DER into the grid.
When completed, the Guidelines will provide a nationally consistent set of protocols to integrate a range of DER and technologies that can connect with Australia's electricity networks through a set of streamlined, uniform technical requirements.
Working with CutlerMerz, consultation with all electricity network businesses, consumer representatives and key industry stakeholders will take place in the initial project phase.
Framework and Principles Guideline
The initial phase of the project will involve the development of high-level principles and the overarching framework for the National Connection Guidelines.  Outlining the high-level principles for network connection and a proposed structure and content for technical requirements, the framework will allow network service providers to adopt the foundations immediately as a template to assist in the development of their own technical requirements.
While the framework and principles guideline will not provide technical specifications, it will outline the principles and structure for setting technical requirements and support high level planning.
It is anticipated that the framework will be released by March, and further guidelines released from May through to December.
Technical Guidelines
The framework guideline will be followed by a series of technical guidelines addressing different categories of generation; for example, high voltage and low voltage connections. The number and scope of guidelines will be determined during the initial phase with the aim to publish all guidelines by the end of 2018. The development of the technical guidelines will consider proponents' need for specificity and consistency in technical requirements across networks, balanced with the networks' needs for a degree of flexibility to reflect unique network standards.
In preparing the guidelines, consideration will be given to other emerging industry developments including:
the potential to link the connection process to the establishment of the national battery storage register
the potential to link the connection process to the Network Opportunity Mapping hosted by Energy Networks Australia
the technical requirements that may be needed to manage and utilise aggregate capacity of DER within energy markets via virtual power plants.
It is envisaged that the technical guidelines will form part of Energy Networks Australia's suite of technical standards adopted by network service providers on a voluntary basis, however, measuring the benefits of a streamlined set of technical guidelines is only possible in a situation where there is close to 100 per cent uptake of the guidelines across all network service providers.
How to get involved
During the initial phase of the project, Energy Networks Australia and CutlerMerz will be engaging with all electricity network businesses, consumer representatives and key industry stakeholders.
A series of webinars and workshops will be held throughout the project that will be open to all interested parties. For more information contact Stuart Johnston sjohnston@energynetworks.com.au.
A briefing webinar will be hosted by Energy Networks Australia on Thursday 14 December at 2.00pm; to register, click here