How to save $1 billion
With new technology comes new opportunities – and new challenges.
The increasing popularity of household photo-voltaic (PV) solar, batteries and electric vehicles, known as distributed energy resources (DER), means today's customers are importing energy from the grid, generating their own for use and also exporting power back into the network.
This is an unprecedented change for the electricity system which is being asked to perform in ways for which it was not designed.
If the right decisions are made, the huge uptake of DER presents an enormous opportunity for Australia to meet its future energy needs reliably and sustainably at the lowest cost to customers. This is the aim of the Open Energy Networks Project (OpEN) by Energy Networks Australia and the Australian Energy Market Operator (AEMO).
The latest update from OpEN is the release of Open Energy Networks – Interim Report Required Capabilities and Recommended Actions. The report outlines what the energy system needs to be able to accommodate the influx of DER and maximise the benefits this offers for all customers.
The objectives are several:
Ensuring the system can cope technically, so more customers can connect and get full benefits from their solar and storage devices.
Maintaining and improving power quality and reliability at the lowest cost to customers.
Being able to harness and manage the collective generation capacity of DER to support power supplies, manage peak demand and reduce the need for investment in new generation and poles and wires infrastructure – saving customers on power bills.
The CSIRO has estimated getting this integration right could deliver more than $1 billion in benefits.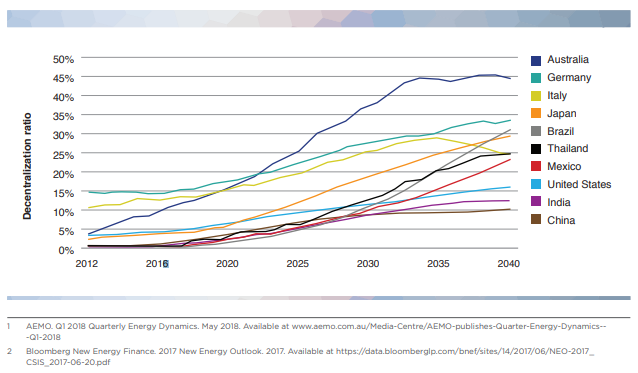 Figure 1: Electricity Decentralisation rates of electricity by country
What's the challenge?
Our electricity grid was designed to transport power in "one direction" – from large, centralised generation sources through high voltage transmission lines, down to lower-voltage distribution networks and into our homes and businesses.
Now with growing amounts of DER in households, we are increasingly feeding power back into the grid through many small sources – a "two-way" flow of electricity.
Australia has the largest uptake of household solar installations and capacity per capita in the world. One in five households is powered with a PV system.[i] Commercial solar installations have been growing at unprecedented rates.
As this DER penetration increases, parts of the grid in different networks reach a threshold of "reverse flow", which can cause issues with reliability and quality of power. Predicting where problems might occur and planning for solutions is the focus of OpEN.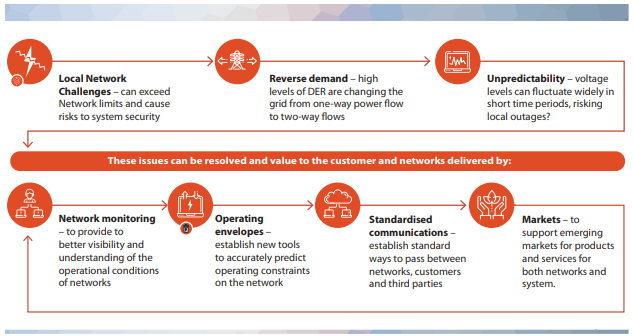 Figure 2: Why change is needed
What is being done?
Energy Networks Australia has been working with AEMO on OpEN to plan the evolution of our energy network.
This future has more solar, batteries and electric vehicles.
This future does not have to mean higher prices or less reliable energy and in fact can mean lower prices, more flexible and reliable power options and more clean energy.
The role of managing the operation of a properly DER-integrated energy system and the market is proposed to be undertaken by a distribution system operator. A key function of OpEN has been to get a better understanding of the roles this distribution system operator (DSO) might play and make recommendations based on the value available for all customers, irrespective of whether they possess DER assets.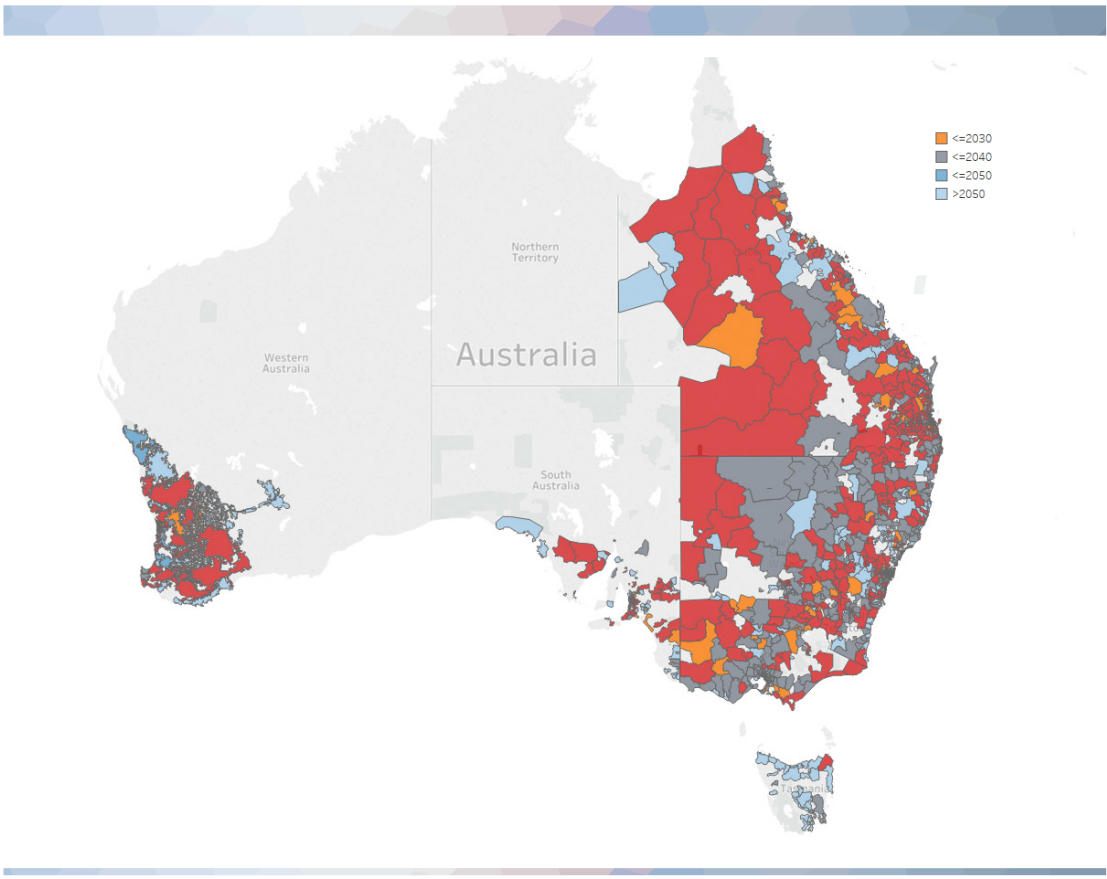 Figure 3: Updated projected decade in which the zone substations within each Australian postcode within the NEM and WEM will reach a threshold penetration of rooftop solar adoption (40 per cent) indicative of reverse demand/power under the ESOO 'Fast DER uptake' scenario
What functions are required?
Open Energy Networks – Interim Report Required Capabilities and Recommended Actions outlines what the energy system needs to ensure the huge growth of solar and storage can be properly integrated into our grid for maximum customer benefit.
These required capabilities are:
Enabling distribution network service providers (DNSPs) to improve network visibility – i.e. know where DER are installed and how they behave in real-time so the local distribution network and the wider system can be managed. For example, the export capacity of a solar and storage system needs to be known, as well as how fast the battery can respond to a signal to switch from charging to discharging.
Defining network constraints or 'operating envelopes' so customers can be advised how much electricity they can export and/or import from the grid. These operating envelopes define the limits that customers' DER must operate within for the safe and secure running of the network and the overall electricity system. For limits to be established, real-time data must be collected and communicated, based on standard protocols.
Having standards in place to communicate these 'operating envelopes' to aggregators, retailers, owners of DER and AEMO to help ensure the safe and secure operation of the network.
Required capabilities have been grouped into three key milestones: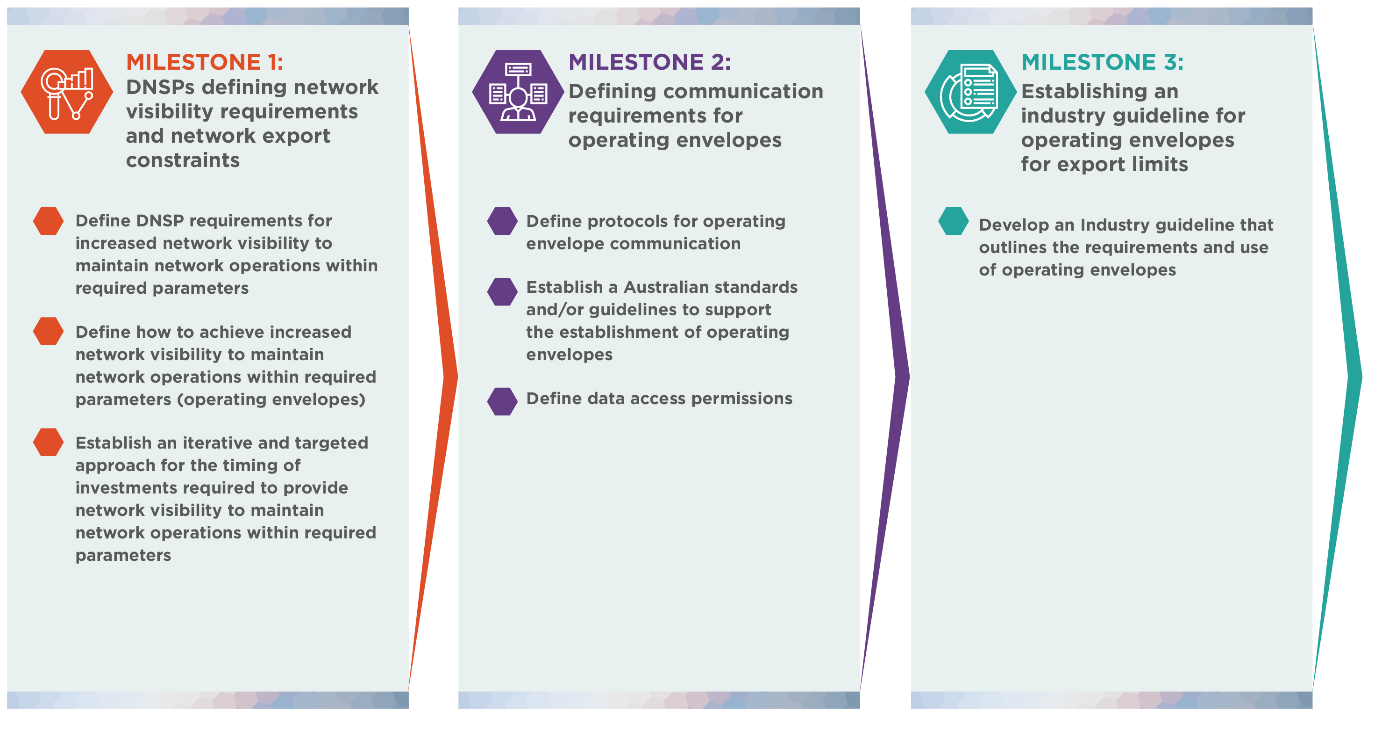 Figure 4: Required capabilities and milestones
Delivering these milestones can unlock several key benefits, irrespective of which market framework is ultimately pursued.
Four frameworks are being investigated that facilitate market access for all stakeholders, including DER owners, aggregators, third parties, network operators and retailers while ensuring system integrity and security are not compromised.
In addition to the required capabilities, the report makes the following recommendations:
Customers must be at the centre of the distribution services market
The role of the aggregator in the distribution services market should be defined
Industry collaboration to improve network and demand forecasting
Integration of DER into the wholesale market
A market for network services.
These required capabilities underscore the urgent need for a new distributed market approach to the way our electricity system and market are managed.
What's next?
As OpEN approaches the point of making final recommendations, the following is needed to reach a conclusion:
Complete a cost-benefit analysis on each of the four models
Undertake further stakeholder engagement to test the outcomes of the cost-benefit analysis and the potential model framework
Release the draft report on the distributed market framework recommendations for public consultation – Q3, 2019
Publication of the final OpEN report – Q4, 2019
This will mean that Australia will have a framework for an increasingly renewable-powered energy system. This system will be crafted to best meet the needs of 21st-century customers, providing reliable, sustainable and affordable electricity along with a platform for new markets and energy trading opportunities. This transformed system will be ready to serve consumers in a more advanced way than ever before.
Stay tuned.