Innovation and engagement key to energy future
There is intense pressure on the energy industry. Two key challenges are the need to rapidly transform and modernise the grid to better accommodate two-way flows of energy and to reduce energy prices. It's a big task but networks are tackling these problems using innovation and by engaging customers to figure out the best solutions.
The challenge
Australian networks are focused on modernising while keeping prices down so it is imperative to continually look for new and more innovative ways to manage the networks and keep the customer at the centre of decision making.
At this year's Energy Networks Australia Annual Awards earlier this week we recognised energy network businesses that are leading the way.
Winner – Essential Energy, 2019-24 Regulatory Proposal
The recipient of the Energy Networks Australia and Energy Consumers Australia 2018 Consumer Engagement Award, Essential Energy, was the unanimous choice of the judging panel for its 2019-24 Regulatory Proposal customer engagement program.
of Energy Consumers Australia CEO Rosemary Sinclair presented the award,  noting that with more than 3,000 customer interactions, Essential Energy demonstrated its commitment to ensuring the views of its regionally, culturally, demographically and economically diverse customer base were accurately and meaningfully reflected in its proposal.
"The winner showed they had proactively engaged with their consumers to better reflect their views and priorities and allow that to shape services," Ms Sinclair said.
Highly commended – Western Power, Kalbarri Microgrid
Community engagement was key to the evaluation and development of a microgrid for Kalbarri, a town on the most northern edge of Western Power's network, currently supplied by a single long line, prone to frequent outages.
A community reference group was formed and an engagement plan implemented to work directly with locals. The outcome was that community views and aspirations for Kalbarri as an eco-tourist destination were included in the feasibility assessment, and subsequently shaped the project design and construction (now underway) of the renewable powered microgrid.
Finalist – SA Power Networks, Regulatory Proposal Engagement – Deep Dive Workshop program
The Deep Dive Workshop program was a critical activity during Phase 3 of SA Power Networks' 2020-2025 Regulatory Proposal customer engagement program. Feedback from stakeholders and consumers throughout the workshops directly informed the narrative and development of SA Power Networks' Draft Plan.
The provision of early thinking and expenditure estimates provided a real opportunity for customers and advocates to influence specific areas of the plan, with executive level sponsorship of consumer engagement evident throughout the entire program.
Finalist – TransGrid, Powering Sydney's Future
Consumer and stakeholder engagement helped shape the final proposal of Powering Sydney's Future, a project designed to alleviate the increasing risk to consumer electricity supply arising from aging electricity infrastructure in the inner Sydney area.
As a result of engagement with stakeholders, TransGrid altered the preferred option, to include the implementation of a single 330kV cable, with conduits for a second cable if future need arises, deferring investment through demand management and refining the project scope. TransGrid has adopted a forward looking and innovative approach to continued stakeholder monitoring of the project and has committed to return full value of underspent capital to consumers.
Finalist – Victorian electricity distribution businesses, joint consultation on Network Pricing Design
CitiPower, Powercor, United Energy, Jemena and AusNet Services committed to a joint approach to pricing for residential and small business customers until at least 2025. This approach means Victorian customers and retailers will face a single common set of pricing structures and it allows all stakeholders (including consumer advocates) to more efficiently engage with the Victorian networks.
The aim of the consultation is to ensure network pricing post-2021 is sustainable and meets consumers' needs.  Five pricing principles were developed at the first forum by stakeholders, rather than the distribution businesses, and these have shaped the process of consultation. The businesses are undertaking research into the impacts of potential changes on consumers.
Judges' comments
In the report compiled to provide feedback to the network sector on the Consumer Engagement Award, the judges said,
"The award is a great way for networks to showcase the results of their hard work in striving to incorporate the value of customer perceptions, behaviours and wants into all aspects of their business. The judges could clearly see the pride and enthusiasm the teams had in their work.
"We congratulate these change-makers – the businesses who have entered this year – and encourage these businesses to continue to be leaders, incorporating consumer values into all aspects of the business."
Winner – TasNetworks, CONSORT Bruny Island battery trial
The Energy Networks Industry Innovation Award was presented by Federal Energy Minister, the Hon. Angus Taylor MP, to TasNetworks for its CONSORT Bruny Island battery trial. The project shows how we can help solve some of our industry's most complex challenges. TasNetworks and its partners have shown how to carry out smart coordination of solar and batteries, which has significant economic and environmental benefits by allowing more renewable energy to connect, increasing grid stability and opening new markets.
The trial helped 34 customers install solar generation and a battery on their homes to test the ability of distributed generation to be an alternative to a diesel generator during periods of peak holiday demand. It showed how a modest number of residential PV and battery systems are able to provide a disproportionately large benefit to the grid. Diesel usage was down by about 30 per cent but more generally, the project delivers optimisation of distributed energy resources, which increases grid reliability.
Runner-up – Jemena, Demand response trial: power chargers
More than 600 households signed up to the Jemena trial that saw average peak electricity consumption on hot days reduced by between 23 and 35 per cent. The rich behavioural insights from the trial will help inform future demand response programs. Participants expressed a high level of satisfaction and reported feeling motivated to reduce their electricity usage, saving money on their electricity bill and motivated to be more conscious about conserving electricity. The insights from this trial will help keep energy prices down as we learn how to motivate people to reduce their power use and take pressure off the grid.
Finalist – Essential Energy, Quality Assurance Lab
Essential Energy's trailblazing testing laboratory for electricity network equipment tests materials more thoroughly than manufacturing compliance standards. The team identified a need to ensure materials can stand up to the environmental conditions they were exposed to, so they set up a lab to reproduce environmental conditions.
It is a very simple and highly pragmatic concept but its impact has been enormous, with the Lab contributing more than $95 million of value over the past five years. Developed on a shoe-string budget and with staff donating their time toset up the lab, the Quality Assurance Lab is now a permanent business operation.
Finalist – Evoenergy, Demand reduction incorporating ACT Virtual Power Plant
Developed in partnership with Reposit Power and SolarHub, the Canberra Virtual Power Plant (VPP) is the first and largest of its kind in the world. Made up of more than 400 residential battery storage systems, the virtual power plant involves a number of technology providers that can remotely control the VPP to dispatch stored electricity back into the network when required. Along with other demand management strategies, the initiatives have proven how they can help future-proof the grid by having large and small customers able to respond at a moment's notice to reduce the impact on the wider community.
Industry contribution
Australian Gas Infrastructure Group CEO, Ben Wilson, presented Powerlink's General Manager Network Regulation, Jennifer Harris, with the 2018 Industry Contribution Award for her substantial contribution to the industry over several years. Jenny's award recognises her significant contribution to the industry and her clear focus on the customer-driven transformation of our networks.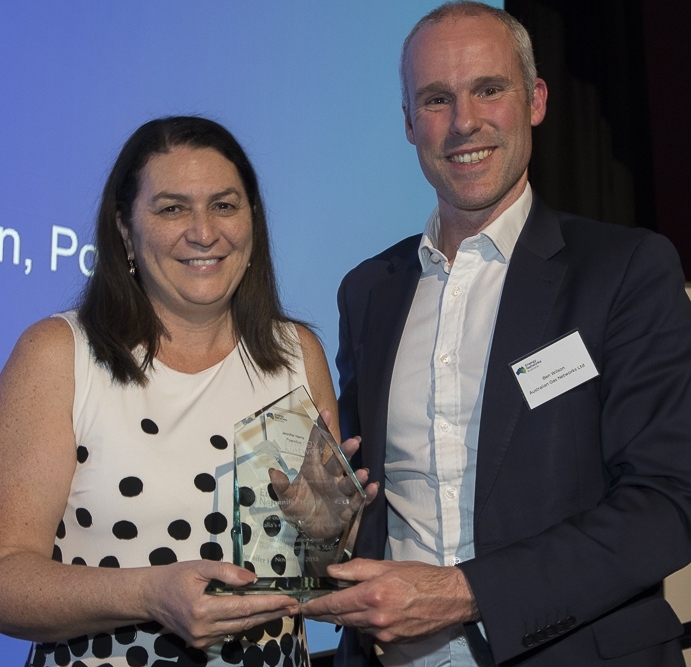 Thank you to everyone who submitted an application to the awards.
Details of the judging panels can be found here.