Lessons from South Australia for COAG Energy Council
State and Federal Energy Ministers gather tomorrow – Friday – for their second 'crisis' meeting in just seven weeks, as analysis of last week's "SA region Black System" continues.
This significant event impacted over 1.6 million people, causing distress and inconvenience to many. The urgent work by staff of AEMO, ElectraNet, SA Power Networks, and generators restored power to South Australian energy customers in difficult conditions. The Black System was confirmed at 4.19pm on Wednesday 28 September, the restoration strategy was developed by 4.30pm and commenced at 4.37pm. Power restoration to Adelaide started by 7pm, just under 3 hours after the event commenced and "By midnight on Wednesday 28 September 2016, 80–90% of electricity (that could be restored) was restored".[1]
Over the course of the event, distributor SA Power Networks answered more than 54,000 calls and sent out more than 400,000 text messages via their automated messaging system. Social media traffic increased exponentially, with over 30 million impressions over Facebook and Twitter, and over 25,000 incoming messages via Facebook.
Site access and conditions challenged restoration efforts, however, ElectraNet crews are now working quickly to repair damaged transmission lines in the state's mid-north, aiming to have damaged circuits back up by the end of this coming weekend and energised soon after. Another circuit will follow a few days later.
The protection systems safeguarded life and property and the restart from 'system black' was undertaken promptly, with the interconnector playing a crucial role. Nevertheless, the events have prompted many questions.
The Australian Energy Market Operator's (AEMO) preliminary operating incident report[2] indicates that severe weather caused multiple faults on the transmission network, the loss of three major 275kV transmission lines north of Adelaide and 315 MW of generation reduction at six wind farms. The reduction in generation increased the flow on the Heywood interconnector causing it to overload and protection systems to activate.[3]
"The sudden loss of around 850–900 MW of supply to SA due to the tripping of the Heywood Interconnector result[ed] in a rapid reduction in the power system frequency. AEMO analysis has identified that the RoCoF [Rate of Change of Frequency] was between 6 and 7 Hz per second. Consequently, UFLS [Under Frequency Load Shedding] was not able to arrest the frequency decline and as a result the frequency fell to zero. Note that generating units are unable to operate (and are not required to do so) where frequency is below 47 Hz. With the frequency below 47 Hz, generating units subsequently tripped off line resulting in the SA region Black System."[4]
AEMO's report highlighted that RoCoF is dependent on two factors – the size of the disturbance on the power system and the ability of the power system to resist that disturbance. In this event, the 850–900 MW disturbance resulted in a RoCoF that was greater than design limits of system equipment and the UFLS scheme.[5]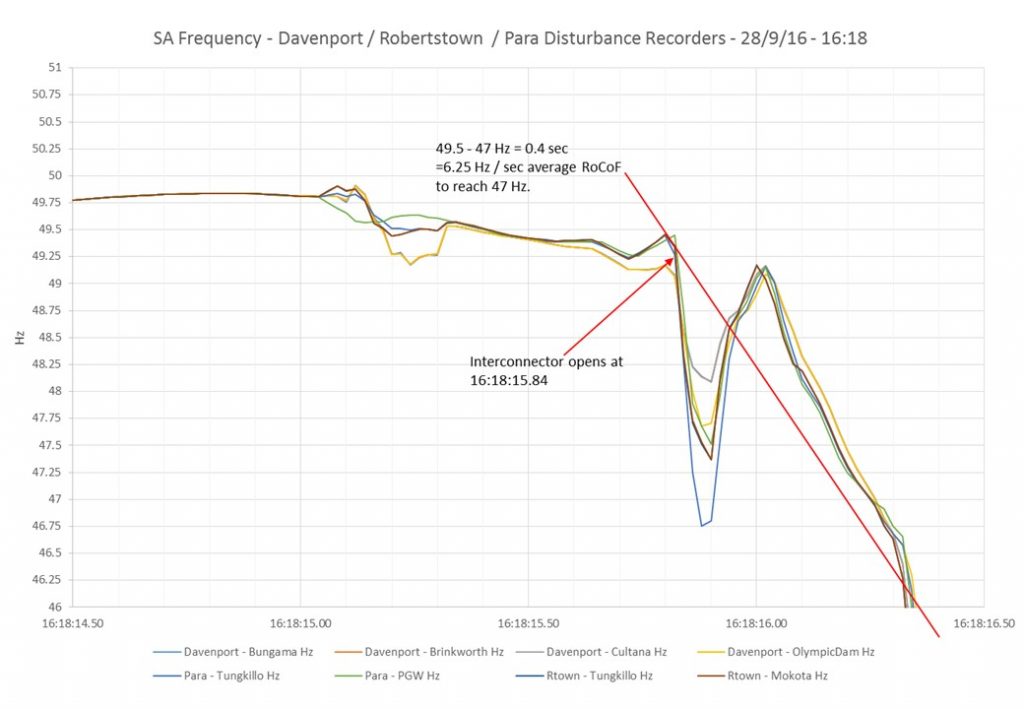 Figure 1: Frequency response and RoCoF during pre-event and event[6]
What lessons should COAG Energy Council's crisis meeting on Friday take from South Australia? 
It is too soon to conclude the lessons of the South Australian event for power system security. AEMO is yet to complete its full report; a range of other reviews have been initiated; and the Australian Energy Regulator will also conduct its assessment of compliance by generators, networks and AEMO itself with the National Electricity Rules.
In the interim, the event confirmed what we already know – the critical importance of energy security to our community and industry; the benefits of diversified electricity and gas systems; and the polarised nature of energy debate in Australia.
As Energy Ministers meet this week, some relevant reforms are already 'in the pipeline':
The key question that Ministers can address this week, which would represent real progress for customers, is how to achieve current and future carbon targets at least cost to customers? A diverse group of eight organisations representing Australia's energy industry and consumers of all sizes united in calling for a cooperative and strategic response to Australia's energy transition and challenges.
The alliance called for Australia's leaders to work together and for both sides of politics, at the federal and state level, to seek solutions that are strategic, efficient, nationally coordinated and consistent.
Recent economic analysis by Jacobs for the Energy Networks Association (ENA) assessed the cost to Australian electricity customers and the economy of a number of different carbon policy frameworks. It considered Australia's current target of 26-28% percent below 2005 levels by 2030 and a higher target of 45%. The analysis showed that the 2030 target could be met in any of the three scenarios assessed, with the main difference being the cost to achieve it.
The lowest residential electricity bills are achieved with 'Technology-Neutral' policy, with bills averaging $216 per year less over the 2020 to 2030 decade compared to the 'Business-as-Usual' setting.
The key factor driving benefits was outcome based policy, which allows markets to work and each technology to find its efficient role. The Jacobs analysis suggests policy 'fragmentation' could cost Australian customers hundreds of dollars per year without any benefit in reducing global warming.
In this context, COAG Energy Council Ministers are particularly urged to pursue enduring, stable and nationally integrated carbon policy framework based on consensus, and incorporate an explicit, independent assessment of national energy market implications when developing jurisdictional initiatives on carbon and renewables policy.
How will the grid transform itself to achieve greater integration of renewables?
Transmission networks are highly focussed on supporting the development of large-scale renewable generation. Many are well positioned to accommodate sizeable increases in new renewable generation without impacting on network stability.
For instance, Powerlink has adopted a 'clustering' model designed to reduce connection costs. It has mapped its network to identify areas where there is existing network capacity combined with high solar radiation levels. In these Renewable Energy Zones (REZs), multiple proponents could connect to the existing network through 'shared assets' reducing their project costs.
TransGrid has a similar approach to connection Hubs, and also sees the proposed NSW-SA interconnector as not only supporting market outcomes, but facilitating development of a renewable energy corridor in south-west NSW.
With over 40% of renewable generation on its system, ElectraNet has undertaken significant studies on high penetration renewable scenarios with AEMO. In its Energy Storage for Commercial Renewable Integration project, undertaken collaboratively with Worley Parsons and AGL, ElectraNet recently evaluated the potential for medium to large scale (5-30MW) energy storage to support the integration of renewable energy.
How can incentives help Australia unlock the full potential of its Distributed Energy Resources?
At the distribution level, an actively managed smart grid can unlock the full value of Australia's booming distributed energy resources. The outcomes could not only be lower costs for customers, but a more resilient energy system. This point was highlighted by AGL Chief Executive Andy Vesey at the All-Energy Australia conference in Melbourne this week.
The Electricity Network Transformation Roadmap (the Roadmap) project, conducted jointly by the Energy Networks Association and the CSIRO, is examining these opportunities to support the dynamic services that customers will value in a transformed market. After all, the most recent CSIRO analysis indicated that customers or their agents will make 25% to 40% of all investment decisions in the energy supply system out to 2050 – up to $400 billion. Neither utilities nor policy makers can 'command and control' outcomes in a customer-driven future. However, they are responsible for the incentives that are provided to market actors.
The ENA and CSIRO released on Tuesday a key part of the evidence base that will inform the Roadmap – the assessment of how tariffs and incentives can achieve better outcomes for customers. Working with CSIRO, Energeia developed the largest scale, network cost-price forecast model undertaken in Australia, evaluating tariffs and technology adoption. It evaluated outcomes for diverse customer types and analysed the network at a zone substation level.
Energeia found that Australia cannot afford to delay the transition to demand-based tariffs, which could save customers over 10% per year on network charges and avoid $1.4 billion in network investment by 2026.
With demand-based tariffs in place, Energeia evaluated the potential for 'second wave' incentives to unlock the value of distributed resources. Customers (or their agents) could choose to 'opt in' to rewards for grid support in the right place at the right time. These incentives would allow the 'orchestration' of dispatchable resources, whether demand response, battery storage called on by the network a few times per year, or virtual power plants.
There are real world examples of these arrangements today. SA Power Networks has signed agreements with 100 customers in Salisbury in Australia's largest trial of combined solar and energy storage in an established suburb. While the trial is focused on testing the network benefits of solar/batteries, the benefits for customers were clearly shown during last Wednesday's state-wide blackout, with most of the 50 customers whose battery was installed, able to draw on back-up power from the unit until mains supply was restored that evening.
Customers might have a relationship with the network or an aggregator if the essential requirement is achieved – the service is sufficiently secure to allow network investment to be avoided.
Energeia's analysis found "orchestration" of distributed resources could:
replace $16.2 billion of network investment;
avoid $18.6 billion in cross subsidies between energy customers; and
provide $16.7 billion in economic benefit to the community.
Importantly, this partnership between networks and distributed resources can also protect fairness. Customer advocates and policy makers recognise that current volume-based electricity tariffs could embed cross-subsidies between customers as distributed resources become more widespread. Energeia's analysis indicates that better incentives will protect 'passive' customers, including those unable to participate in new markets. Not only are average bills lower with orchestration of DER, the gap between active and passive customers is far lower.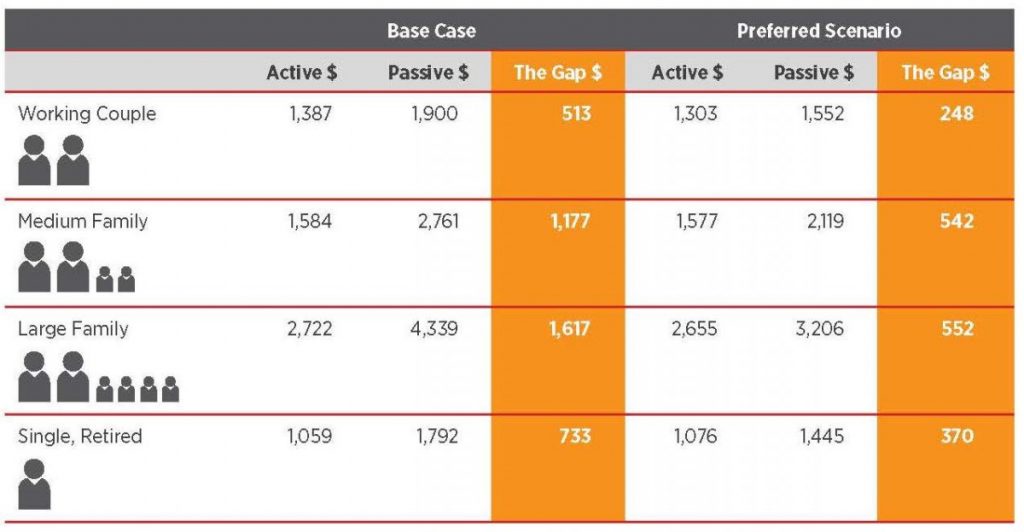 The Roadmap is a project focussed on customer outcomes. In fact, the ENA's preferred scenario in the six scenarios assessed by Energeia sees the lowest level of network investment. It is the option that involves stronger partnerships with customers, aggregators and alternative technologies.
Partnership is the key word. As debate rages this week, Energy Ministers can still use Friday's meeting to take a more collaborative approach focussed on customer outcomes, removing unnecessary risk from Australia's energy system.