State of the energy market: keeping customers at the centre of the transition
The Australian Energy Regulator (AER) has recently released its 2023 State of the Energy Market report, its annual snapshot of 'the year that was' across the energy sector, including networks regulated by the AER. It has found that network revenue has fallen for the eighth consecutive year, and that key technological advancements means that the role of energy networks is evolving as customers are kept at the centre of the transition.
Networks continuing to deliver for customers
The AER has found incentive regulation has driven significant improvements in the performance of network businesses over time through efficiency gains, which reduces prices and interruptions to supply over time.
Across all transmission and distribution network service providers, over the 12-month period to 30 June 2022, the report finds that:
revenue earned for delivering core regulated services was lower than in the previous year, marking the eighth consecutive year of decreases in aggregated transmission and distribution network revenue,
networks' expenditure on capital (investment) projects was the lowest since 2017, and
networks' operating expenditure was at its lowest since 2007.
Customers, however, did experience more frequent and longer unplanned interruptions to supply than in the previous year, notwithstanding that the previous year (2020-21) saw a record low frequency of interruptions. Figure 1 below shows the interruptions to supply for electricity distribution networks over the 2009-10 to 2021-22 period.
Figure 1: Interruptions to supply (system average interruption frequency index) – electricity distribution networks[i]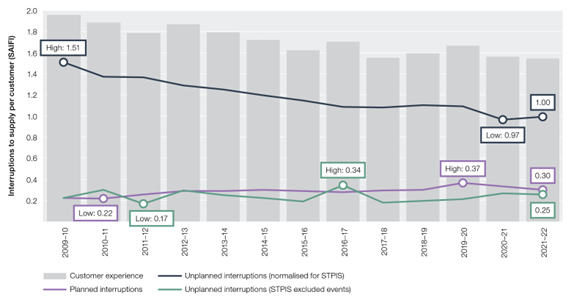 Tariff reform encourages more efficient use of the network
Implementation of cost reflective network tariffs, required (gradually) by the National Electricity Rules, is likely to lower future network costs by delaying the need for network augmentation and investment.
Network tariff reform is a noted key priority for the AER and one of the ways the regulator measures progress in this area is by tracking how many residential customers have their retailer exposed to a cost reflective network tariff, with Figure 2 below from the State of the Energy Market Report showing the proportion of residential customers whose retailer is facing cost-reflective network tariffs.
Figure 2: Residential customers on cost-reflective tariffs[ii]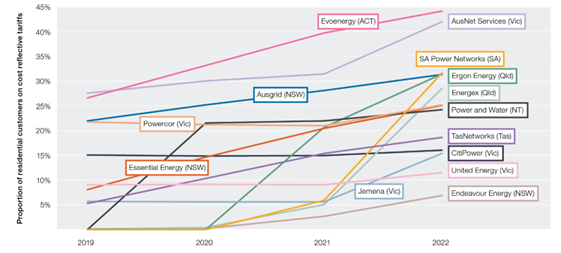 A key barrier to applying cost-reflective tariffs, however, has been the limited uptake of smart meters, with the Australian Energy Market Commission's recent review into metering services positively recommending an accelerated roll out of smart meters across Australian homes and businesses. As this acceleration commences, the proportions included in Figure 2 are expected to continue to increase.
The AER and networks are also exploring alternative ways of ensuring the accelerated deployment of smart meter infrastructure in a way that can help customers. In a recently approved 'sandbox' initiative, the AER has agreed to an Endeavour Energy proposal that will roll out smart meters, enabling trial participants to access new and innovative energy services to help consumers reduce their energy bills.
Distribution network service providers (DNSPs), under the National Electricity Rules, are also able to run network tariff trials within their 5-year regulatory control period to support the future implementation of more innovative and cost reflective tariffs. Box 1 below explores some of the tariff trials that have been proposed by DNSPs and approved by the AER.
Box 1: Network tariff trials
Examples of distribution network service provider network tariff trials include:
»       Ausgrid: a super off-peak tariff trial with an additional 4-hour 'super off-peak' charge, used to encourage electric vehicle (EV) owners to charge their EVs away from the network peak.
»       Essential Energy: 2 trial tariffs aimed at large businesses – a sun soaker, two-way tariff trial and a weekly demand tariff trial. These trials are specifically aimed at helping customers with peaky loads, such as irrigators and EV charging stations, to manage their loads.
»       SA Power Networks: a small business tariff trial with high peak prices, aimed at encouraging businesses with flexible load to shift energy use to during the day or overnight.
»       Jemena: a community battery tariff trial for batteries with capacity up to 500 kVA. The purpose of this trial is to gain insights into the behaviour of battery operators in response to price signals.
Source: AER 2023 State of the Energy Market, Section 4.8.1
Tariff reform, if designed and implemented correctly, can facilitate efficient use of the shared network thereby benefiting all customers, and should be strongly promoted.
Ensuring customer outcomes from new technologies
Australia's energy system is undergoing a significant transition, moving away from large, centralised generation to smaller-scale dispersed generation that is increasingly renewable generation, and, with this, the role of energy networks is evolving. The AER's State of the Energy Market report looks at the energy system in transition and highlights major developments and challenges in progress towards the transition.
Customer energy resources and networks are central to the delivery of a least cost energy transition, and the report highlights the importance of effectively integrating these resources to avoid the need for more costly grid and generation investment. To leverage these considerable existing resources from customers, and the capacity within networks, however, the removal of regulatory barriers will be key to rolling out solutions that are affordable, accessible, and allow consumers to actively contribute to the energy transition.
The AER also highlights key technological advancements such as EVs and notes that the rate of take-up will have material impacts on electricity demand and, as a result, network investment.
Recent work by Energy Networks Australia and consultants Dynamic Analysis took a look at some of the factors that might influence customer prices over the long term. The modelling found that EVs will significantly reduce customer bills, most dramatically for EV owners but also for non-EV owners. However, poorly managed EVs would result in fewer savings for customers over the long-term, highlighting the need to properly coordinate this new load.
The need for a timely delivery of transmission to support the changing generation mix is also emphasised in the AER's report, with building and maintaining social licence key to progressing these complex, major, and much-needed, projects.
The energy transition is a key challenge of our time, and it is clear Australia will need all parts of the energy sector working together to achieve a just energy transition.
[i] AER, 2023 State of the Energy Market, Figure 4.36, Page 139.
[ii] AER, 2023 State of the Energy Market, Figure 4.6, Page 94.