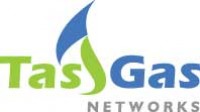 Tas Gas Networks is a natural gas distributor, delivering natural gas to homes and businesses in Tasmania. The network makes gas available to approximately 43,000 of the state's commercial and residential customers.
Tas Gas, formerly Powerco, own and operate the gas distribution networks across Tasmania. Natural Gas first became available to homes and businesses in 2004 and has expanded across the state to towns including Hobart, Launceston, Devonport, Burnie, Wynyard, Longford and Bell Bay/George Town and more recently to Ulverstone. Plans are also underway to expand the networks further to other towns such as Smithton as well as other suburbs in the major towns not serviced to date.
The networks range in pressures and pipe diameters. It includes four steel high-pressure pipelines (up to 10,200kPa) as well as HDPE plastic networks operating at 1,000kPa and 500kPa in sizes up to 250mm diameter.
Tas Gas also has gas retail business Tas Gas Retail which is one of the licenced gas Shippers and Retailers of natural gas in the state.